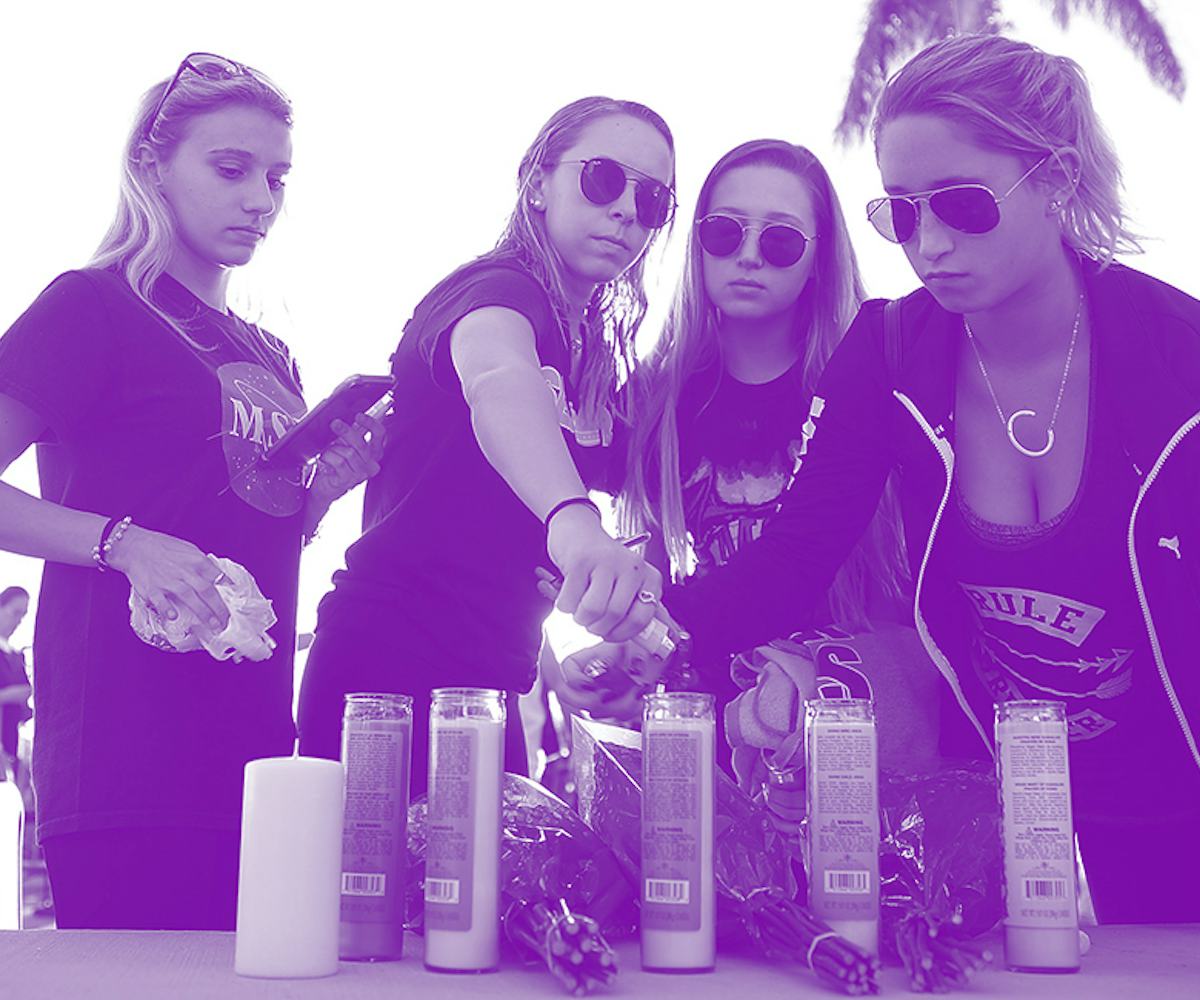 Photo by Joe Raedle/Getty Images
Why We Must All Listen To The Student Survivors Of The Florida Shooting
There have been eight school shootings in 2018 so far. Eight. This past Wednesday's shooting at Marjory Stoneman Douglas High School in Parkland, Florida, left at least 17 people dead, making it the ninth deadliest shooting in America's history. The victims were primarily children, but they also included teachers who gave their lives to protect their students. The murderer, Nikolas Cruz, used an AR-15 semiautomatic rifle, the same gun used in the Sandy Hook Elementary massacre, in which 27 people were killed; the Pulse nightclub massacre in June 2016, in which 49 people were killed; the Las Vegas massacre in October 2017, in which 58 people were killed; and the Texas church shooting on November 2017, in which 26 people were killed. In 35 years, this specific gun has been used in 13 mass shootings and is responsible for the loss of hundreds of lives. And yet conservative media outlets and Donald Trump are saying it's too soon to talk about gun reform, even going as far to say this isn't about guns in the first place. 
And while this type of sentiment always receives blowback from gun reform advocates and victims, this time, that backlash is louder than ever, because it's coming from the student survivors of the shooting in Parkland. And it's coming loud and clear.
"I was hiding in a closet for [two] hours. It was about guns," Carly Novell, a senior at Marjory Stoneman Douglas High, said in a tweet responding to Tomi Lahren's dismissal of guns and their relation to the shooting. "Guns give these disgusting people the ability to kill other human beings," she continued. "This IS about guns and this is about all the people who had their [lives] abruptly ended because of guns."
Other students are dismissing politician's calls for "thoughts and prayers," saying it's time for action. One of those actions would be making it impossible for a notoriously troubled teenager like Cruz to purchase a semiautomatic AR-15 rifle, to begin with. As it turns out, it's easier to legally purchase one of those weapons over, say, a handgun. Another action is labeling Cruz as what he really is: a terrorist. "We need to fix this and address people by what they are," Douglas senior Lexi Cruz said. "He incited terror, therefore he's a terrorist." 
The wake of any shooting brings the gun debate to the forefront of our national conversation. It is essential we listen to these student survivors and view the footage they captured from inside and around Marjory Stoneman Douglas High School because it shows the reality and severity of what happened. Clearly, the "thoughts and prayers" rhetoric is meaningless as they haven't prevented massacres like this from happening in the two decades since Columbine. "What we need more than [thoughts and prayers] is action," student David Hogg told CNN. "Take action, work together, come over your politics, and get something done." 
"Our politicians abandoned us by failing to keep guns out of schools," Cameron Kasky wrote in an op-ed for CNN. "This time we are going to pressure them to take action. This time we are going to force them to spend more energy protecting human lives than unborn fetuses."