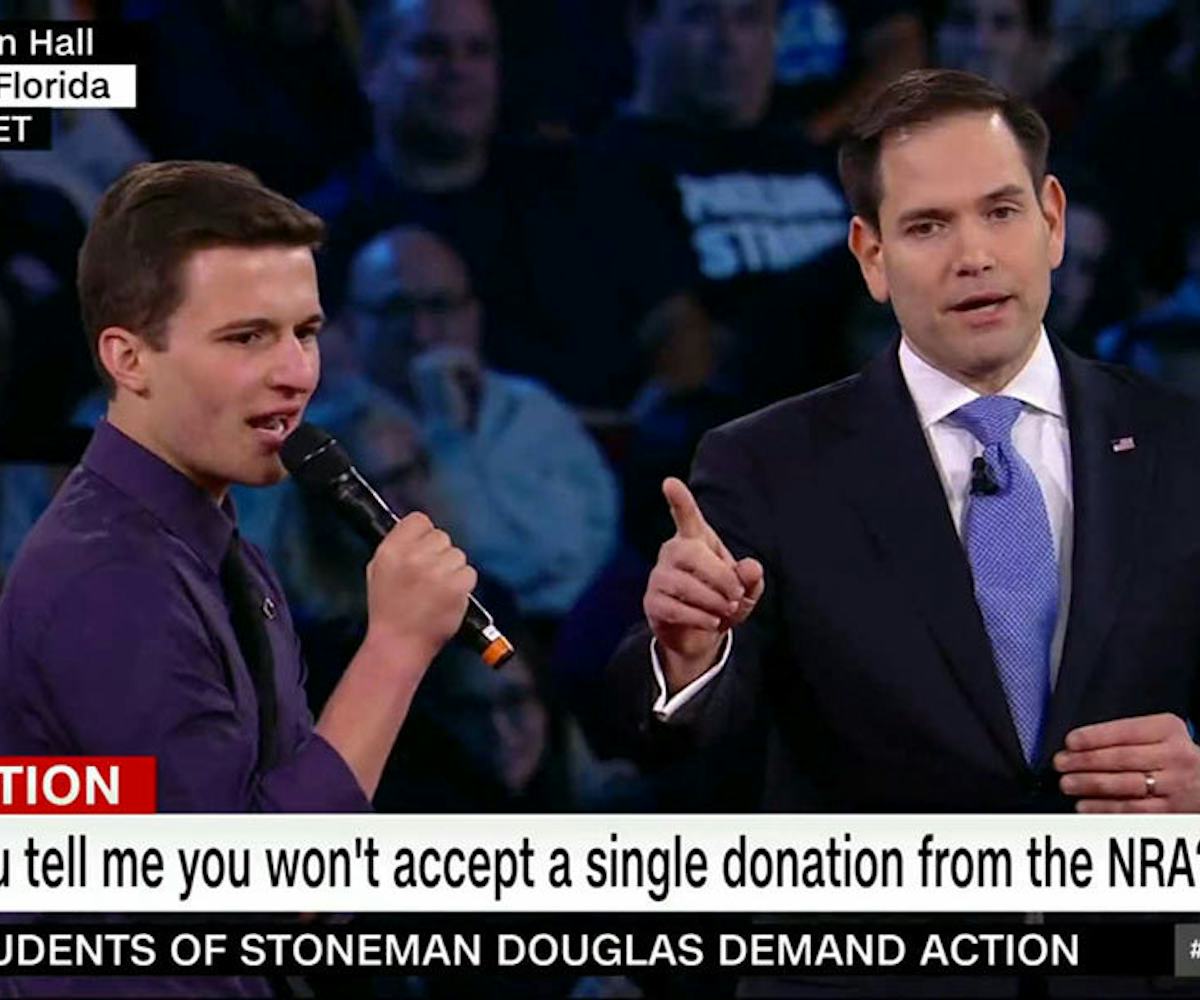 Screenshot via CNN
Death Threats Force Parkland Shooting Survivor To Quit Facebook
Imagine surviving a school shooting, watching 17 of your peers and teachers die, and then be on the receiving end of graphic death threats a week later. Pretty fucked up, right? Like, that's some perverse shit. But it's reality for Cameron Kasky, a survivor of the mass shooting at Marjory Stoneman Douglas High School in Parkland, Florida.
Kasky attended CNN's town hall assembly on Wednesday night, and before he asked Republican Senator Marco Rubio to tell him "[he] won't accept a single donation from the NRA?" Kasky explained that he'd had to leave Facebook due to the staggering number of death threats he was receiving from "NRA cultists." According to Kasky, Facebook users' ability to leave extended length messages allowed these "cultists" to send him more graphic death threats than the ones he was receiving in 280 characters or less on Twitter. (Because, naturally, these NRA supporters are threatening him on all platforms.)
Cyberbullying teenage school shooting survivors is the kind of thing that everyone should be able to degree is just flat-out wrong. And yet gun-loving monsters are doing just that, just like they're also concocting conspiracy theories that these teens are "crisis actors," paid to show up in areas following shootings. 
Teens like Kasky are doing the work and speaking more frankly than many of their adult contemporaries. "We're here to protect you and your children whether you're with us or against us," Kasky says. Even in the face of death threats, Kasky and his fellow advocates resilient. This movement will not be silent—not when people like Kasky have a platform.