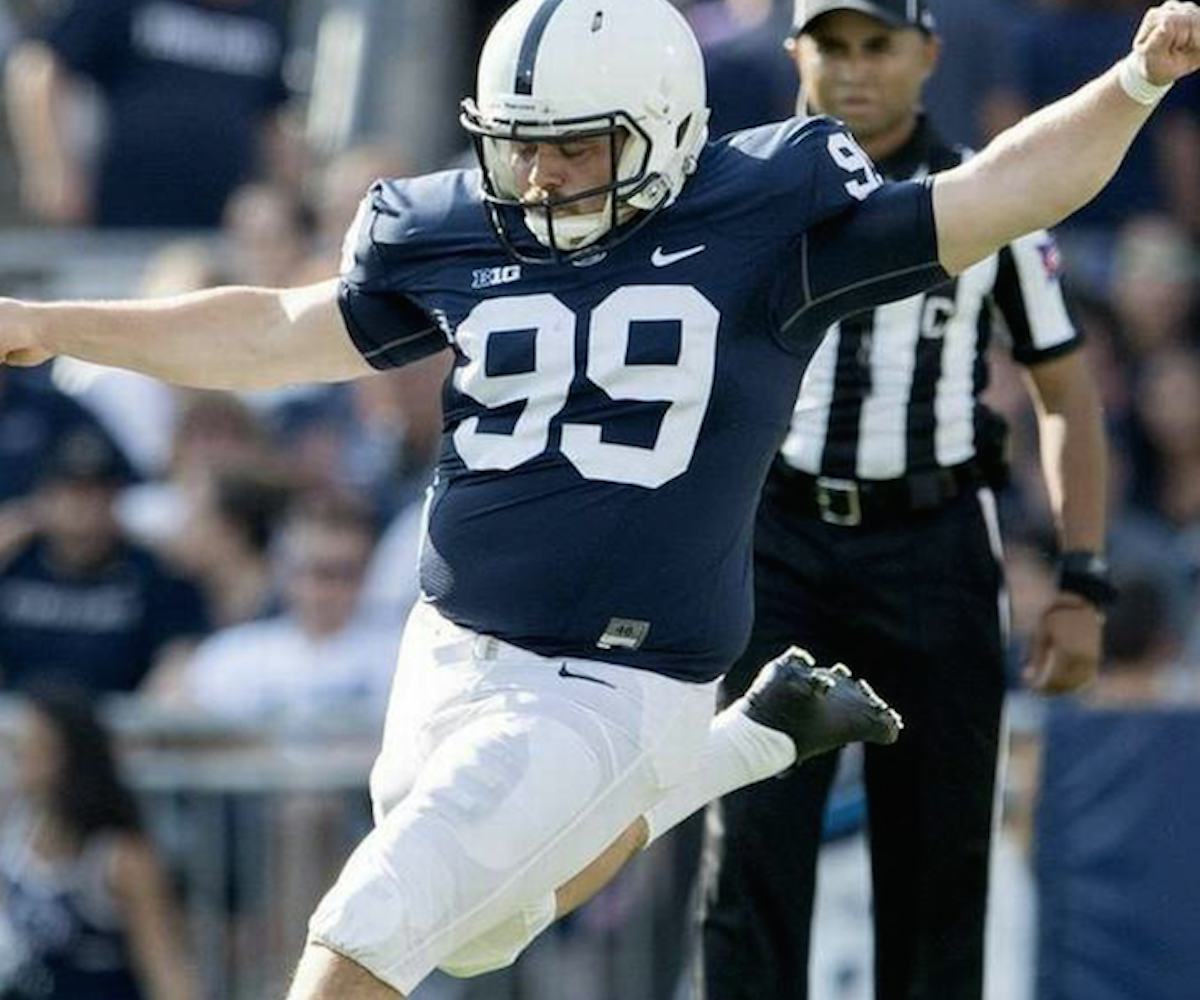 Photo via Twitter @aedweb
Former Penn State Football Player Almost Committed Suicide After Being Turned Into A Fat-Shaming Meme
"I became a viral sensation because of the way I looked. … I saw videos everywhere."
In a report on The Washington Post, former college athlete Joey Julius opens up about the devastating emotional turmoil he went through after videos of him playing football became a widely circulated meme. Julius was openly mocked on the internet for his body, exacerbating an eating disorder and leading to suicidal ideation. Now, after a stint at a rehabilitation clinic, Julius is ready to discuss what went down.
"I became a viral sensation because of the way I looked. ... I saw videos everywhere. Basically people ... talking only about my weight and not about my play," Julius said about discovering videos of himself being disseminated on social media. After playing the season opener, the memes quickly spread, with Julius receiving thousands of notifications upon returning to the locker room.
"My body image has never been good," Julius said to students at a recent public speech on the matter, in which he discussed learning to love himself following the ordeal. Julius discussed his eating disorder and how it developed in childhood, long before his unfortunate viral spell.
"Sometimes there is a stigma and some shame with the struggles that often times individuals with eating disorders experience prior to treatment. It can be very isolating," commented Riley Nickols, a psychologist who oversees the Victory Program, the sports-specific wing at McCallum Place where Julius had been treated. "Shared experiences can be a powerful agent to change and healing."
Although Julius has realized that football would not be the solution to his problems, he's in a much better place after receiving treatment. That being said, certain kinds of emotional turmoil hardly ever dissipate completely: "I could be buying salads, and I'll still have anxiety about it," he admitted honestly.
"I've learned if I try to compare myself to everyone else, I will truly despair," Julius said.