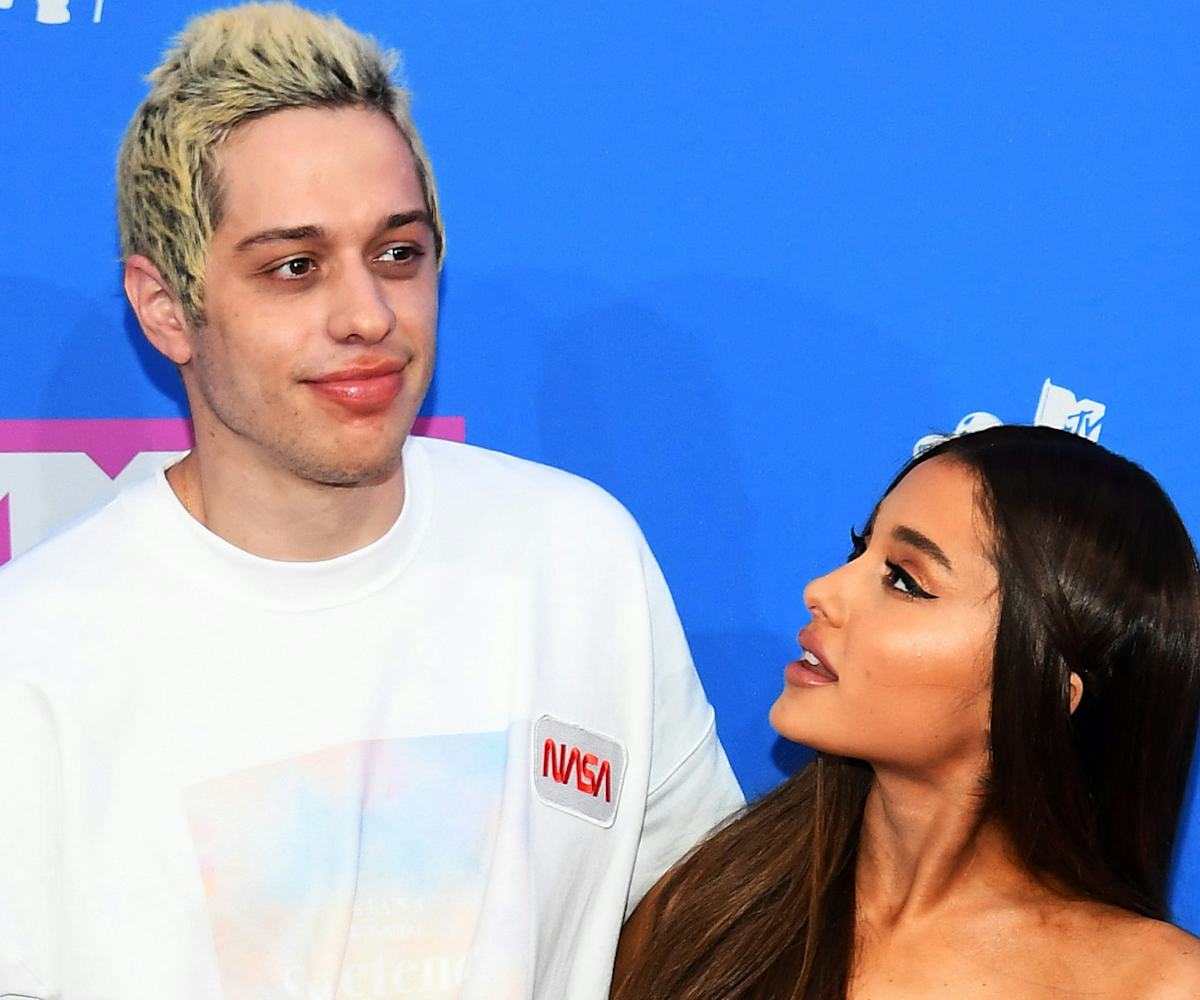 Photo By Nicholas Hunt/Getty Images For MTV.
How Pete Davidson Went From Embodying BDE To Just Being A Huge Dick
Back in June, the internet collectively named Pete Davidson a beacon of Big Dick Energy; a Scorpio bad boy with a heart of gold who consistently was a charming, adoring pile of mush with his fiancée and fellow water sign, Ariana Grande. From his incessant heart-eyeing of Grande to supporting her through what's objectively been a very tough year, Davidson at first seemed like a dream. A goofy, genuine dude who just really fucking loved his lady. And for good reason! She is great.
So alongside legions of Arianators, I hopped on the aforementioned BDE boat, relishing Davidson's quiet self-assurance and very public devotion to Grande. After all, it's hard to hate a guy who constantly talks about how "lucky" he is. However, the past few weeks have seen the news cycle actively turn against Davidson. So what the hell happened? Well, like a lot of men, Davidson opened his mouth and revealed who he really is. 
In anticipation of the new season of Saturday Night Live, Davidson's been talking to the press and, naturally, a lot of the conversations have drifted toward his relationship with Grande. And what's been said has not been going over so well, with Davidson's recent banter eliciting more than a few raised eyebrows, as well as giving his "devotion" to Grande a very icky undertone.
It started to become an issue in late August when Davidson began making jokes about how his "dick's forever hard" thanks to his fiancée, which feels more than a little unnecessary. But the "objectifying" remarks about Grande didn't stop there—in fact, things got worse. Earlier this month, Pete also got in trouble with Grande's fans after makinga series of boorish comments and jokes to Howard Sternabout her. In between claiming that he had "never been prouder" than when former President Bill Clinton seemed to be "eyeing" Grande and appearing to defend the bishop who inappropriately touched Grande at Aretha Franklin's funeral, Davidson responded to a question about how he deals with other men objectifying Grande by... admitting he, too, used to "jerk off" to her. 
But it took his recent comments about messing with Grande's birth control (so she has to stay with him!), for me to officially realize that Davidson doesn't have BDE—he's just a big dick. Honestly, I'm a little disappointed in myself that it took Davidson talking about screwing with Grande's bodily autonomy for me to realize he needs to shape up. But maybe that's because we're constantly told as women to let the inappropriate, extremely uncomfortable, and upsetting things men shrug off as "jokes" slide, especially if they seem like overall "Good Guys" apart from those moments. And I get that comedy is also Davidson's job, but misogyny is misogyny, and perhaps it'd be better for him not to perpetuate the industry's masculinity-driven toxicity within his personal life. Because let's get something out of the way: Grande isn't a punchline, and the same tired joke undermining her autonomy in your relationship isn't cool, even if it's in the service of your self-deprecating "brand" of humor. 
But I think what I'm most disappointed by is how Davidson's publicly reduced their relationship into little more than a series of embarrassing, openly sexist punchlines. At the very least, Grande deserves a person who publicly respects her as a human, an artist, and a partner, not just as a sex object, and right now, it doesn't seem like she has that.