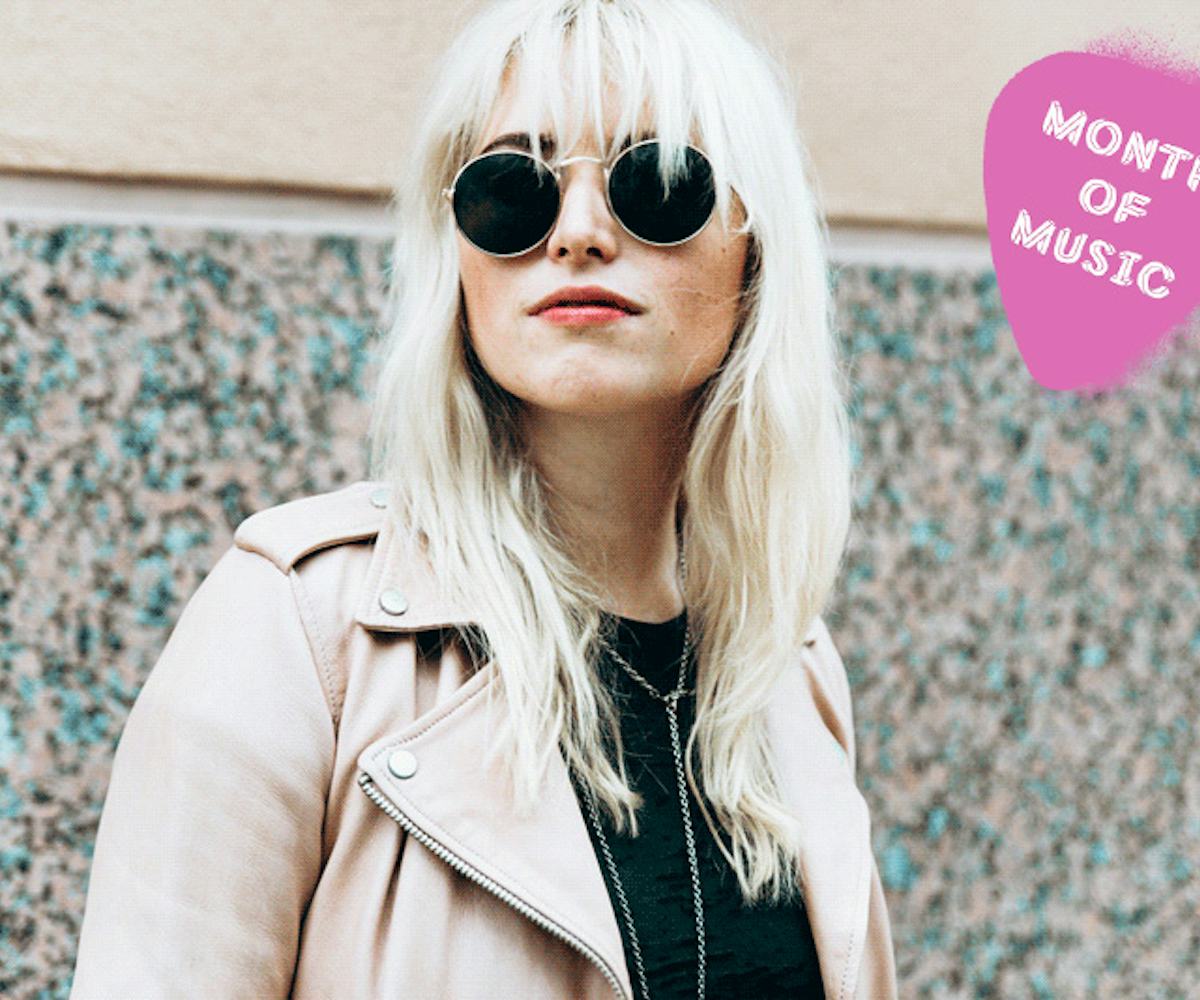 Photographed by Kara Smarsh.
Let Phebe Starr Soundtrack Your Next Daydream
We share music because we want to connect with others on a deeper level. We want to relay and relate to a message that can't be said with just words. This April, NYLON is dedicating six days a week to introducing you to new artists and budding favorites. With interviews and GIF portraits done down at SXSW, NYLON's Month of Music is an exercise in finding aural pleasures outside of the Top 40. It's an exercise in challenging you and ourselves to not stick to one genre. But above all, it's a celebration of bold voices and sheer talent. Enjoy.
Australian newcomer Phebe Starr released her first, proper track nearly two years ago. Since "Alone With You" debuted, Starr's star has only risen further. Her unique brand of indie-electro-pop is riddled with yearning, dreams, and disillusionment. The comparisons to Lykke Li are not without warrant. She packs the emotion that has helped propel Li to indie-icon status. Despite the similarity, Starr is on a trajectory all her own, though. Her penchant for electronic productions brings to mind the sounds of Zola Jesus with a hint of Goldfrapp. Her music sweeps you off your feet and twirls you up to new, magnetizing heights. Getting lost in Starr's wonderland is well worth it. If you haven't yet, you're going to feel her love for a long, long while.
What song of yours fits the following situations?
Getting ready in the morning?
Man, it depends on what mood. Me getting ready? I'm just gonna go with "Dream." It's not released yet.
Can you tell us about it then?
You know when you have a crazy dream and none of it makes sense, and then you wake up in the morning and tell your friend, "I had the craziest dream and we were in this pancake parlor and blah blah"? It's about this dream that I had where I was playing soccer in L.A. I was on the soccer team, which is really random. I played soccer the night before, and I had this dream the girls on my soccer team were talking about another girl, and then I had this dream about the "other girl" and it was the most bizarre thing, because, in my head, I was like, "Is this the girl from the soccer team? Who is this girl?" She had short blonde hair and the darkest eyes I've ever seen. It was so symbolic, but I still have no idea what it meant. I woke up the next day and I wrote that song.
Me time?
"Alone With You." It's off my old EP. I wrote it one night after I had been doing a lot of shows. This was before I released anything in Australia, and I was playing with other bands and doing a heap of stuff. I got really disconnected from myself. It's funny, everyone thinks that song is a love song. I don't know if you've ever experienced anxiety and when you feel so disconnected from yourself, but I was overworking, I was being stupid, not eating, not treating my body right. I had this performance for a movie theater the next day and I didn't want to play any of my old songs, so I started to write "Alone With You."
Hooking up?
I don't really write hookup songs actually.
You'd be surprised what people hook up to.
I tend to be more of a deep person, where I think I write songs more about long-term love and the awkwardness of love rather than the romance of a one-night stand. I think any of my songs—actually, "Two Hearts." It's also not released yet, but it's really fun and really pop, and it's about the connection of two people getting it on, so there you go.
Can you recall a moment in your life—whether it's a song, a show, a video—that convinced you, you wanted to be doing music?
When I was two years old, I literally wrote songs and tried to perform them for my family. There was a never a time where I was like "Oh, I'm going to be a musician." There are certain goals that come with wanting to be a musician and there's all the industry crap, but I think, for me, I would be doing this if I failed on the business side of the industry. I just do it because I want to.
Is there a difference between your persona onstage and your persona offstage?
I hope not. I think if I'm nervous, I sometimes put on a bit of a front, but that's what I'm trying to work on not doing. I have a few sayings that I hold close to me and one is "The truth matters and it's the most validated thing." It's weird to me how our generation is trying to be famous and trying to be cool. I think the coolest thing is being real. The songs that I've written that people connect with the most are songs that are about me, that are real. It's not good for me if I try to fake it; it's not good for other people.
If any artist, dead or alive, could cover your music, who would you want it to be?
First of all, anyone who takes my art and channels it with their own expression, that's one of the most humbling experiences. It brings me to tears when anyone does that. I don't care if their the smallest artist or just some random person, I think that's the most validating thing for me. This dance group in New York took my songs from my last EP and made all these dances to them and sent them to me. I cried because it was so beautiful and they had such a strong connection to the music. If I had to pick, though, I think I'd want someone from a completely different genre, like a rapper or like Kanye, The Cure, or someone who could take my song and make it into something that fell outside my genre. I think that would be an interesting experiment.
Have you ever been starstruck?
It's funny because I'm not really starstruck by celebrities. There are very few celebrities that I probably admire in an "I want to be like them" way. You probably don't know the people that I've been starstruck by because they're Australian, but there's this guy in Australia and he is this badass journalist/radio presenter. He does all this stuff—like he investigates religion and politics. He's like an academic. His name is John Safran. My friend who works in radio tweeted about me and then he tweeted at me. It's funny because all of these goals that I had—like I really liked Ben Folds growing up and he was the first person I toured with—didn't amount to John Safran tweeting me.
At the end of the day, how do you wind down and ground yourself?
I have rituals. I know this really corny, but I meditate and I use lavender oil. I try to chill out, have my own space, some alone time, and listen to music. If you're in a festival setting every day of your life and you're performing all of the time, there's a certain point where that mindset becomes your norm. It's not healthy, so I try to disconnect a little.
Photographed by Kara Smarsh.