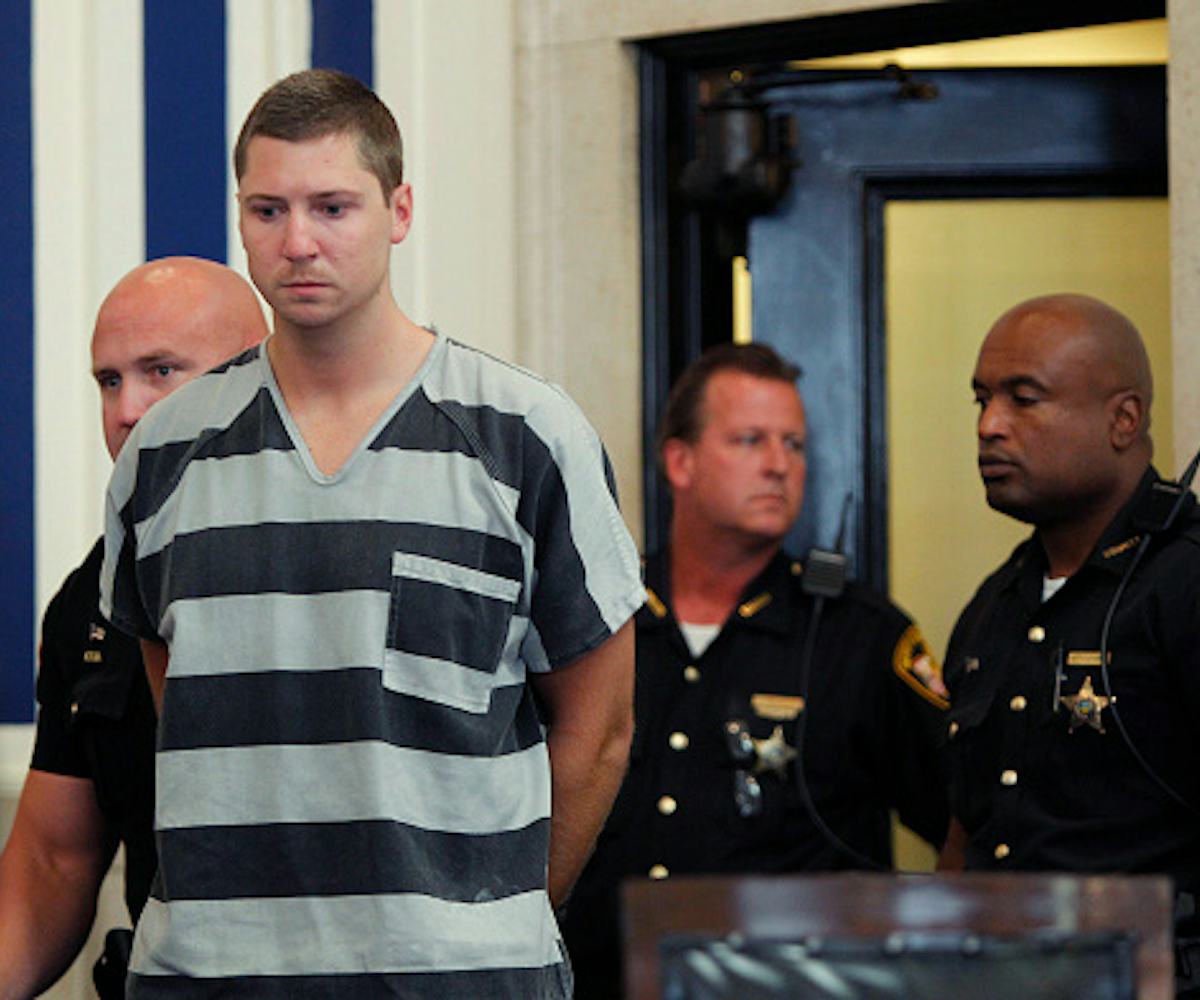 Photo by Mark Lyons / Getty Images
Third Officer This Week Receives No Conviction For Killing An Innocent Black Man
"It was a senseless, asinine shooting."
In the span of just one week, three officers have walked away without facing any charges for killing three innocent black men. All of these incidents were captured on video.
Yesterday, the retrial against former University of Cincinnati police officer, Raymond Tensing, who was accused of fatally shooting 43-year-old Samuel DuBose, an unarmed black man, in 2015, ended in a hung jury. Tensing's case also ended in a mistrial last year. DuBose's murder was captured on video and played for the jury. It proves that DuBose did not act aggressively or pose a threat to Tensing. It also contradicted earlier statements made by Tensing, where he claimed to have been caught in the steering wheel and dragged by DuBose's car. 
"It was a senseless, asinine shooting," Hamilton County prosecuting attorney, Joseph Deters, said at a news conference. "This doesn't happen in the United States, OK? This might happen in Afghanistan. People don't get shot for a traffic stop."
And yet, they do. Last Friday, Minnesota police officer, Jeronimo Yanez, was acquitted of all charges after shooting and killing 32-year-old Philando Castile at a routine traffic stop. Yanez claims he thought Castile was involved in a recent robbery because of his "wide-set nose." After Castile calmly informed Yanez he had a firearm on him, which he was legally allowed to carry, Yanez panicked when Castile reached for his ID, as requested by the officer, and shot him seven times, killing him in front of his girlfriend Diamond Reynolds and her 4-year-old daughter. This, too, was all captured on two different videos, one from the officers' dashboard camera, and one from Reynold's phone. 
On Wednesday, Milwaukee officer, Dominique Heaggan-Brown, was cleared of all wrongdoing after killing 23-year-old Sylville Smith. Smith had thrown his gun and was running away from Heaggan-Brown at the time and posed no threat to the officer when he was shot twice, once in the arm, and again in the chest, killing him. Once again, the entire incident was caught on camera. "I feel like no matter what it is, these police officers all over the world, they can just literally murder you," said Smith's stepsister, Shannon Daniels, after the trial. "I feel he blatantly shot Sylville. I feel it was intentional."
According to BuzzFeed's report "Blue Lies Matter," cops' statements in these cases often contradict what's captured on video, and they often get away with it. Since 2005, only 13 officers have been convicted for on-duty shootings, not including Roy Oliver, who was convicted of murder in May for killing 15-year-old Jordan Edwards. And in April, Attorney General Jeff Sessions indicated the Justice Department will roll back oversight of local law enforcement agencies, making these kinds of shootings even easier to get away with. 
Yesterday, as DuBose's sister, Terina Dubose-Allen, walked out of the courtroom, she quietly told reporters, "I think it's horrible." His mother, Audrey DuBose, said in a statement, "We are outraged that a second jury has now failed to convict Ray Tensing. We demand another retrial." 
On Thursday night, Daily Show host Trevor Noah discussed the shooting of Castile. "When a jury of your peers, your community, sees this evidence and decides that even this is self-defense, that is truly depressing," he said. "Because what they're basically saying is, 'In America, it is officially reasonable to be afraid of a person just because they are black.'"