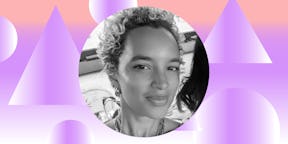 Phoebe Collings-James Is Manifesting Her Artistic Destiny
It Girl: Phoebe Collings-James
Like most It girls of the past, Phoebe Collings-James began as a model. She started when she was about 13, stopped at 18, and started again at 25. It's easy to see why labels like Burberry, Gucci, and Louis Vuitton are attracted to the now-31-year-old. She glows. Maybe even more so now that she's adopted platinum blonde hair which she wears in a short, curly pixie.
But before becoming a model, Collings-James was—and still is—an artist. Through mediums like drawing, sculpture, ceramics, and painting, she addresses the experience of being black and a woman and how that shapes one's identity. This summer, the British-Jamaican artist went back to her home base of London (she currently resides in Brooklyn) for her new show "Relative Strength," which explores oppression and representation.
The topics are heavy but important, and Collings-James approaches them with care. For "Relative Strength," which was made up of primarily video and ceramics, she went all the way to Italy to learn and perfect the practice. With the current political climate, art—and especially art made by POC—of this caliber is more important than ever.
Below, we talk with Collings-James about how art intersects with politics, where she turns for inspiration, and who her own It Girls are.
How has the recent political climate impacted how you create art?
The hostile conditions for all of us working class and POCs has a knock-on effect to the way we are able to operate as artists, it limits resources and means that we have to work in ever more inventive ways—but "life grows between the cracks." Art has the potential to enrich our lives in a way that gives us energy to fight, so I guess the worse things get, the more urgent it becomes?
Where do you turn when you need inspiration?
Lately, that has been mostly in nature—taking long walks through the forest with my dog, watching the crows. And listening to music, taking my mind somewhere else.
What/who has been feeding you creatively lately?
I have been working collaboratively for the first time, with five other artists on a new performance work, "Sounds 4 Survival," led by myself and Jamila Johnson-Small. It has been an interesting way to learn about my work through listening to the way others process the world creatively.
What kind of art are you creating at the moment?
I am thinking about how to manifest a density in my work, a lot of layering of symbols, sounds, and materials. With ceramics, movement, sculpture, drawing all kind of weaving through each other getting tangled along the way. Interior and external pressures have left me feeling at a peak emotional sensitivity, like some sort of tinglingly membrane… So, I feel like I need to let that energy out somehow.
Who was your It Girl when you were growing up? 
Missy Elliott
Who is your It Girl now?
Probably still is Missy, TBH!