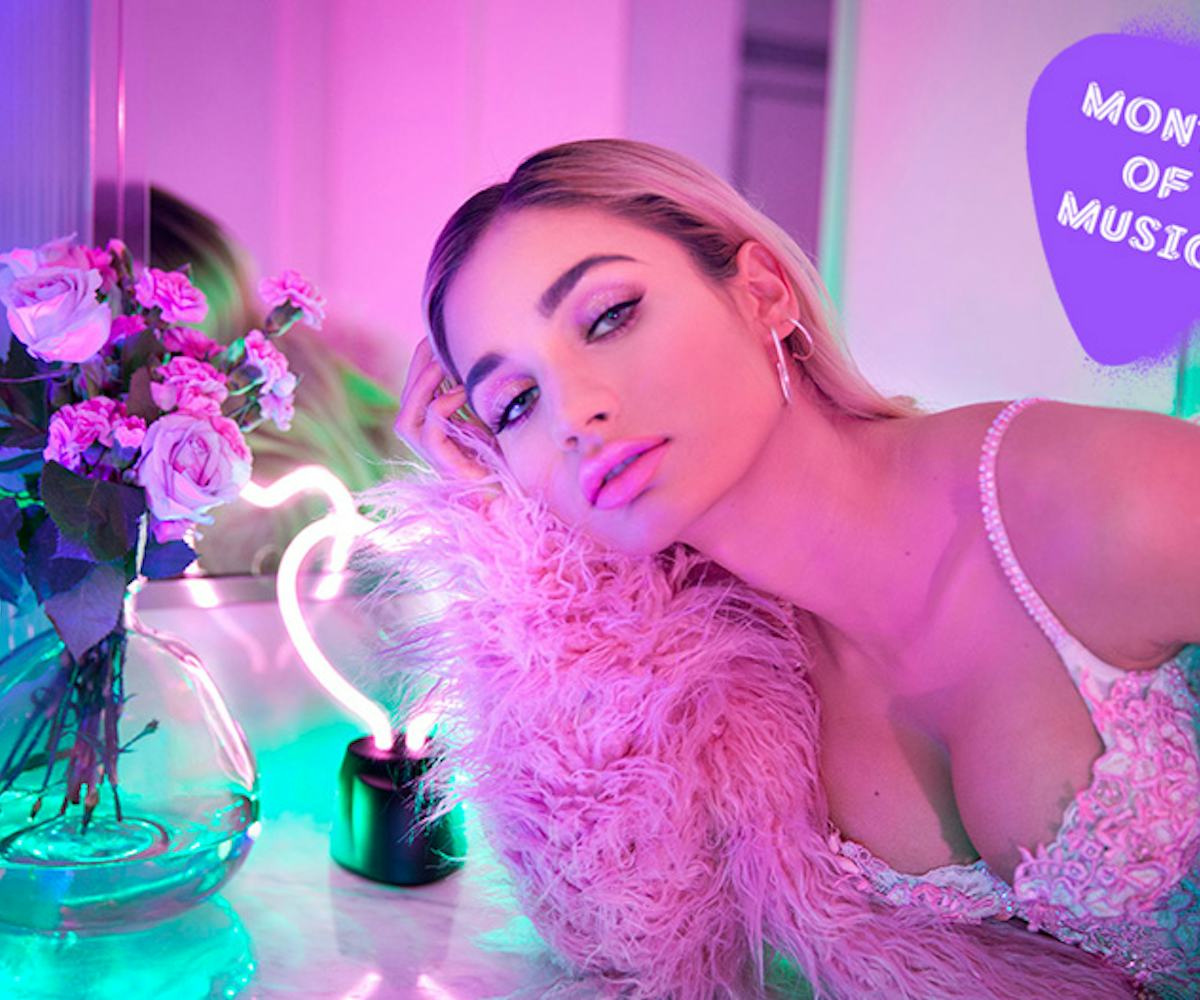 Photographed by Signe Pierce.
Make Way For Princess Pia Mia's Reign
We share music because we want to connect with others on a deeper level. We want to relay and relate to a message that can't be said with just words. This April, NYLON is dedicating six days a week to introducing you to new artists and budding favorites. With interviews and GIF portraits done down at SXSW (plus two very special ones done outside of the conference), NYLON's Month of Music is an exercise in finding aural pleasures outside of the Top 40. It's an exercise in challenging you and ourselves to not stick to one genre. But above all, it's a celebration of bold voices and sheer talent. Enjoy.
The onset of social media, rabid fan bases, and an industry that favors the single over the album has redefined what it means to be a bona fide pop star. The innocence of pop's bubblegum days is long gone. Nostalgia for the early years of Britney Spears & Co. is strong, but up until now, no musician has taken the provocativeness acts like Spears' exuded and modernized it for today. Pia Mia Perez, the 19-year-old musician better known as Pia Mia, is leading that charge.
With more than four million Instagram followers and an incredibly active presence on Twitter, Pia Mia's star is burning brighter than ever. The Guam native has come a long way since covering Justin Bieber and Sarah Brightman (in Italian, no less!) three years ago. Now, she's racking up hundreds of millions of views on YouTube, rubbing elbows with other elite teens, and was, most recently, named the fashion director for Madonna's Material Girl clothing line. Growing up alongside the advent of social media has helped bolster her influence across the world. Her unique blend of street style, couture, and Tumblr trends has made her an icon in the making. Her music, however, and all that go with it—videos and live shows—is where Pia Mia shines. To say she has rhythm is a massive understatement. Her music videos and choreography harp back to the not-so-innocent days of the early aughts. What's more, she can sing through it all. Pia Mia boasts a powerful vocal range—one that holds a candle to Mariah Carey and Ariana Grande's. Her confidence is palpable and her drive is wonderfully relentless. Though she's only released a few singles and an EP, Pia Mia is poised for pop royalty. Bow down, accordingly.
Ahead, get to know the multihyphenate in our exclusive interview and photo collaboration with artist Signe Pierce, who just so happened to shoot the entire thing on an iPhone. Welcome to the digital age.
Photographed by Signe Pierce; Styled by Chris Horan; Makeup by Scott Barnes; Hair by Dimitris Giannetos; Creative by Claire Fitzsimmons.  Shot at The London West Hollywood.
What got you interested in pursuing music?I've always had an intense passion for music and singing, but it wasn't until the third grade, when all the girls were trying out for a Cinderella audition, that I decided to try out, too. The music director saw something in me at that audition, cast me as Cinderella, and then took me under his wing. As soon as I stepped on stage, I knew that this was what I wanted to do. I was eight. Was there a song or show you saw that solidified your passion?The first time I stepped on stage, I knew that was it for me. I was very shy growing up, and singing was the only place I could truly be myself, be vulnerable, and share my heart with people. Feeling at home on stage, at such a young age, solidified music as my passion.Jamie Lee bra and underwear; Pia Mia's own grill.
Who are your idols?Growing up back home on the island of Guam, there weren't artists for me to study in person, so I relied on YouTube. My favorites ended up being Michael Jackson, Céline Dion, and Beyoncé. I would study everything I could find from their stage performances to their music videos, and even interviews. To this day I think Michael sets the bar when it comes to performing, connecting with his fans, and inspiring people. How do you hope to inspire girls and women?The thought of inspiring and helping uplift girls through sharing my experiences is amazing to me, but it's also important that I can connect with all types of people... boys, girls, kids, adults, whoever.UNIF dress; Kira Goodey boots; RENVI earrings.
Where do you find inspiration today?I think you can find inspiration in anything. I pull a lot of inspiration through my life. Everything I sing about is very true to who I am, my experiences, and how I feel during that time of my life. How would you describe your style and sound? A lot of people ask me about my style or my sound and how to classify it, but I just don't feel like art needs to be labeled all the time. I'm making music I love.UNIF jacket.
Where did the nickname Princess Pia Mia come from?I'm named after my aunt Mia, who is the only girl on my dad's side of the family. When I was born, my parents wanted to make sure she felt like she was a part of it, so they incorporated her name in mine. The "princess" part has been around since I was a baby.How do you stay focused?I stay focused by keeping extremely close to my family and a very small handful of friends. My family has always given me perspective on everything I've been through. They help remind me that the struggles I endure are lessons that I should share with the world through music.
How did your collaboration with Chris Brown come about?"Do It Again" is a record I made two years before we finally released it. It was born from an idea I had and [was] inspired by J Boog's song. With the help of Nic Nac and Marc Griffin, I was able to bring that idea to life. After we made the song, I ended up stopping by one of Chris' sessions one night and he heard the song. He loved it and asked if he could get on the song right away. I was super excited, he brought a lot of great energy to that song and project... and the rest is history. You recently tweeted about a broken heart. Is there a secret to getting over something like that?Take time for yourself to heal and grow from the experience, but also to reflect on what the lesson is. I always overthink things, like how it went wrong and what I could have done to prevent it. Sometimes I start feeling sorry for myself. These are the things you should try not to do, though. Don't be too hard on yourself. In the end, I believe in true love and destiny and that what's meant to be, will be, and that gets me through the hardest days. The most important thing is to be thankful to have felt what love is or could be, and allow time to heal everything.Jamie Lee dress; Sophia Webster shoes; Marina Fini earrings.
What was the best advice you've been given?I've gotten a lot of good advice on my journey, but two things have stuck with me and constantly continue to ring true. One is that whatever's meant to be, will be. As long as we are kind, do right by people, and work hard for the things we love, then we will always find the success that is meant for us. The second thing is that the more positive your outlook, the more positive the outcome. Can you tell us a bit about what the album will be like?I'm a hopeless romantic at heart, and the album will be a sincere look at how it feels to both stand and fall in love.