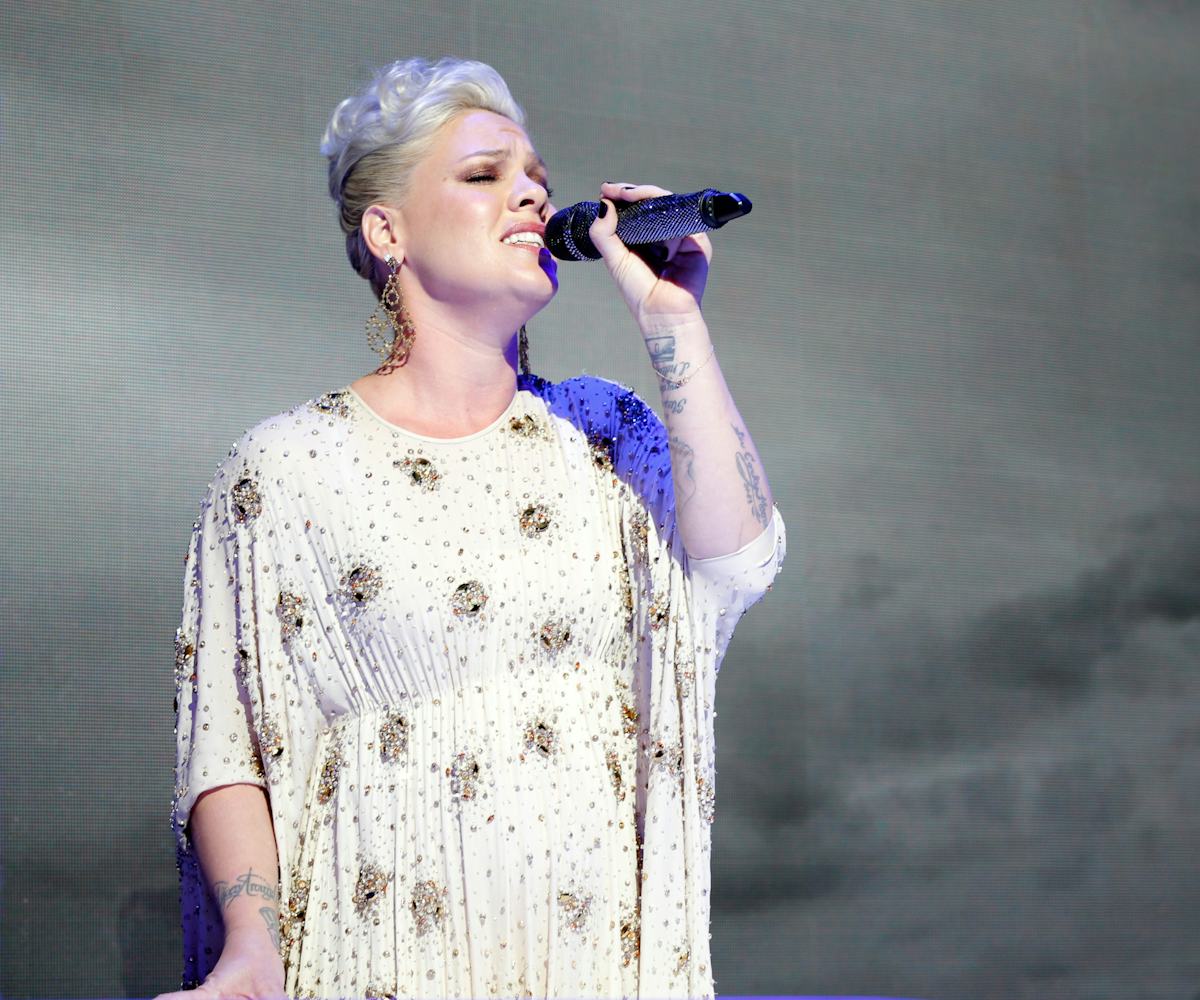 Photo via Joe Scarnici/Getty Images
pink was not impressed with this year's vmas
the latest in celebrity "feuds"
MTV's Video Music Awards are a spectacle. Filled with surprise performances, over-the-top costumes, tears, presidential announcements, and more, the awards show, as whole, really isn't about the music—but that didn't stop Pink from voicing her disappointment with the show's musical failures anyway.
"I felt sad because music is supposed to inspire. It saved my life," the six-time VMAs winner said on her private Instagram, according to E! News. "This trash won't save any kid's life. In a world that is even scarier and with lives still worth saving, who will stand up and have soul?"
While Pink's private analysis of the awards show (and a Twitter shout-out to Tori Kelly) gave congratulations to Macklemore, Pharrell, Justin Bieber, and The Weeknd for their strong performances, she supposedly also said that she forgot Demi Lovato had even performed the chart-topping hit "Cool for the Summer." As a whole, she felt let down by the VMAs, reportedly saying, "The rest was gross and embarrassing and hard for this aging pop star to believe."
Although these comments were said privately (Pink deleted her public Instagram back in 2012), the Internet took it upon itself to sink its teeth into the drama, pinning the singer against Lovato and Cyrus. After all, Pink did also publicly Tweet a reference to weed, making it pretty clear who she was disappointed with (cue Cyrus singing, "Yeah, I smoke pot. Yeah, I love peace.")
But as Cyrus fans, Lovato defenders, and lovers of celeb drama began attacking the singer, Pink then decided to publicly dispel any questions about her privately spoken words, saying that she meant what she said.
However, by then Lovato had gotten wind of Pink's snub, and she too, took to Twitter to stand up for herself.
But then, alas, Pink had to respond once more, clarifying that she wasn't out to get Lovato after all.
The lesson we should take from this? When you're a celebrity, you have to be careful with your words (for another case in point, see Miley Cyrus re: Nicki Minaj). And, on the other hand, sometimes the best thing do to @ people when you're talking to (or about) them. And lastly, sometimes you just need to ignore the comments. The Internet can get a little too crazy, after all. 
(via Refinery29)