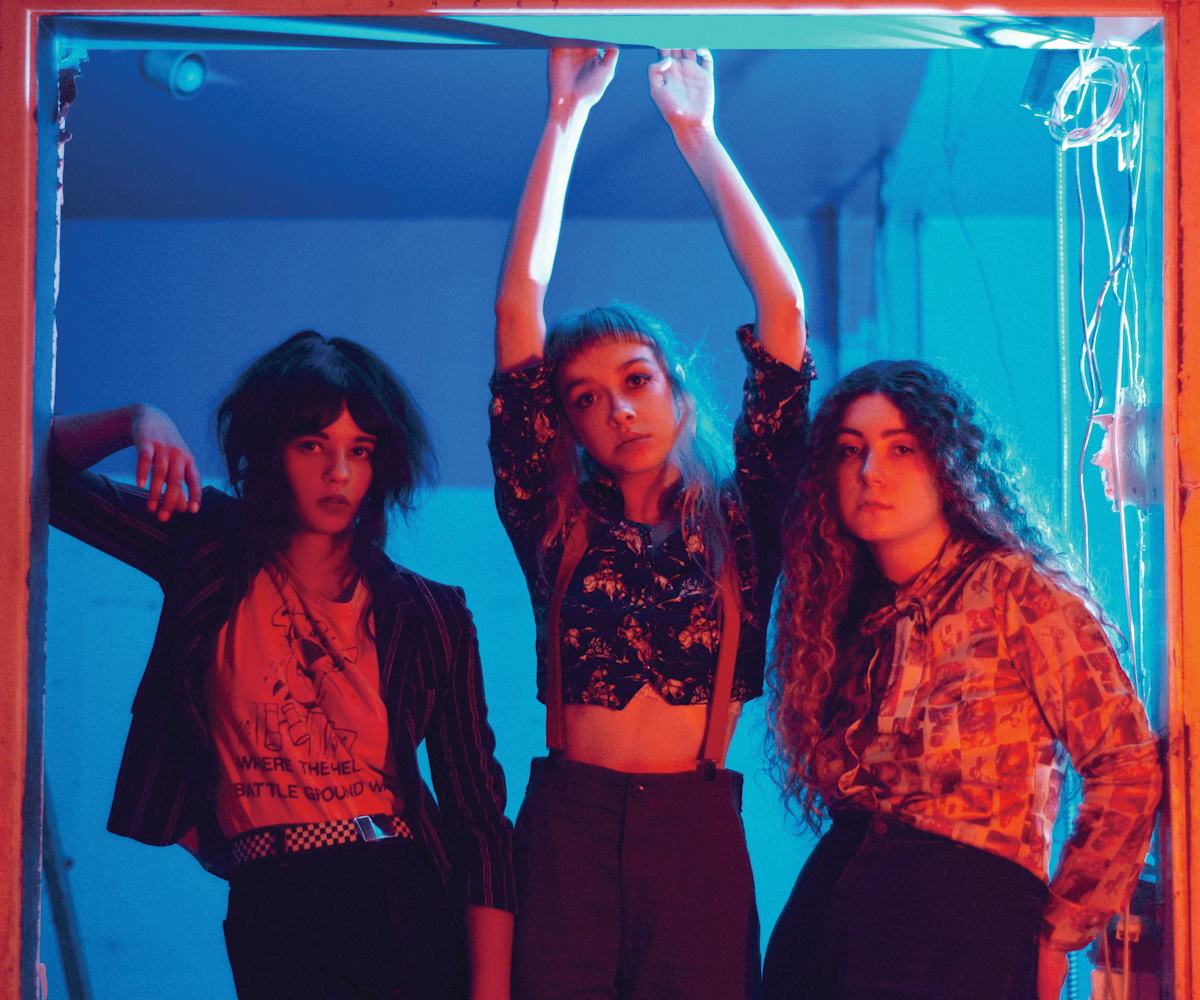 Photo Courtesy of Pinky Pinky
Pinky Pinky Made Your Ultra-Cool Summer Soundtrack
Get to know the L.A. psych-rock trio
Pinky Pinky is the newest band having us thinking, Damn, why wasn't I this cool in high school? The proto-prog-inspired three-piece hails from Los Angeles and has already made a mark on the local garage pop scene with a sound entirely its own. Just a month ago, the trio dropped its self-titled debut EP and is already set to work on another to be released later this summer. 
The three met in high school, forming their current lineup in 2015. The band tells us that their name was, in fact, inspired by the ultra-creepy South African myth of a creature that tormented girls in pink underwear (weirdly specific, but scary nonetheless). Much luckier than the girls targeted in the myth, these three women found their first success with Hanni El Khatib's label Innovative Leisure. 
The band boasts a fuller sound than one would expect from just three people. Guitarist Isabelle Fields and bassist Eva Chambers bring together a tight psych-surf sound with their driving rhythms, especially on lead single, "Ram Jam." Anastasia Sanchez holds it down on the drums and provides vocals simultaneously, her voice maintaining that emotionally heavy-yet-aloof quality perfected by some of the greatest women in rock decades prior. 
Stream their solid debut as you get to know Pinky Pinky in the interview below. 
What are you most proud of so far in terms of your career?
We've been able to balance high school, work, and the band all at once.
What famous person dead or living do most wish you could have as a roommate?
RuPaul.
What is your favorite driving music?
Murray Head "One Night in Bangkok."
What's your favorite place to write music?
Eva's attic with all the ghosts.
Describe your aesthetic in three words.
Good. Clean. Fun.
If you had to wear one thing for the rest of your life, what would it be, and why?
Our birthday suits. No explanation needed.
Do you have any pre-show superstitions?
We play better when we drink coffee with milk beforehand, even though we're all lactose intolerant. The rush of having to shit your pants really makes you play well.
If you had to live in a past time, what do you think would be the most fun era and why?
Being disease-ridden rats spreading the Black Plague in the 1300s or the Gold Rush.
What activities do most enjoy doing alone?
We can't catch a break from each other. Can't remember the last time we were alone.
When are you most relaxed? 
Relaxed? We're never relaxed.
What kind of person were you in high school? 
Isabelle was the class clown, Eva was the quiet kid in the corner with the poker face, and Anastasia was the anxiety-ridden kid who slacked off.
Can you tell me a quality about yourself that you are genuinely proud of? 
We're hardworking and primarily self-taught musicians.
Do you have any phobias?
Isabelle has a really bad case of katsaridaphobia [fear of cockroaches]. Eva has a mild case of anatidaephobia [the fear that one is constantly being watched by a duck]. Anastasia isn't afraid of anything.
What's a side of you that people are unlikely to know about? 
Isabelle is a fantastic dancer, Eva can play the accordion, and Anastasia can whistle like a bird.
What are some new hobbies you would like to take on?
Glass blowing.
What's your next project?
We're recording another EP that should be released sometime this summer.