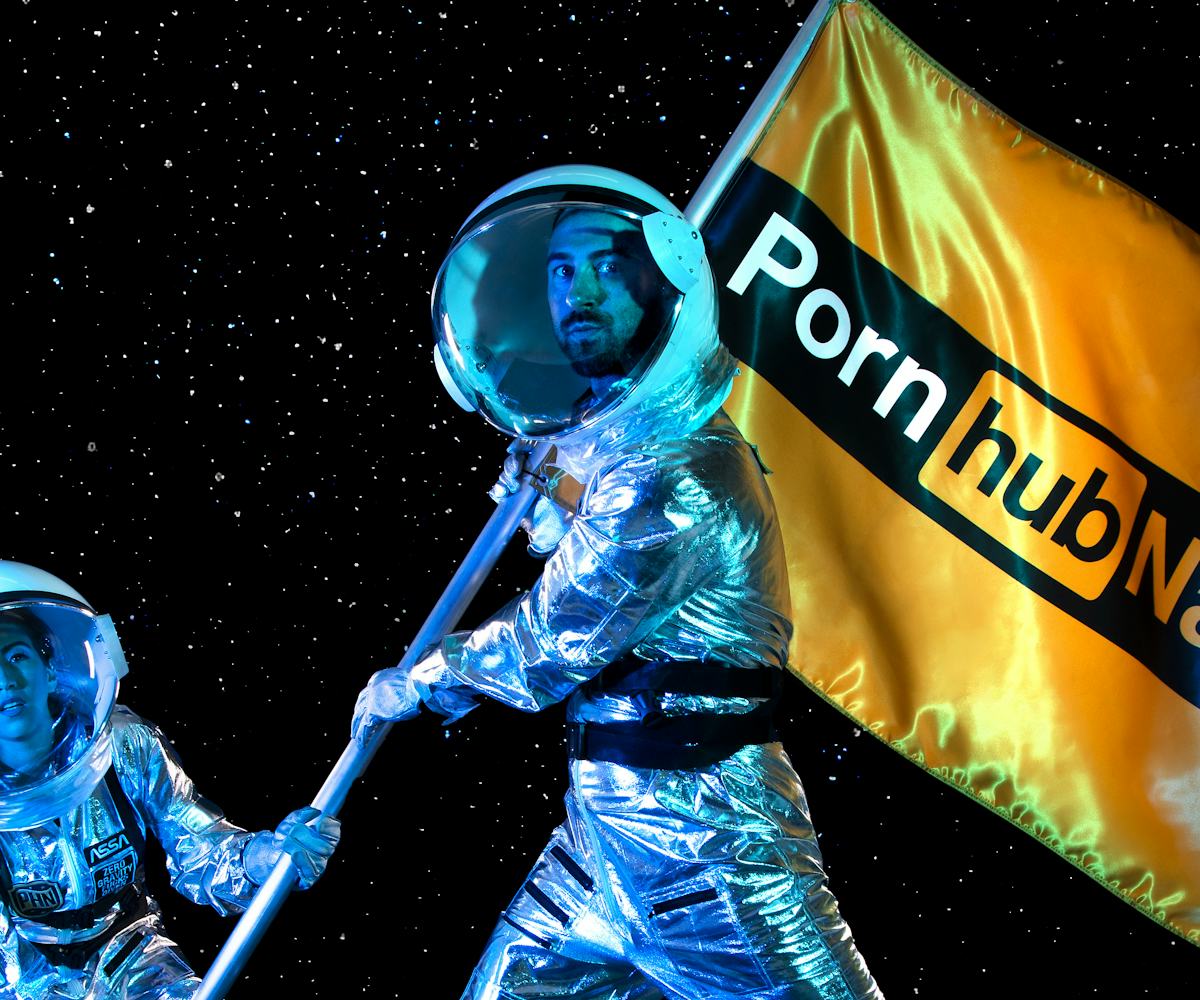 Photo By Maggie West For Pornhub.
Pornhub Has Created The Democracy Of Your Wet Dreams
Nothing but respect for my president
Given our current state of affairs, any attempt to envision the world in 2069 is not going to be pretty. But maybe it will be full of dildos? Thanks to a new Pornhub-funded art installation in L.A., it's now possible to at least pretend that a portion of our tax dollars is going toward dildo-festooned botanical gardens and the very noble endeavor of screwing in space.
Aptly titled "Pornhub Nation," the exhibit is the fantasy of photographer Maggie West, who was eager to create a respite from our current political hellhole. Granted complete creative freedom to craft a completely off-the-wall world, in which Asa Akira is one of four porn star presidents and the National Silicon Reserve is just a pool of breast implants, West produced an outlandish, fantastical reimagining of a world in which liberated sex rules and sex work is destigmatized. 
Working alongside Ryder Ripps, West started this project as a proposal for Pornhub that envisioned an American future fueled less by partisanship and more by hedonism. The result? Six different rooms that cheekily parody various government organizations, including the ASSA space program and a new twist on the DMV—the "Domination Masochistic Vroomvroom." 
Though the installation is currently only available to tour if you're 21+ in L.A., we managed to get West to give us an exclusive glimpse into a government that's only marginally more ridiculous than the one we have now. And if you're in L.A., make sure to pop by the exhibit's closing festivities this weekend for concerts, industrial goth parties, and meet-and-greets with some of Pornhub Nation's finest. Read our Q&A with West, below. 
How did Pornhub get involved with this project?
I just thought the concept of a six-room, immersive "museum of the future" was just really fun. But something like that is also pretty expensive… But Pornhub has been doing a lot of really interesting things, recently. They sponsored an Italian swim team and they made a program to help you get fit while having sex, so I figured they might at least be open to hearing me out. 
Honestly, they've been really cool throughout this whole project, and just let me have the creative freedom to kind of do what I want. They will occasionally give a note, but for the most part, they are like, "This is cool, run with it." So that was really nice, especially as somebody who works for companies a decent amount. It's not always like that.
What about the concept? Were there any particular themes you wanted to address?
The overarching goal is just for people to have a fun experience, because I consider this project as a bit of a reprieve from everyday life, culture, and the news. You get to go into this elaborate, sexy, fantasy world where we don't have Donald Trump, everything is great, and you can have the type of sex you want to have. 
For me personally, I also [wanted to see] porn performers depicted in ways they're not normally shown. Basically, taking them out of a sexual context. I don't think it completely solves this problem entirely, but I do think that in some ways, it helps destigmatize sex, sex workers, and what they do. I think that if people have the ability to see them as something other than a sex worker, maybe it will put all of this into a little bit more perspective.
Again, I don't think it's going to change the world, but I hope that just maybe somebody gets some of that out of it in a small way.
Would you consider your vision a semi-utopia ruled by sexual freedom or a surveillance-laden dystopia? 
I would call it more of a utopia. There are definitely some jokes about surveillance and stuff like that within, though. Like, we have a character called Watchie, because everybody is super-exhibitionist, and they like being watched. He's a weird lovable cartoon character who's watching you all the time, but everyone loves it.
There's definitely a lot of satirical comedy or commentary on our contemporary culture present for sure. But overall, it's a positive place where [adult film star] Riley Reid can be president, and the space program is just about having sex in space. 
...So how exactly is this "interactive?"
The whole thing is like a fixed-room install that you go through, and each room is like a different parody of a government organization. So the first room is like the National Gallery, and it's my version of what the National Gallery would look like. But interactive elements vary from room to room. Like in the DMV, there's some stocks that you can put your head into and act like you're being punished by our ["Domination Masochistic Vroomvroom"] agents. 
For the National Silicon Reserve, we have a ball pit that you can go in. And the joke is that all of our nation's silicon implants are in there.
And then we have a VR game in the IRS, which is one of the last rooms. You can throw sex toys at Harvey Weinstein, and for every dildo you hit him in the head with, you get a credit on your taxes. So in the new world, that's how you get a discount on your taxes. You'll play the game for a few minutes and it'll be like, "You got 8 percent off your taxes."
Wow, talk about a dream.
Yeah, totally. It's like if you had a crazy dream where everything was sexy and awesome.
What was fabricating the install like?
I use colored lighting in almost everything that I do, so in addition to colored lighting being present within the photos, I actually used a lot of neon lights in the install, too. So in almost every single room, the only lighting is ambient—from the neon and from the dollar signs. And the photos are actually displayed through light boxes, so all of the light coming off them is colored too… It's essentially as if you were walking through one of my photos.
Also, I'm primarily known as photographer, but I have a background in a lot of other art forms. Like in college, I did illustration, and when I first moved out to L.A., I did production design. So for this installation, I actually hand-painted and physically constructed a lot of the stuff myself. Like, I did a lot more physical fabrication. I did a lot of the electrical work, and in the dick flora room, I hand-painted 467 dildos with an airbrush or with patterns and stuff like that… In terms of physical construction, it's been kind of nice to go back to some of my art department roots and physically make stuff for the first time in a long time.
Join "Pornhub Nation" for its closing weekend events.
8/9/18: Our House will include a meet-and-greet with Leigh Raven and Nikki Heart, sounds by DJ GOODBOY and Madame Ghandi, and stand-up by local womxn from acts like Act Like A Girl. (21+)
8/10/18: Das Bunker, L.A.'s top industrial party, will be hosted by Joanna Angel, and feature sounds by Franck H-Bomb, The Operative, Maldoror, and Rev. John. (21+)
8/11/18: HAM On Everything will include a meet and greet with Riley Reid, live performances by Father, Lil Aaron, and Dana Dentata, and DJ sets by Softest Hard, Bella Ferrada, KO AKA Koala, Ka5sh, and Dem Ham Boyz. (18+)
Anna Foxxx By Maggie West For Pornhub.
Anya Ivy By Maggie West For Pornhub.
Asa Akira By Maggie West For Pornhub.
Joanna Angel By Maggie West For Pornhub.
Lance Hart By Maggie West For Pornhub.
Photo By Maggie West For Pornhub.
Photo By Maggie West For Pornhub.
Photo By Maggie West For Pornhub.
Photo By Maggie West For Pornhub.
Photo By Maggie West For Pornhub.