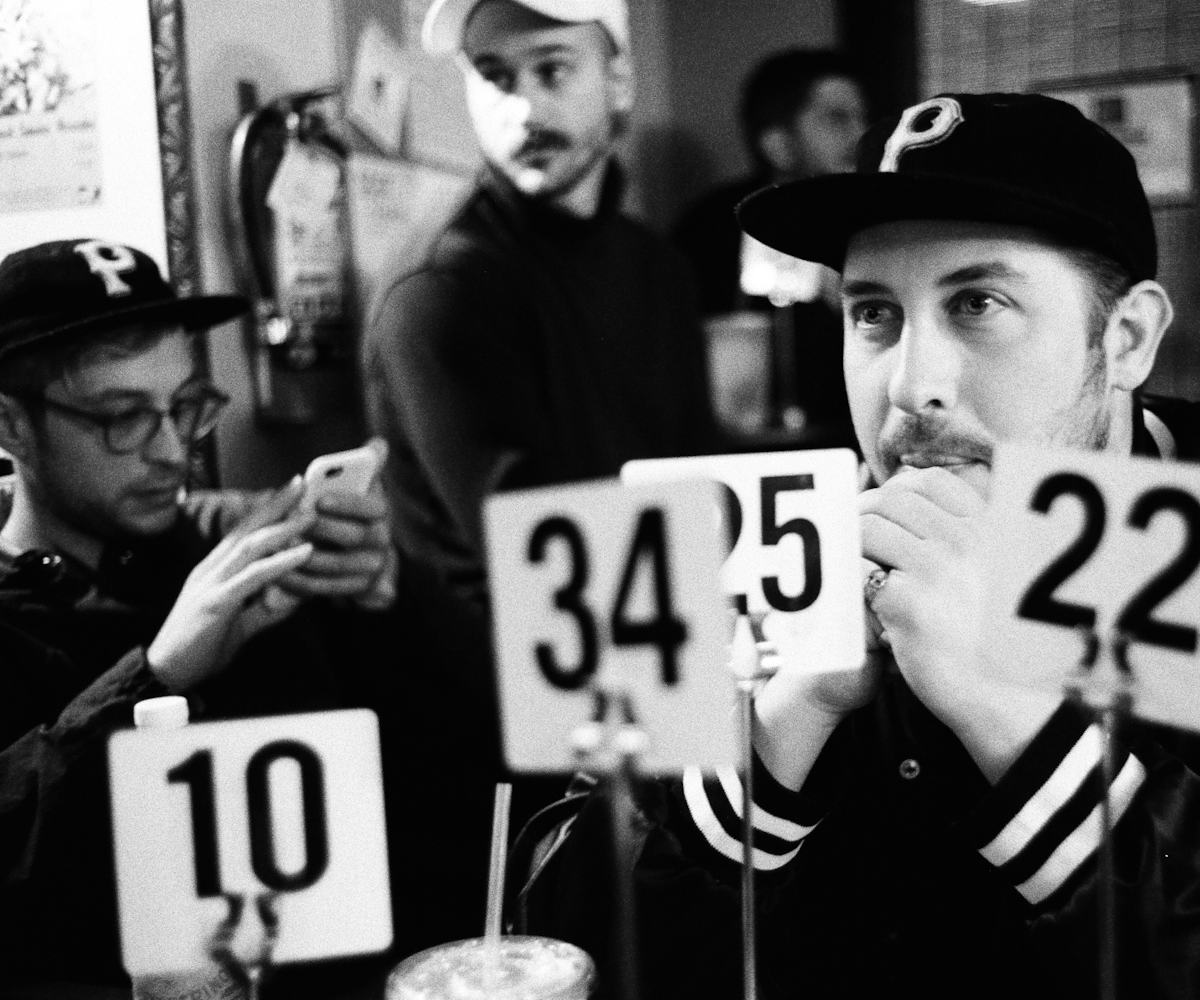 Photograph by Maclay Heriot
Portugal. The Man Reveal The Weirdest Thing A Fan Asked Them To Do
Woodstock was an iconic moment in American music history—a showcase for many of the greatest musical talents of all time and a testament to a spirit of peace and free love that continues to influence musicians and pop culture to this day. And if for some reason you don't take our word (or, uh... the word of literally everyone in the universe) for it, just ask Portugal. The Man, whose latest album is titled after the grand festival that took place nearly 50 years ago.
On Woodstock, the Alaskan band proves that they are still the kings of experimental psych-pop as they reinvent themselves yet again. Wanting their latest to emulate the vibe of a music festival, the band combined influences from the '60s, modern rap, electronic, pop, and the sociopolitical climate of today on their new record, ultimately creating a sound both timely and timeless.
But anyone who knows PTM, know that they are no strangers to reinventing their metaphorical music wheel. And after eight full-length releases, who could blame them? We recently caught up with the band in the midst of their new tour—nearly three years since they gave us a sneak peek into their pop-up gallery—and found that the dudes continue to stick to their guns and stick it to the man. 
In other words, the band is still creating art, still touring the globe, and still finding new ways to make good music. Read on to find out their process in creating Woodstock and how famed satire musician Weird Al Yankovich made their 2013 Bonnaroo performance one of their best. 
Woodstock's sound is more pop and hip-hop inspired in comparison to your other work. After making so many albums, was the change in sound necessary for you to grow as artists, or was it something you wanted to try to experiment with?
Anybody who has known our band ever, always knows that every record is going to sound different. We do that on purpose, we like to take generally pretty large departures from our last release, honestly just 'cause it's fun for us. I grew up in Alaska, listening to Slayer, and the Wu-Tang Clan, and The Beatles. I never decided what kind of music I wanted to play. And so every time we write an album, we definitely want to branch out from areas where we've been. Particularly with this album, calling it Woodstock, we definitely wanted it to sound almost like a music festival. Like, when you walk around Bonnaroo, and you hear the electronic sets, you hear hip-hop on one of the stages, you hear a rock band from one of the tents... you kind of want it to sound like a mix CD we would have made ourselves back when we were 17, you know?
How have longtime fans been receiving the album?
I think they've responded very well. There's always going to be some haters; every time we put out something new, there are people that say they wish we sounded like how we sounded in our first two albums, and they just need to get over that. We are never going to do the same thing twice. We're constantly evolving and constantly changing—that's what humans do!—and that's why we got so far. 
With so many songs to choose from, how do you decide what to play live?
That is pretty tough, there are certain staples you have to play a lot. You have to play the recent music video songs, you kinda play your hits. But then, you always gotta throw in something different, weirder, older. We want it to feel very cinematic, kind of like watching a movie.
How did the Flatbush Zombies remix of "Feel It Still" come about? Are there any other Brooklyn, New York, rap artists that you are listening to lately?
We're friends with those guys. Musical friends, actually. And we've been following them for a while, and honestly, they're just amazing dudes. We definitely do follow a lot of hip-hop because those are the people who are saying the craziest shit and are really breaking the mold and pushing the envelope in so many ways. Like Kanye, Kendrick... every time you hear about them, they're doing something new. [The] Flatbush dudes are super-rad guys. We invited them to go to our show last time we played New York, where most people would be looking cool, standing side stage, drinking a beer backstage; we happen to look up in the middle of the set and see a Flatbush Zombie kid just like dancing in the mosh pit and kind of going crazy in the middle of the crowd, and that's why we like them. They're so real, they're fuckin' awesome guys.
What's one thing you can't live without on tour?
I guess headphones, sometimes you just kinda need to unwind, because you're always around everyone else and you just need to block out whatever is around you. We've always got our headphones.
Was the songwriting process different in comparison to your earlier work?
Yeah, absolutely. We have a little more hope on this album. We try doing a few different things, working with other songwriters, because we love every aspect of the industry and we want to experience everything, and in doing that, we have really great experiences. Also, every time we do an album, we learn what to do, and we also learn equally what not to do. We definitely tried new things on this album, and I don't know what we're going to do the next time, but I'm sure we're getting started any day.
You guys mentioned in an interview with Billboard that Woodstock documents your experience of watching "everything unfold." Are there any specific moments that you've witnessed that you mentioned on the album?
It's just a general vibe. We saw a lot of similarities with the life and times of people in the late '60s; they were protesting, there was a war, a lot of things were going on. Basically, there was a foundation of politics built on fear and a wall mentality and a focus on American strengths. We weren't a part of that generation, but we still feel like we are, because we grew up on all of that music. In the social and political climate today, it was a good thing to see. We live in Portland; every week there's a protest going on, and it just really reminded us that it always ebbs and flows, hopefully. I always like to look on the bright side, like everything's going to come out okay; it always swings a little far one way, and then little bit far the other way, but hopefully, it keeps going and inching forward.
What is the funniest memory you have of performing live?
Oh man, there have been so many funny things in the past that have happened to us live. I guess I would have to say one of the funniest or one of the happiest was we got to play at Bonnaroo 2013 with Weird Al Yankovich. He came up on stage and jammed to one of our songs with us, and that was probably one of the most happy moments I have ever had on stage before. That was pretty crazy, but you see a lot of stuff every time. You see the Flatbush Zombie kids dancing out in front, just to see all of the beautiful places we have played... the last we did was Red Rocks, we played on Father's Day; we had our dad's there and got play in front of family and friends, it was pretty amazing. 
What artists are you currently obsessed with?
I'm in love with Savages lately. They're just the coolest band out there. They're something. Every time I see their show, I feel like I'm a 16-year-old kid again, I get so pumped. Their energy is so good to watch, it's really inspiring. 
How do you spend your downtime?
We don't really have any downtime. When we're not doing shows or recording, we're practicing or we're working on our album art or taking photos. We work very hard, that's just something that we like to do. When we're not doing that, even right now in our warehouse, we have a big projection screen—I'm trying to pick a movie right now—and we always have something playing on a giant screen while practicing. It's pretty ridiculous.
This job can be pretty crazy, and there's so much on our mind, that it's pretty hard for us to unplug and to clear our minds. I used to read a lot of the time, and I really can't read anymore. I'll be on a flight, and I'll read and then I'll stop and start to think about things and then two hours will go by and I'll snap out of it and still be on the same page. Same thing with music even; like I'll be listening to an album I've been meaning to hear, and I'll get two songs in, and then I'll realize I'm at track nine and I'll be like "What the shit?" and won't even remember what happened. 
What's the strangest thing a fan has ever done for you?
Oh, there's a lot of weird things. I guess the weirdest thing would have to be when I met a girl in Portugal. Instead of asking for an autograph, she wanted me to burn her leg with a cigarette. She always wears the same pair of tights, and she wanted a hole burned through them and to her leg with a cigarette. That was probably the weirdest thing. The weirdest thing that I can say in an interview.
Do you have anything in the works after this tour is over?
Oh yeah, more touring, and we're gonna get back to rehearsing, try to get a little band time in. We've got a lot of stuff to do. We pretty much keep moving whenever we're not out touring. We're pretty much out, doing small shows or talking to radio stations or doing interviews. And I imagine we're going to start writing new music.