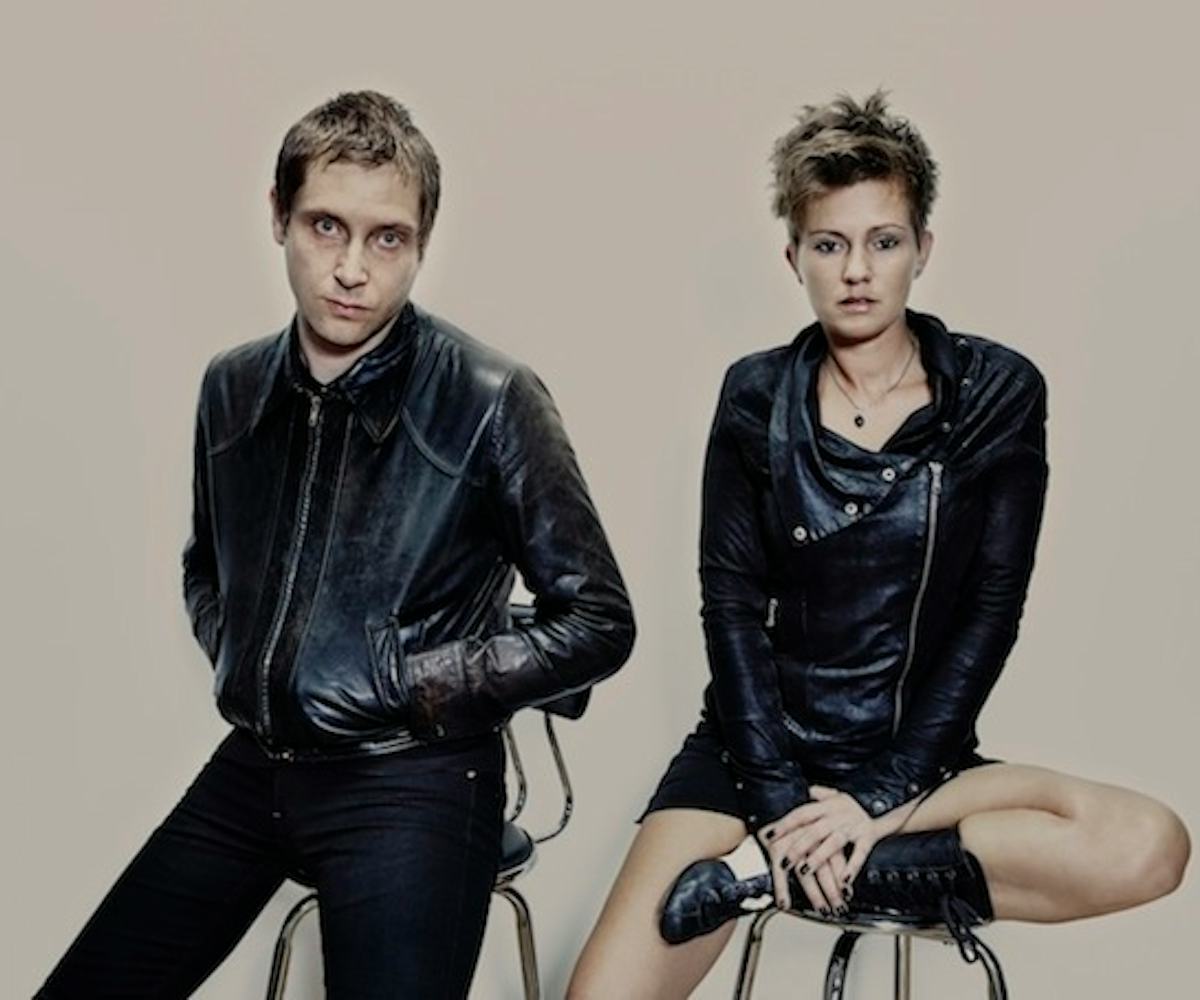 prinzhorn dance school made and exclusive mix for NYLON
oh, and a great new album
After almost a decade of making brittle, jagged post punk, Prinzhorn Dance School is lightening up. The Brighton, UK-based duo, comprising multi-instrumentalists Tobin Prinz and Suzi Horn, still stick to the spare sounds of their past records, but their third album, Home Economics (out this week on DFA), is anything but bleak. Although the band addresses themes of urban isolation and social decay, their warm melodies and idiosyncratic lyricism ultimately make for a hopeful and positive listening experience. Fittingly, their exclusive mix for NYLON is unexpectedly upbeat, including classic dub and spaced-out reggae, from Lee "Scratch" Perry to Burning Spear. We caught up with Tobin and Suzi to find out why they've suddenly embraced positivity.
On creating their new album...
Suzi: We recorded Home Economics in my flat, in Tobin's flat, in our old flat, some in the studio. We started on all sorts of different equipment, and because we didn't want to lose the specialness of the takes we were getting, we ended up packing up everything from the studio in a big wheelie case, and Tobin took it around wherever we went so we could always have the proper gear with us. I also didn't want to go sit in a dark studio in the cold when it was nice outside.
Tobin: The second record was a long process, about 250 days in the studio ordering in food and alcohol. We had to develop a system where we weren't subjecting ourselves to quite so much isolation. The recording process was different, kind of like field recordings. I developed two little recording studios in each of our homes and a mobile kit, as well. I wouldn't say it was an easier process in any way at all. I don't think anything's easy with Prinzhorn Dance School.
On drawing inspiration from urban life...
Suzi: Our surroundings, our community—big, empty carparks and spaces that should be inhabited by people and things—they interest us quite a lot. Tobin's got an amazing way of taking our lives and putting them into song without belittling our country and the way that we run things. He's got a very good way of describing my life and the emotions of people around us from conversations we have.
Tobin: It's about existence within an urban environment and people surviving within that environment, but in their minds, visualizing stereotypical rural beauty or imagining wonderful, euphoric moments in life and hoping that those moments will come along.
On influencing each other...
Suzi: I think we're the biggest influences on each other, what we feel and what we say to each other. I'll phone him up in the middle of the night and I'll be like, "I've just had this great idea!" He'll be in bed and I'll tell him some old rubbish, then he'll get up at 8 o'clock in the morning and start work. I'm the night owl and he's the early morning freak, but between us we manage to do a 24-hour day, which is quite useful in bandworld.
On putting out a six-track record...
Suzi: We always work in batches of songs, and that was how many came through. We talked about sticking a few songs on to make it longer, but we told the story we wanted to tell. We're not ones for padding out something just because the record label's asked us for three more minutes. This is a body of work and if we make something extra, it feels like it's stuck on the edge. You've got to look at it like an exhibition: If it's only four paintings, it's only four paintings.
Tobin: Six tracks just seemed perfect. They really worked together as a family of songs. We could've done more, but I didn't just want to bolt on extra songs for the sake of it.
On becoming more positive...
Suzi: It's a funny one. A girl in my building said that she was really looking forward to my gig, but she hoped it wasn't as depressing as some of our records. I was a bit shocked. I think they're full of hope, especially Home Economics. There are some very isolated moments, but the idea is to make the listener feel like it's okay. We all feel this, we're all going through the same wringer, especially these days. I wouldn't want people at home slitting their wrists! Our records have definitely gotten a bit brighter and more colorful down our career.
Tobin: We write quite intuitively, so it's often a surprise when things happen. I spend a lot of time writing, and we reduce the prose down to more poetic structures. It's never that we think about finding an appropriate soundtrack to a lyric, we just intuitively make it happen. In the old days, we would've rejected songs that were too melodic, and we don't anymore. Contrast is a lovely thing, so now we can make murder ballads with strong, accessible melodies.
Tracklist for Prinzhorn Dance School's NYLON mix:
Glen Brown & Roots Radics, "Pipe Of Peace Dub"
The Congos, "Congoman"
The Mighty Two, "Calico Suit"
Augustus Pablo, "Rockers Dub"
Scientist Vs Prince Jammy, "Round 5"
Andy Capp, "Pop A Top"
Lee "Scratch" Perry, "Cloak & Dagger Horns Dub Plate Pressure"
The Upsetters, "Scratch The Dub Organizer"
Lone Ranger, "The Answer"
Barrington Levy, "Look Girl"
Burning Spear, "The Ghost"
King Tubby, "Far East Sound Dub"
Rico & The Rudies, "Jumping The Gun"