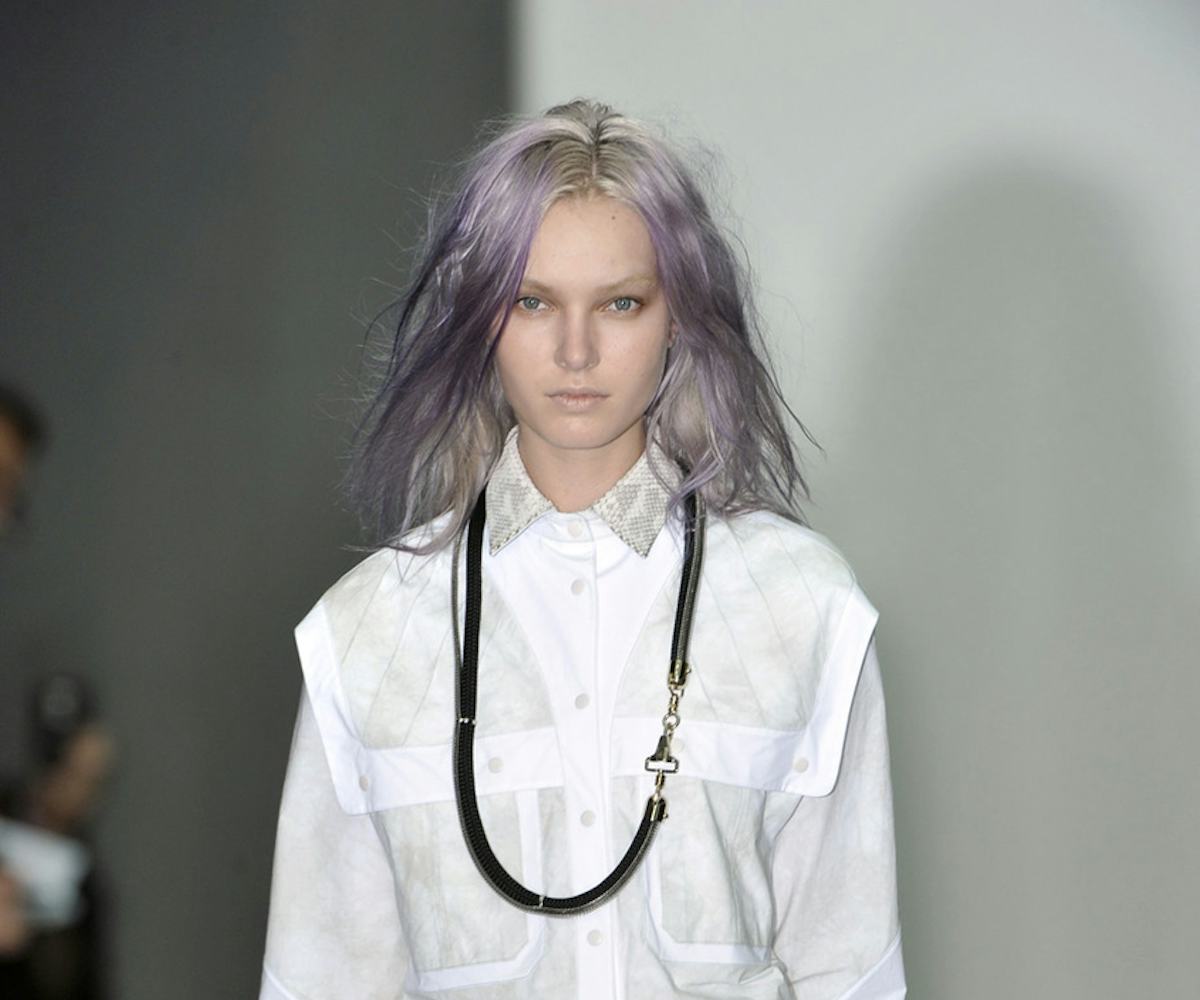 pretty cool
proenza schouler x mac: it's happening!
There's arguably no cooler brand in New York right now than Proenza Schouler--and it's not just the lustworthy clothes that have made them so buzzed-about (although they certainly help). Whether it's metallic smokey eyes or faded pastel tresses, the beauty looks at Proenza have arguably been as influential as their shag jackets or PS 1 bags.
So we weren't totally shocked when we learned that Proenza Schouler is collaborating with MAC on a limited edition collection this spring. Though details are sparse, here's what we know: There will be Ombre Face Powders, Lipsticks, Pro Longwear Eye Liners and Lip Pencils, Nail Lacquers, and even a powder brush. What we don't know? The shades and colors that will make up the collection.
Now if we're going by recent history, we'd guess that there would be lots of '70s-esque neutrals in there (you know, the types of hues that go by names like khaki and burnt sienna). But go back even just a year or two and you'll find some serious beauty risks. From the oxblood red lips at their fall '10 show to the ultra-rosy cheeks from spring '06, there are plenty of examples of major makeup statements. And because, while we love subtlety, we have a soft spot for anything bold, we pulled together the 10 beauty looks we'd most like to see inspire the Proenza Schouler x MAC beauty collection.
See them all in the gallery below, and then sound off with what you'd most like to see in the collab. (My vote? Purple hair spray, a la spring '10.) 
Proenza Schouler spring '13, because we'd love a light foundation that makes our skin glow.
Proenza Schouler fall '10, because it's the perfect chocolate-red lipstick shade.
Proenza Schouler spring '10, because the look that launched a thousand pastel haired heads deserves its own product.
Proenza Schouler fall '09, because every makeup collection needs a not-nude neutral shadow.
Proenza Schouler spring '09, because you can never have too many red lipsticks.
Proenza Schouler fall '08, because metallic smokey eyes are our new favorite.
Proenza Schouler fall '07, because highlighters are the secret weapon of girls-in-the-know everywhere.
Proenza Schouler spring '07, because a bubblegum pink lipstick that doesn't make you look like you're 12 is hard to find.
Proenza Schouler spring '06, because we are so not afraid of a little blush.
Proenza Schouler spring '05, because you don't need to be Margot Tenenbaum to pull off a lined look.