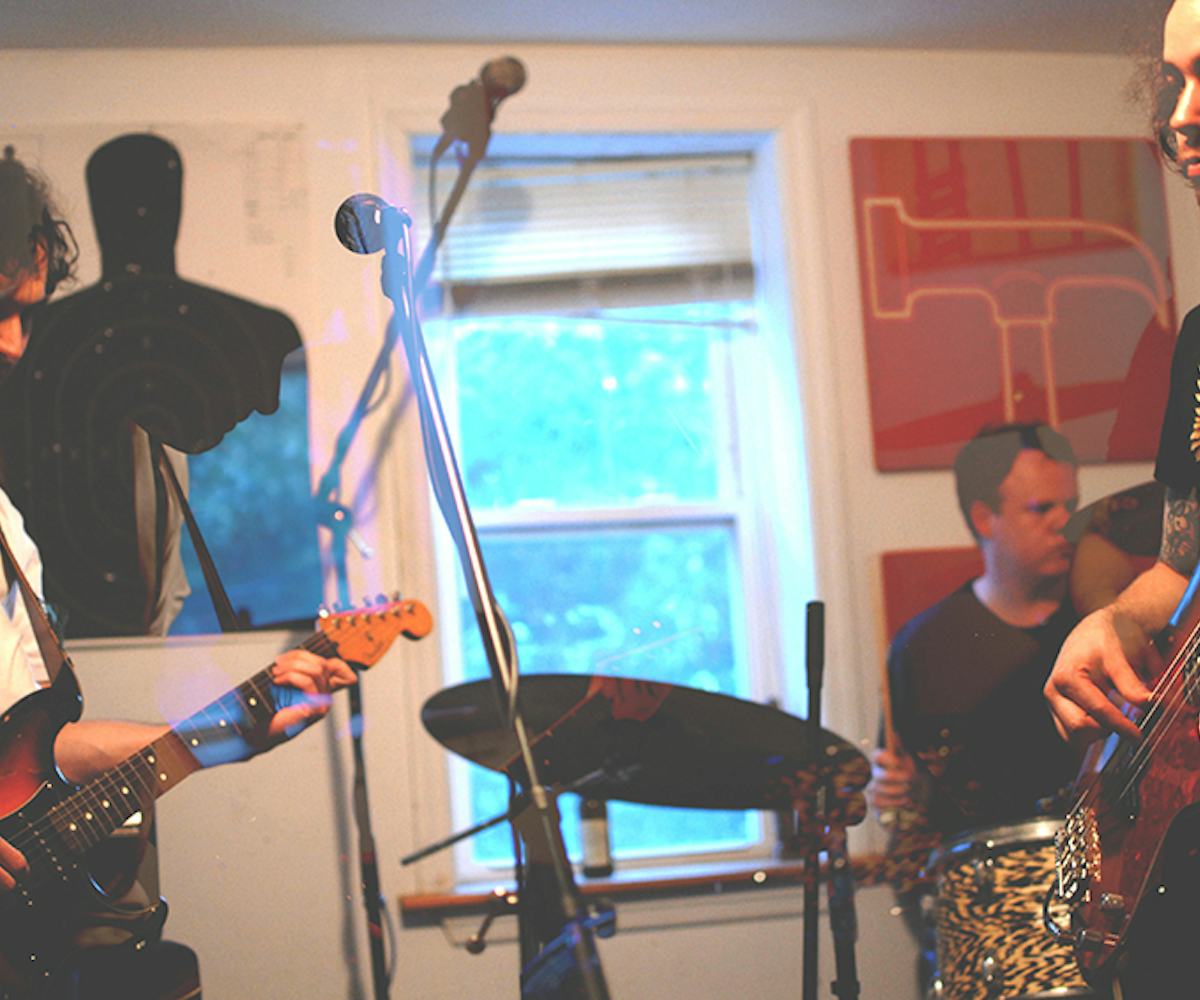 photo by tiffany yoon
freebie friday: win tickets to a purling hiss show
+ read our interview with the philly garage rockers!
Want to win tickets to see Purling Hiss IRL? Scroll below our interview (but you should totally read it first) and to enter for your chance to win!
When I first dial in to interview psychedelic garage rock band Purling Hiss, they're on their way to Connecticut to play a show with J Mascis (of Dinosaur Jr.). The last time I saw these dudes play a show, it was at Music Hall of Williamsburg in 2013, where they shared the stage with The Men and Pampers. Purling Hiss killed it so hard that the crowd was left stunned (and a little deaf) after their set—some people, unfamiliar with any of the bands on the lineup, asked if they were the headliner (Yeah, that's how good they were).
Since that show, the Philly dudes have put out a new record, Weirdon, which is one of my personal favorites this year.
So, while Mike, Ben, and Dan drive up the highway (and stop to pay tolls), I chat with them about pizza, The Goonies, and their super weird (yet totally awesome) album art.
If you could go on tour with any band living or dead, who would it be?
Mike: I don't know, probably Hendrix. Or, we would go back in time and get Gram Parsons charred body, reassemble it and take him on tour with us. Ben (drums) says Dead Moon. Dead Moon's awesome.
Favorite Philly music venue?
Mike: Johnny Brenda's is cool, that's been there for a ling time in Fishtown even before it was a venue. When I first moved there, me and my other band used to hang out there, it's a really cool place. We (Birds of Maya) played at this place called Everybody Hits with AXIS: SOVA and Apache Dropout. It's a batting cage that they have shows at every once in a while—it's a DIY spot.
If you could redo the soundtrack to any movie what would it be?
Mike: Back to the Future! We don't need highways, where we're going. We're going to take the DeLorean to CT tonight. These mini van doors flip up. Or any '80s Spielberg movie would be good. Can we do Goonies? I would want to collaborate with Cyndi Lauper on her song "The Goonies 'R' Good Enough".
What would have to happen for your band to be like, "We made it!" or did that already happen?
Mike: I haven't had many expectations for some of the things that we did. We've gotten to play with some really cool bands. We get to be on Drag City, get to go on tour, get to play with friends. It's really cool. It's a lot different than it used to be, with the age of the Internet. You can be visible in front of lots of different people. We get to do five shows with J Mascis this week, which we're really excited about.
Where's your favorite place to get brunch in Philly?
Mike: Dan who plays bass with us, says The Fitzwater Café. I like Honey's.
Where's the best pizza in Philly?
Mike: Pizzeria Beddia, Ben says Santucci's, Dan says Pietro's. Trios has really good take out.
Tell me about your album art.
Mike: I always do my album art with my other bandmate, Jason. He's an artist and a graphic designer. I always bring him raw, unorganized ideas. For this album, those are all my sketches. So, what we did one night was we hung out and scanned in all the sketches and Jason just took them and arranged them. It's cool because if you page through a sketchbook, it's not really anything, it's just a bunch of doodles. But what Jason put together came out really neat. It's kind of this cartoon-y sort of thing. I had a list of potential album names and Weirdon was one of them, Jason just laughed it at it. We thought that went well with the visual aesthetic of the art.
Purling Hiss are on tour now! Enter below for your chance to win tickets to see them live in your city. Plus, get your own copy of 'Weirdon' right here!