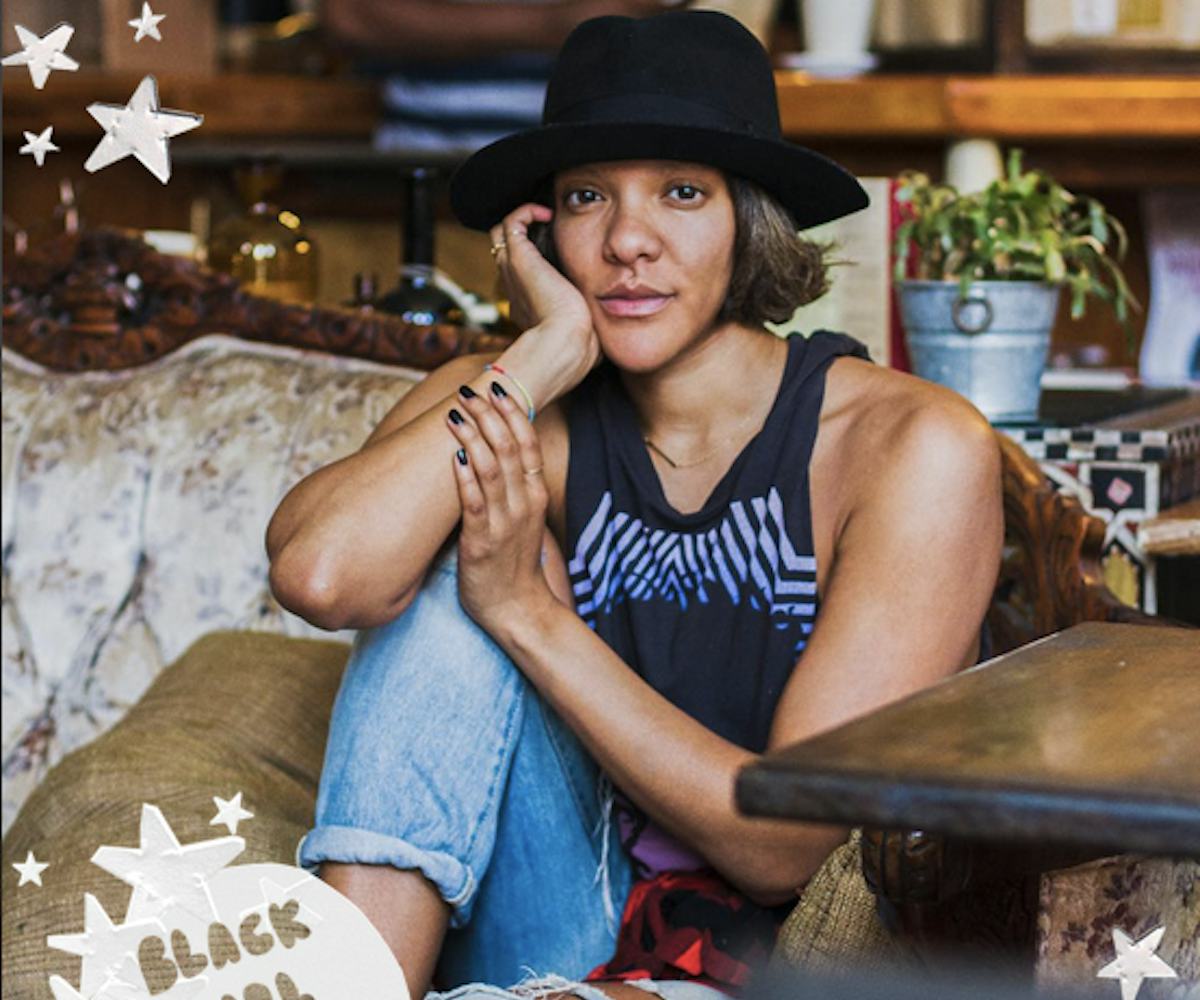 Photographed by David Evan McDowell.
Qimmah Saafir Is On A Mission To Celebrate Black Women
with the power of the press
In celebration of Black History Month, NYLON is running a spotlight series called Black Girl Power... The Future Is Bright. Every day, phenomenal black women from different industries will be featured to tell their stories—revealing how they became who they are, showing what they have accomplished, and pinpointing how they navigated their careers. Black women deserve to be celebrated 365 days of the year, and we hope that this series will inspire everyone to believe in the power of #blackgirlmagic. 
Historically and still to this day, women of color are grossly underrepresented in the media. While a few black publications exist, it's not logical to expect them all to cater to an entire population of women who vary in age, taste, style, and aesthetics. For many black women, it can feel like you're either missing in action or a rarity, not by choice, but by nature of an industry that has upheld extremely narrow Eurocentric standards of beauty. 
Editor-in-chief Qimmah Saafir has taken it upon herself to fill this much-needed void for black women by creating her own magazine. With the help of Kickstarter fundraising, HANNAH is a forthcoming biannual print magazine and a site that touches on fashion, style, politics, wellness, and even includes a section for men.
"It's a general interest magazine so it's going to cover everything that you would be concerned about," said Saafir. "It's not a fashion magazine. It will include fashion sure, but it will include a bunch of other things such as tech, health, sports, and social political issues. It's all-encompassing." 
Read Saafir's thoughts on representation, social media, and creating alternative holistic images of black womanhood in the interview, below.
You have extensive background in the publishing industry (Essence, Marie Claire, Complex) where there aren't many women of color. How did you navigate that?
I developed a lot of mentors in the industry but my mentors weren't necessarily people that I worked with. I was blessed to have had a strong network of people who referred me so it was really creating and maintaining genuine relationships. Navigating as a black woman, you just do your job. It was hard at times to feel excluded and I wasn't truly passionate about it—I was just learning the skills and doing the research. That's why it's so different with
HANNAH.
You have that drive behind you so it doesn't feel like work. This is what I'm supposed to do
.
What inspired you to create HANNAH?
Growing up, there were very few publications that I truly connected and identified with as a black woman. Most fashion magazines had a few token black girls but never a full spread that highlighted our diversity. The ones that loved (
Honey
and 
Suede
) didn't last and I missed those publications. I started thinking,
'I love magazines and I've worked in magazines for over a decade now. Why aren't there any magazines for us? Or for so many differently aged groups?' It's all the same thing and now, more than ever, it's very clear how drastically diverse this world is. The monolithic representation in media is absurd and I think more people need to step out and create the media that they want. Especially with black women. I see a lot of African publications that I
really
love, but what about the black women in America? We barely have any publications here, and the ones that we do have are kind of janky. There's not much effort put into their look or their aesthetic. We deserve much better than that.
When did you decide to create HANNAH?
I always knew that I wanted to do it and there was enough pushing me to. It was good that I spent those years working in the industry because it taught me a lot and showed me what it takes to create a magazine. It got to a point where I was begging so many editors at different magazines to include or cover us. But WHY? When you think about what's happening now with YouTube, Uber, and Airbnb, middlemen aren't necessarily needed. You don't have to go to a publishing industry to get something put out. You can create it, and I think more people are aware of that now. Especially with crowdfunding, you can gain the support that you need whether it be financial or just within a certain demographic.
What are your thoughts on the role of social media in your industry?
I think social media serves like a public forum. A place of discussion where otherwise we wouldn't be heard which is amazing. In this day and age, you have to have a social media presence; it's the only way you're going to reach people that you otherwise wouldn't have reached. However there is a lot of disrespect and negativity in the space. One of the things that I want to do is create a safe space with our website that is uplifting and provides support. Negativity is not going down.
Where do you see HANNAH 10 years from now?
Let's start off with five years! Be a household name that's not just a print magazine and site, but one that includes panels, events, music showcases, community, and philanthropic events. I want it to be so much bigger. The book will be what it is, but I want a culture and community around it that makes people feel accepted and loved. I hope to have an office, staff, and investors. Actually, I don't want to say where I want to see it because I am already surprised by how far it has gone. I didn't expect ground support or international attention, but it has happened so far. So, we'll see.