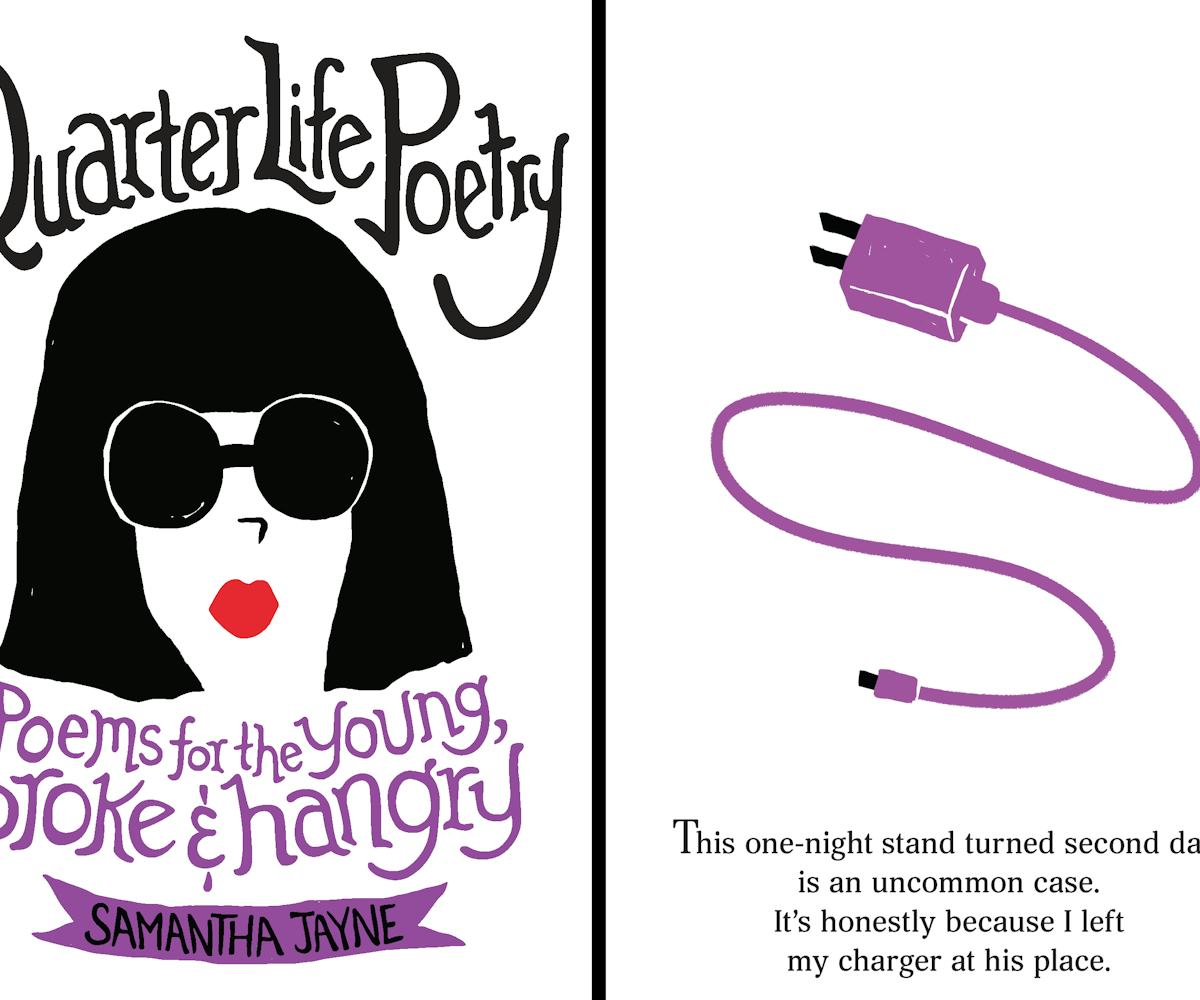 photo courtesy of Samantha Jayne / Quarter Life Poetry
This Instagram-Turned-Book Captures The 20-Something Struggle
From Girls to Broad City to Love, it would seem as if there's an oversaturation of stories about the present-day 20-something struggle. And yet, even though the concept of the clichéd "shiny, spoiled millennial" has grown old, it still holds its ground time and time again, in both entertainment and real life. Because although many don't want to admit it, everybody deals with doubts, insecurities, and bad relationships in early adulthood, and laughing at it together makes it all feel a bit more tolerable.
With this concept in mind, Samantha Jayne has not only built a brand but a community. Over a year ago, Jayne launched the now-popular Instagram and Tumblr account, Quarter Life Poetry, to share her musings about $6 mocha frappes and roommate conflicts. "I started it as a way to connect with other people in their 20s about how they were feeling," Jayne says. "You go on Instagram and you see all those shiny happy people having fun, and then you go and get drinks with them and realize there's such a big disconnect between what they're putting out there and what they're feeling. I like to find little truths and make jokes. It makes life easier, and is a really fun way to use Instagram, which is so often used for putting out a glossy, fake, curated version of your life, to connect with people."
Now, with a following of 80.5K, Jayne is releasing her own book, available April 1. Filled with four-line anecdotes about everything from bank account woes to pubic hair and fuck buddies, Quarter Life Poetry is exactly the type of book you'd pick up at Urban Outfitters and actually feel compelled to buy. 
Check out our interview with Jayne below, and check out the hilarious Quarter Life Poetry miniseries she put together here.
Why do you think there has been such an emergence of and focus on the 20-something struggle in recent television shows, films, and books?
As millennials—and I hate that term—we've graduated in a really difficult time. We went into school with expectations that we were going to graduate with jobs and start our careers because it happened to the baby boomer generation. I graduated right in the middle of the recession, and amongst a ton of talented folks who just couldn't get jobs because they weren't available. Our expectation versus reality was really different and we had to reevaluate. We had to start up with internships and navigate things differently.
Then, at the same time, there's Instagram and social media. You feel like you're doing poorly, and then you see your friends are having a great time and looking great, and you think, "Damn, not only is my expectation versus reality really different, but my friends are doing well," and you think that you've done something wrong and you messed up, and that's why you're doing worse.
It starts with those little conversations of, "Wait, you're feeling this way, too?" It all contributes to a feeling of solidarity. It's a new issue, so more and more people are talking about it and realizing we're all in this together.
What's something you wish you knew in your early 20s?
I was always trying to project my adultness onto the world and seem like I really knew what I was doing. I went to vocational school for advertising design and I went down that path; I became an art director at ad agencies. I thought I had it all together. I thought I knew my life plan, and I was so solid in what I wanted to do. Then, the older I got and the more experiences I had, the more I realized it's okay to not have everything figured out and not have a plan. Actually, it's better to not have a plan and be open to change.
What's your process for coming up with these poems?
It happens at all different times. All of the poems start with a thought or a little truth. So, for instance, if my friends are all out and invite me to join them and I'm super cozy so I flake on plans, I think, "Oh yeah, this is something that maybe other people do." It starts with that thought, and I'll write a sentence about it. Then I'll try to figure out a way to make a poem out of it. Really, all of the poems are four-line jokes with punch lines, and I'll illustrate whatever I think would be appropriate for that poem.
Do you think QLP has fostered a community, and helped other people get through their 20s?
I definitely think so and I really hope so. I initially started Quarter Life Poetry because these are my own experiences and I wanted to share them with friends. I was really surprised and amazed when strangers started tagging their friends and commenting. I was so blown away with how these silly little truths resonated with people. People want to talk about it because nobody else is. I hope it facilitated funny conversations among friends.
The whole Quarter Life Poetry effort, even in the videos that we did, all relates back to wanting to connect with other people my age and making them feel like they're not alone. Your 20s are a really strange frustrating time of figuring out how you want to be, and I hope these poems can help.