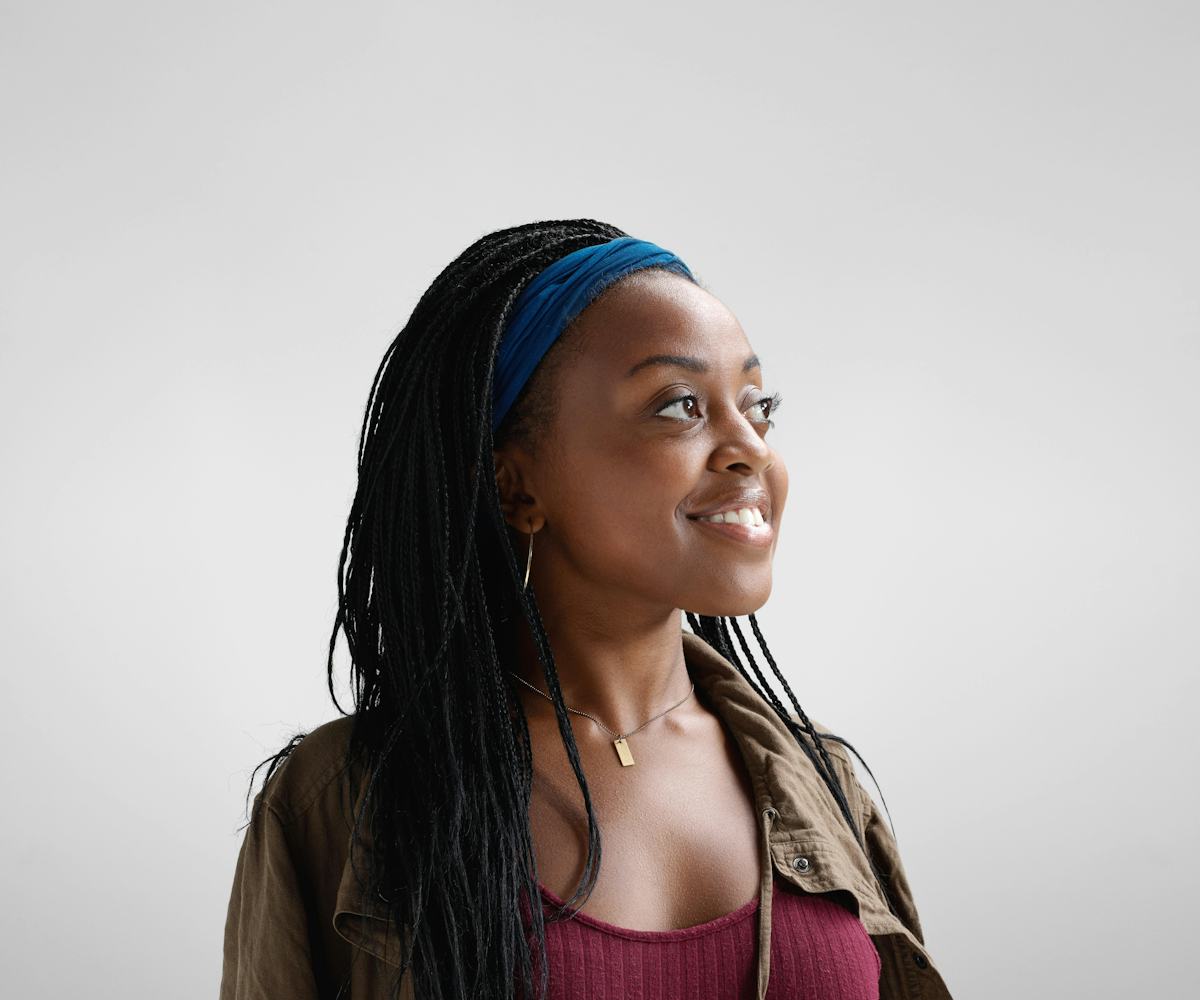 Photo courtesy of YouTube
Quinta Brunson Isn't 'Broke,' But She Never Stops Working
"We're creating our own way and our own definition of how things are going to go"
The last time we spoke to Quinta Brunson, she was as far at the top as we could see. We could not have predicted that in the span of seven months, the BuzzFeed Motion Pictures producer and development partner would be taking her hit series, Broke , over to debut on YouTube Red. (For the record, the first month is free when you sign up for the subscription service.) Through this partnership, Brunson will release 11 episodes for the first season.
"YouTube speaks the same language as BuzzFeed, so it's just an opportunity to work in a different space and help to build their platform and in the meantime build ours with this subscription-based service," she says. "[It] shows our potential as far as bringing an audience into Broke that isn't homegrown in BuzzFeed already, so it's been really seamless."
The other day, we caught up with Brunson while she was in town for the week. She filled us in on everything that's been going on in her super-busy life and explained how she's completely focused on maintaining control in the industry by pushing her own narrative. Read all about it in the interview, below. 
Broke officially premieres on YouTube Red on September 28. Watch the first episode here.
So, 
as per usual, you are writing, directing, and starring in all of this?
I'm technically a showrunner, but I co-directed it with Jared because I'm not behind the camera. I wrote four episodes singularly and then helped with the development of the other episodes with writers Kate [Peterman] and Garrick [Bernard]. So, I wrote four episodes myself, helped with their development, and produced it too. This was a great run into producing it and actually showrunning the process.
How are you feeling about potentially being the youngest showrunner in the business?
Pretty tight. I love it. It doesn't even feel like an accomplishment. I acknowledge it as an accomplishment but it feels like I want to do more and grow and I like growing with new media. It's been great. I'm working with some things in television right now, but I love the ability to grow with new media because I think that's how we become the forerunners of new media and how we have a grasp on it early on instead of coming in later. Like, TV and media or TV and film are already set in their ways for the most part, so when we join it, we join a way that has already been there for years. It seems like we're creating something when we work with digital media and spaces like YouTube Red. We're creating our own way and our own definition of how things are going to go and that's really exciting to me. I think that's really important when it comes to new perspectives and new narratives, because if I were to give
Broke
up to a platform that wasn't understanding of new narratives, it would have gone a lot differently. I needed it to be what it was because I find what it is to be really important. It's one of those things where maybe not everyone else gets it, but you need a place that understands you.
Between television and film, there are so many black people in charge right now presenting all of these different narratives. I think that's so important because we're showing all the different facets of the "black experience."
We have to continue to show them. I say, we can keep telling people that all we want, but are we putting the moves in place to show people more than one singular black experience? I love right now that
Atlanta
is on the air; I love that Issa [Rae]'s show is on the air because these are two different experiences. I love that
Broke
is going to add to that platonic relationship between a black girl and two guys living together. That's not something we get to see too often, so we have to continue to provide new narratives. Instead of asking for them, I think, it's up to young creators to provide them and tell them who we are. That's been my mantra since I came in, just telling people who you are instead of waiting for them to tell you who you are.
My coworker and I were just saying that we're very much in an era where the "for us by us" is at the forefront.
I was saying that the other day; I was like, "Did I just say FUBU?"
I feel like I say FUBU almost every day... It's super important to have that and to be in control.
It is the only way we're going to be able to create new narratives. There is no other way. You can't ask for people to give it to you. So, you find a space that's safe, that you can work in. I'm seeing it too with creators like Ava DuVernay, who has found a space that understands her. With 
Atlanta,
FX understands that giving artists a show and letting them do what they want with it is necessary to get new narratives out there. HBO seems to have a good understanding, and that's what's really important, and then Youtube Red has a good understanding with me. I just don't feel like fighting anyone. We were in meetings with other people, and I just felt like, we are going to have to fight, and who feels like doing that, just for it to come out with three white kids somehow?
I heard that you're also working on some other shows, can you tell me about them?
Yeah. I have two more shows. One show I have is called
Adopted.
It's about a family of four women who work at an [animal] adoption service on Saturdays. The store is kind of like a PetCo, but they just work at the Saturday adoption, so the show only takes place on Saturdays. It's kind of a discombobulated family: The mother has had some issues in her life with drugs and alcohol, and she has two different dads for her children; she has a half-Hispanic daughter, who's really smart and intelligent and sweet, and then another daughter who is your typical 16-year-old with her cellphone and her Snapchat. And then they have a friend Michelle, who is their weird next door neighbor who has been there all their lives, who I'm playing. I'm excited about this one because it's a comedy. I really like turning negatives into funny with comedy—it's fun, it's what we get to do. It's going to be single cam shot like
Parks and Recreation,
so it's going to be on Verizon Go 90.
Then I have another show called
Beta-funny
that we're testing on YouTube, and the point of if it, is to just get exposure for new stand-up. I have a group of people in L.A. who I do stand-up with, and I've watched traditional TV [people] tell them, "Oh, you're not good enough for your own special yet" or "You're not there yet." I've never thought that was true. I felt like they needed a space to tell those jokes and still get exposure as opposed to having to wait for all these other places to say, "Oh you're old enough now." At this point, we're never going to be talking about what they're talking about like the older crowd. The new language is forming, it's a new generation and that's just the way it goes.
Thinking about you going to all these meetings and figuring out what you are and aren't comfortable with has me wondering how you have learned to prep yourself. Like how do you know what to say in these conversations?
I don't think you always do know. You do some research beforehand if you have the time and just go in knowing your worth and knowing what you came for and how to get the most positive result out of the meeting or whatever it is. That's something I have to remember all the time. Sometimes meetings don't end successfully on paper, but [they're still successful] because I create a good relationship with people. Even if I don't get what I want, a good relationship has been formed, and it's now known on paper what I would like. When you leave the room clear and concise about what you want, then people know they can come to you [in the future]. That's really important. You just go and hope for the best. That's all you can do. You go, you be honest, you do the right thing—whatever that means to you—and hope for the best. 
A year from now, where are you hoping to see yourself?
I don't know. Everything is changing all the time. I can say, I hope to be at Universal Studios. For all I know, Universal Studios could shut down next year. I don't really know. I'm just going with the flow and creating my projects, taking good people with me, keeping my relationships, and hoping for the best. 
I know that you're also pretty close with Franchesca Ramsey. How did you both link up?
We met at VidCon. We both were like, "I love your work." It's always been easy to talk to her. She's nice, she's sweet, we get each other. I think me and Francesca are also on similar waves—us both being in the digital platform and creating digital videos. She worked for Larry Wilmore, so she's also on the more traditional road too. Whenever I talk to her, I just feel like I'm refueled. We inspire each other to work a little bit harder—not that we're not working hard now. I've found certain women that have been great confidantes through everything, like my friend Fatimah [Warner] who's 
; she's a rapper. It's beautiful to see and find those relationships like that, or with 
, another friend. It's black women, and it's like, "Oh, you understand everything."
You find it in other people too. My best friend Kate, who writes on
Broke
, she gets everything and is the wokest of the woke, as far as white people. Then you meet these other women who get all of it, every single aspect of it, of having darker skin, of being out here and being free. We're all just fighting for freedom from stereotypes and all this other stuff. I think the freer you decide you want to make yourself, the more you become an individual. So when you meet other people like that, it's so valuable. 
I feel like I've made a lot of really great friends and even developed some amazing mentors in the past year just through connecting with people on Twitter.  
Twitter is great for that. It's one of those places where you're like, "Oh, look at that. I made a nice little friend." I've met more people through Twitter than any other. It's always been through Twitter where I've gained these relationships. That used to scare me at first—I didn't want to be friends with people on the internet who I don't know. Even us. Didn't we connect on Twitter?