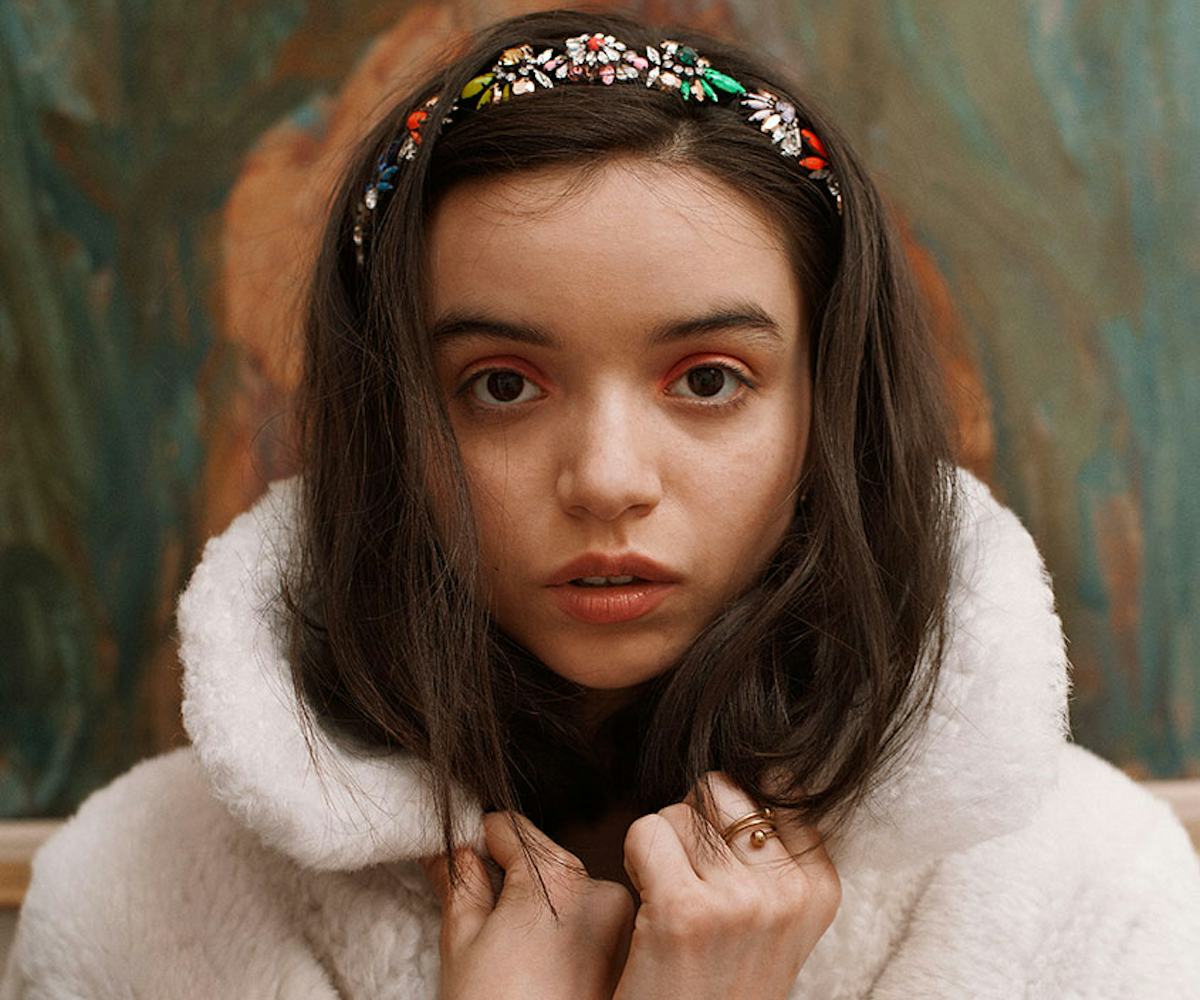 all photos by sonja georgevich
rachel trachtenburg is the modern-day renaissance woman
our interview with the it girl.
As much as the entertainment industry would want you to believe, finding a super stylish, interesting musician-slash-actress-slash-model is comparable to finding vintage YSL at the thrift store—it doesn't happen very often, but when it does, you know it's special. Rachel Trachtenburg is not only one of these aforementioned characters, but she is, perhaps, the queen of them—a doe-eyed, baby-faced queen, that is. She's starred in a Lanvin campaign, spoken out against the Mayor of New York (at the age of 14, we may add), and is now performing with her band, The Prettiots (featured in our October It Girl issue), all while modeling and maintaining a solo music career. It may seem like a lot for a 20 year old to handle, but like we said, Trachtenburg isn't just anybody...
You've been performing since you were young, in your family band (The Trachtenburg Family Slideshow Players), a solo career, and now in drum in The Prettiots. How have you seen your musical style change over the years?
The funny thing is I don't think my music style has changed much at all...! I still have my ipod that I bought myself with touring money when I was ten years old, and I still LOVE everything on it and have not added or deleted any music since then. Jeffery Lewis, Pink Floyd, Daniel Johnston, Quasi, & George Harrison...All timeless bands/musicians and will forever be. 
You're also, quite obviously, extremely style-inclined. How has your sense of style developed throughout the years?
I go through different moods with my style almost everyday. I've always loved old clothes that belonged to my mom when she was my age, I really enjoy sewing and that has been a big part of my style too. If I find something really amazing at a thrift shop and its way too big I can make it into something totally new. Pretty much everything has flowers and is used, vintage, or homemade. My mom made my outfits when I was younger and has taught me so much about fashion and self expression and inspires me everyday. 
We hear you've thrifted in just about every country. What tips have you picked up along the way?
I find one main thrift store and ask the peeps that are shopping there where the other good shops are located. In England, they have these things called car boot sales. Those are like big flea markets. They are the best! Tons of old lady jewelry and fabulous fabrics. 
Who do you look up to, both musically, fashionably, and personally?
Syd Barrett, Slyvia Earl, Bill Ayers, Henry Darger, Sam Coomes. All five of the people listed above have inspired my music, style, and hope for a better world. 
What music do you find yourself listening to over and over?
Soundtracks to my favorite films. I love movie scores! They really put me in a clam head space. Donnie Darko, The Virgin Suicides, Alice In Wonderland, Almost Famous and the list goes on and on :)
What are you working on at the moment?
Old school recordings!! Been working on some very raw and lo-fi magic that I'm very excited to release! Also lots of paintings. 
If we asked you to spill out your beauty bag right now, what would we find?
Chapstick and lots of old dried up tubes of Maybelline mascara. I don't do too much makeup. I love hair clips though!!! 
Photographer: Sonja Georgevich
Stylist: Haley Loewenthal
Hair: Aaron Grenia
If you're in town for CMJ on October 21, catch Rachel in action at the Whitesmith CMJ Showcase.
Skirt and Sweater- Miu Miu
Shoes- Celine
Earring- Ana Khouri
Scarf- Michael Kors
Shoes- Tibi
Dress- Marios Schwab
Earrings & Ring- Peace Treaty
Pants- Michael Kors
Shoes- Tibi
Top- Marc Jacobs
Earrings- Ana Khouri
Ring- Peace Treaty
Shirt- Clover Canyon
Skirt- Katie Ermilio
Sweater- Tanya Taylor
Earrings- Anna Khouri & Peace Treaty
Ring- Peace Treaty
Shoes- Tibi
Skirt- Marc Jacob
Sweater- Ederm
Shoes- Tibi
Earrings- Ana Khouri & Peace Treaty
Ring- Peace Treaty
Shorts- Tanya Taylor
Jacket- Marc Jacobs
Top- Katie Ermilio
Shoes- Tibi
Headband- Shourouk, Ana Khouri & Peace Treaty
Ring- Peace Treaty