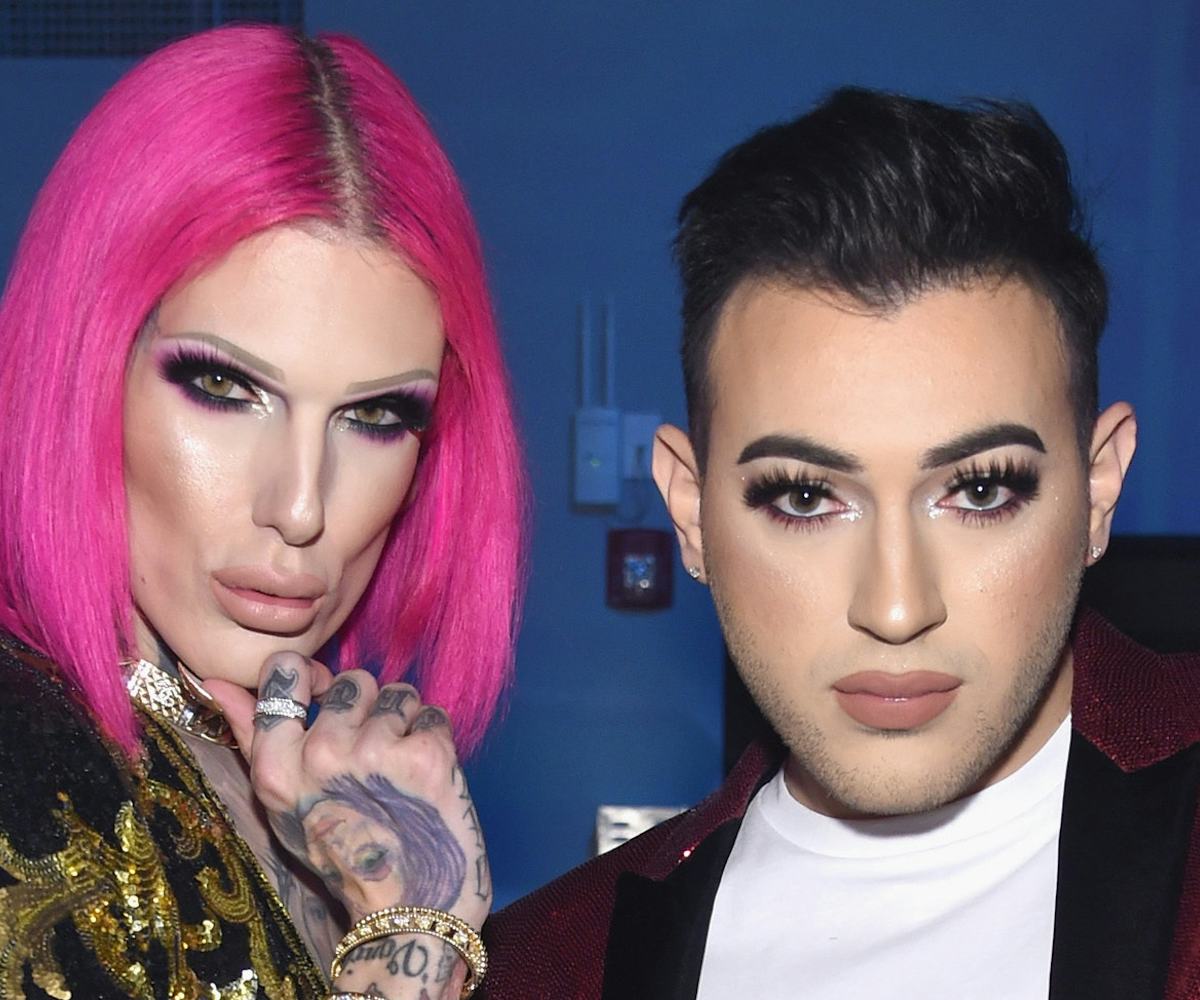 Photo By Jamie McCarthy/Getty Images For Marc Jacobs.
A Jeffree Star Callout Led To A Mass Unearthing Of Racist YouTuber Posts
Popular makeup YouTuber Gabriel Zamora unintentionally set off a verifiable shitstorm for several big-name beauty vloggers—including himself.
It all started earlier this month after Zamora tweeted a photo of himself with Laura Lee, Manny MUA, and Nikita Dragun alongside the caption, "Bitch is bitter because without him we're doing better." And though the tweet has since been deleted, according to BuzzFeed, Zamora confirmed in follow-up tweets that the comment was in reference to Jeffree Star who he called "a racist."
"Every time I was around him, he would constantly say racist things about black people but would validate it by saying, 'I've had so much black dick I can't be racist,'" Zamora responded to a fan who defended Star by referencing his vlog apology. "Once I realized it was REAL racism, I realized I couldn't be friends with him."
It didn't take long for Star's fans to come for Zamora and the rest of his MUA friends. Their retaliation? A thorough search through Zamora's, Lee's, Manny's, and Dragun's old posts—and what they found was horrific.
One tweet from Dragun from 2012 reads, "Imagine being black? I could never," while another said, "When you're so tan you look black." Others began bringing up Manny's recent comments about a young girl he believed has "autism." 
Star's fans also found some offensive tweets from 2012 on Zamora's account, one of which said, "N***a had nothing better to do than take pictures with MY #fake #glasses #freeloader #charliebrown." Since then, Zamora has released an almost 49-minute video in which he apologizes to his fans and Star. He also said that he would be severing ties with Manny, who he said has "always just been toxic." 
"A lot of the negativity around [me] and around [my] friends has been due to this one person," he said, per Teen Vogue. "There's the same factor in all these negative situations around [my] life… and that's Manny." 
But the member of Zamora's crew that got the most backlash? Lee, who posted a series of slurs and racist jokes to her Twitter, also in 2012. Amongst the comments are tweets like, "Tip for all black people if you pull ur pants up you can run from the police faster," and, "How do you blindfold a Chinese person? Put floss over their eyes! #dumbgook." In the wake of the unearthing of these tweets, unsurprisingly, Lee has seen her follower count take a nosedive and her sponsorships with various brands terminated. She has since also issued an apology video.
All of the aforementioned tweets have been deleted, according to BuzzFeed.
Star's response to this whole debacle? A tweet featuring a photo of himself smirking with the caption, "Imagine trying to bully me but you actually end your own career instead."