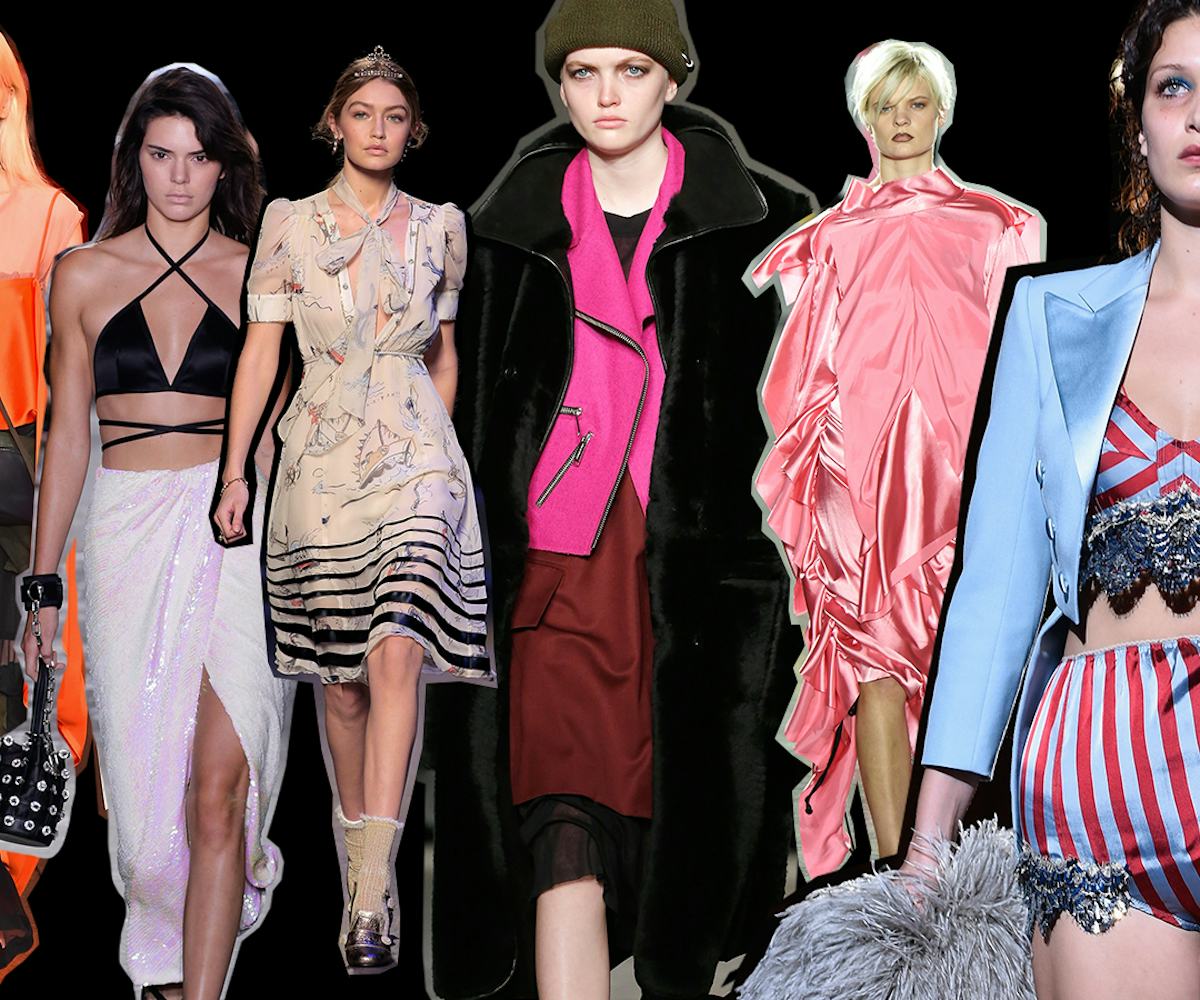 15 Reasons We Still Love New York Fashion Week
The most fashionable time of the year
We're living in strange times right now. It's hard to deny that there's an aura of the surreal which has permeated just about everything in our daily lives. Even the most simple of activities, like getting a coffee at Starbucks, deciding to download Lyft rather than Uber, or heading out to the airport, have taken on a new political meaning.
There's something about this that we find beautiful and even empowering. It feels somehow right to be paying extra close attention to everything we're doing, living more purposely and responsibly. That said, it doesn't mean there isn't room for frivolity right now, some form of escape. 
And, for us, there's no better release than through fashion. While it's true that fashion can sometimes seem like the height of superficiality, that is, in itself, a shallow assessment of a very serious industry. Fashion is inherently political, and its business practices—whether involving the hiring and payment of young female workers, manufacturing conditions, pollution and environmental concerns—are reflections of larger political issues that exist across industries, in this country and the world at large. Make no mistake, having a vested interest in fashion means having a vested interest in the world.
So while some people might dismiss New York Fashion Week and its attendant activities as being nothing more than an example of needless decadence, overt displays of extravagance and wealth—to say nothing of the endless, hedonistic partying—we think that these are some of the exact reasons why NYFW is so important right now, and why we love it more than ever. Fashion might be as transient and colorful as a beautiful bubble floating up into the sky, but the fashion world does not exist in a bubble. Rather, NYFW is a unique phenomenon, wherein the whimsical and the weighty coexist side by side and where you will find countless people debating political actions as seriously as they debate the appropriate hemline length to wear with this season's ankle boots. It is a mess of contradictions but in the most inspiring possible way. 
Need more reasons to embrace NYFW? Don't worry, we've got you covered. Here's 15 more of them, ranging from the serious to the seriously silly.
Street style: We still can't help but feel a thrill when we see the way city streets are suddenly taken over by fashion-lovers dressed in their finest. It gives New York a whole new energy, one that's, like, ridiculously well-dressed.
Unexpected celebrity power couples: We also still can't help but feel a little bit starstruck when we suddenly find ourselves sitting in front of, like, Whoopi Goldberg and Tinashe like we did last season. Our hearts were racing! New power couple alert. (We hope. We pray!)
The breakneck pace of everything: New York is not a city for the slow. (Which you know if you've ever been knocked over for dawdling too slowly down the sidewalk.) This feeling is in overdrive during NYFW, but even though a show seems like it goes by in a second, we still love these glimpses into creativity and passion. Life moves fast, try and keep up. 
Activism on and off the runway: Because fashion is an inherently political industry, considering how it commodifies one of the basic needs of civilization (to clothe ourselves), there's ample room for political statements and for political critique. This is a good thing! The fashion industry might be far from perfect when it comes to providing accurate representation of different types of women on the runway, but because these shows are presented to the public at large, they're also subject to responsible critiques which question the wisdom of, say, sending out mostly white models wearing clip-in dreadlocks, or staging a runway show without a single model of color. This is a great thing, and something that we're sure will only increase as fashion's target audience—young women who like to spend money—becomes more and more politically conscious. 
We know we're lucky: As irritating as the act of going from show to show and presentation to presentation is, it truly is a privilege to see firsthand the new collections and trend forecasts. I keep reminding myself that every time I feel annoyed or apathetic toward it all.
Fashion gossip: Forget Hollywood, nothing feels more dirty and insidery than listening in on what all the fashion people are chatting about while waiting for shows to start. It's like reading Cat Marnell's memoir but in real time!
All of the parties: Duh.
And the free food and booze: Look, we're not going to lie and pretend that all the reasons we love NYFW are lofty moral reasons. Sometimes it's just really nice to be fed and given a glass or two of free Champagne. Like, really nice.
Aliens have landed: This is not a reference to the fact that most models, with their high, broad foreheads and ultra-large eyes look like extraterrestrials, stalking down the streets of SoHo, leaving us awestruck as we make our way to Sweetgreen for lunch. Rather, it's a nod to the fact that in order for NYFW to be successful, people from all over the world need to come together to work toward a collective goal. In this time of travel bans and visa restrictions, it's essential that we remember that the fashion industry has always depended on the labor of immigrants in all levels of the business, from seamstresses to models and CEOs, and that fashion wouldn't exist if we couldn't all coexist.
Personal fashion freedom: We can finally wear our thigh-high patent leather boots out before dark without anybody looking at us twice. It's glorious.
Cash me if you can: Fashion Week forces me to put the effort into living my Devil Wears Prada intro fantasy. By that, I mean it forces me to put effort into getting ready and assembling fresh-feeling outfits that make me feel confident and powerful. I try to do this at other times of the year, but, too often, I half-ass the whole thing once the morning hits and my caffeine has yet to kick in. Cash me outside in a somewhat impractical outfit feeling my oats, how bow dah?
Kanye drama: When Yeezy started showing at NYFW, he changed everything, recentering conversations about everything from runway representation to body diversity and models' workplace rights. We welcome the elevated discussions, and, frankly, kind of live for the drama.
It's sometimes nice to do nothing: Look, it's a fact that NYFW means a lot of waiting around. This can be frustrating. But it can also be relaxing. Everything else in this industry is always so "go, go, go," it can be nice to just... stay, stay, stay.
That one special moment: Seeing that one show that has a meaning and serves as a reminder that fashion can be important and make a difference too. It could be an Opening Ceremony presentation or it could be a sustainable designer's runway show, but whatever it is, it demonstrates that there's a lot going on beneath the surface of all those gorgeous gowns.
We were here first: NYFW was the first Fashion Week established. And despite the changes it's undergone in the past couple of years and designers fleeing for other cities, it will always feel special because of that. As the other cities will tell you, you can never make copies without first consulting the blueprint.