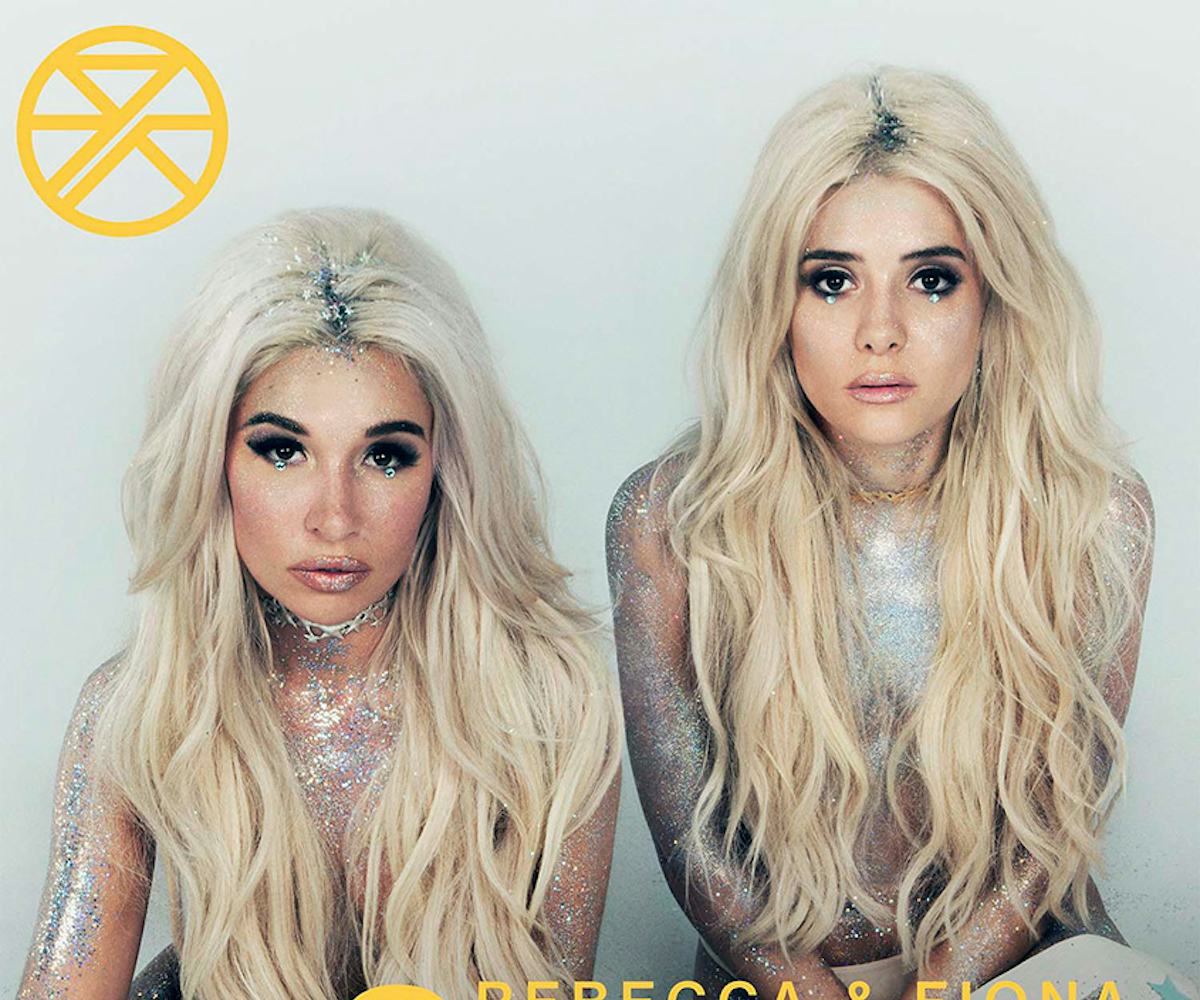 Rebecca & Fiona's New Song Is Just So Good
"sayonara" to the male-driven edm you knew + say hello to girl power
"Fuck the world. I don't care anymore," Rebecca & Fiona say in a nonplussed manner on their new single "Sayonara." The schoolyard bop of a track that marks a break from the electronic duo's usual—albeit unique—version of EDM. There's no build and there's no drop; just a consistent beat begging to break free.
"We've been pretty much doing everything ourselves for a long time and having a kind of indie complex," they told us during a recent visit to New York. "We didn't want to be commercial." With a penchant for sky-high platforms, cotton candy hues, and wide-eyed enthusiasm, they've managed to stay pretty true to themselves. It's a great accomplishment when you consider how male-driven the dance music scene is. "In the beginning," they said, "There were so many men coming in and telling us what to do as an EDM act." Mainly, Rebecca & Fiona were asked to be vocalists on male producer's tracks; which, for some female recording artists and producers, that's a great way to get your name out there. However, too many become known as the accompaniment, and that's not what Rebecca Scheja and Fiona FitzPatrick wanted to be. Together, they've learned "all the nerdy production stuff," and though they're festival sets differ from their recorded, are now ready to debut they're true "indie-pop-electronic" tunes.
Consider "Sayonara" that debut. Now that they've grown comfortable with the nuts and bolts of producing, they've invited both females and males to collaborate with them. For "Sayonara," they worked with Daniel Ledinsky, the guy behind Tove Lo's "Habits" and Andy Price. But there's a bit of Robyn-driven girl power in there, too. After all, Rebecca & Fiona toured with the Swedish icon and owner of her own label. "Seeing her being in charge of her own tour was very inspiring," they told us.
And if you've ever seen Robyn live, you know it's unlike any other electronic dance experience. That's what Rebecca & Fiona are gearing up to do. "We're proud of everything we've done, but it feels like we've been squeezed into EDM because of being female and being able to DJ," they said. "We don't hate EDM; we love it; we love to DJ, but were super-excited to perform live because we want to sing and be in a band."
They added, "It's important for us to show the power of sisterhood. It's important to show you can be really strong by joining together with another female. Girls don't have to be in a competition all the time. Rihanna doesn't have to hate Beyoncé, you know? They can have two different careers that run parallel to each other and both be successful and not be enemies. It feels like society often puts girls against each other and in every single interview, everyone is asking us, 'How do you stay together?'" Preach. Sayonara, patriarchy. Rebecca & Fiona are here and gearing up to dance it out one platform shoe at a time.
"Sayonara" will be available for purchase as well as streaming on all digital platforms tomorrow, October 9.