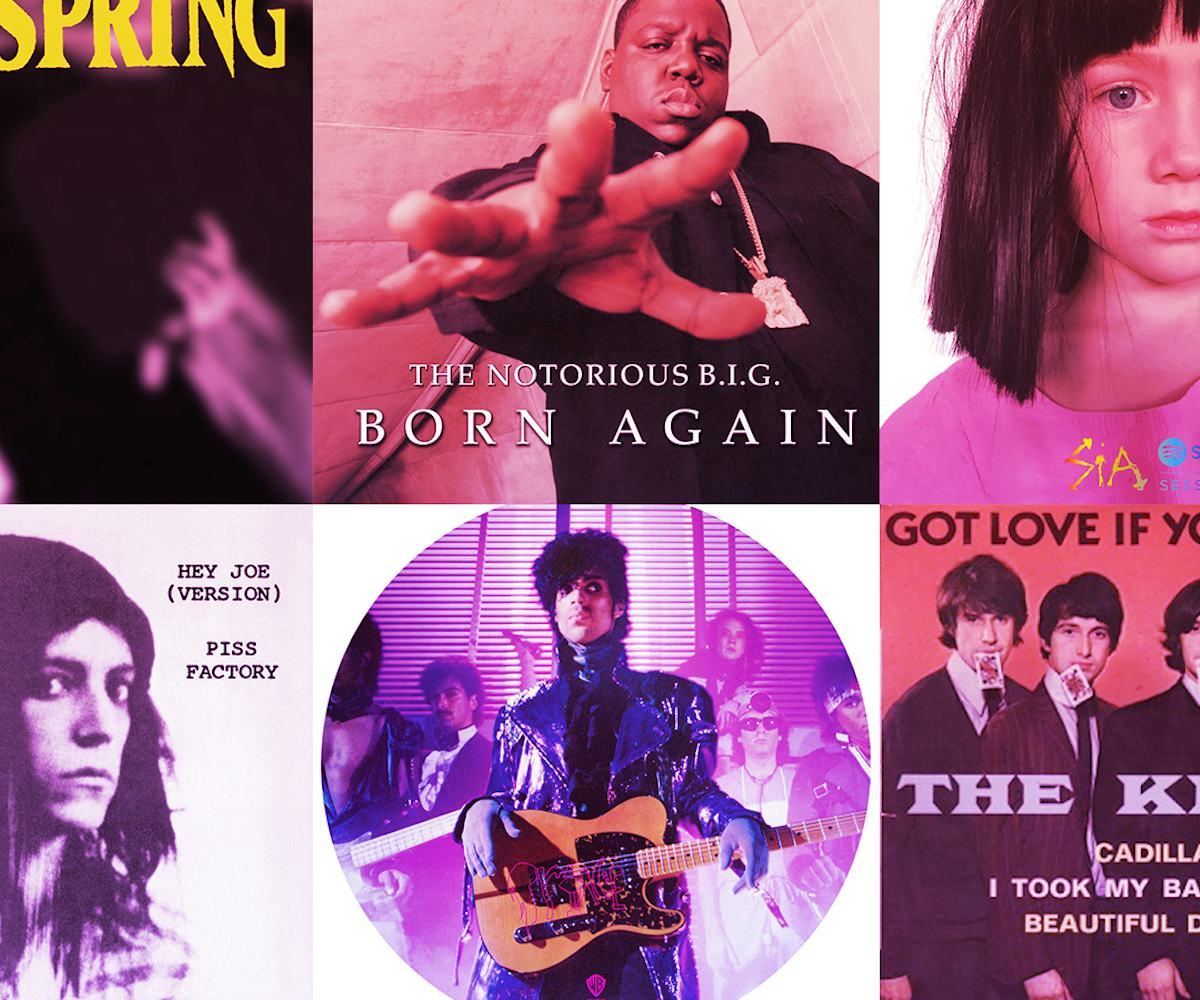 Photo courtesy of Record Store Day
Record Store Day Cheat Sheet
Your guide to navigating this year's Record Store Day exclusives
Hipsters rejoice! Record Store Day 2017 is finally here. This year's exclusives are one hell of a mix. Music snobs and pop lovers alike will easily find something to take home to add to their vinyl collection. You better be prepared to snatch up your faves bright and early before they inevitably sell out. RSD is notorious for presenting plenty of strange gems, from unexpected side-by-sides to cult classic soundtracks. It's almost impossible to narrow down a shopping list to be within any real person's budget, so we'll settle for whatever we can get our hands on from our faves after fighting the long lines.
More than a few crucial releases weren't able to fit within the list, like Andre 3000's iconic "All Together Now" interpretation and Blondie's newest, Long Time (which is limited to 750 copies). Look through the gallery below to see 25 of the best and quirkiest RSD exclusives. If you're feeling adventurous, navigate the full list of RSD exclusives and find your local participating store here. Whether or not you go hard this Record Store Day, celebrate 10 years of vinyl appreciation and show your local indie record shop some major love. 
"Wild Season (featuring Florence Welch)"— Banks and Steelz
Quantity: 2,800
Florence Welch is probably the only thing that could have made a collab between RZA and Interpol's Paul Banks better than it already was.
BOWPROMO— David Bowie
Quantity: 5,000
BOWPROMO is the revival of the demos that started it all, featuring seven tracks that were crucial to getting Bowie signed. This limited edition box set features a replica of the original promotion, with an additional five exclusive prints.
Puppy Love— Dolly Parton
Quantity: 1,500
This 7", one of Dolly's earliest releases, has been replicated to be as true to the original as possible. Hear the pre-superstardom 13 year old croon "Puppy Love" and B-side "Girl Left Alone," a track written with her Aunt Dorothy Jo Owens and Uncle Bill Owens.
Bangerz— Miley Cyrus
Quantity: 1,300
Okay, but for real, who doesn't want a double hot pink set of this crucial record? 
Hey Joe— Patti Smith
Quantity: 2,250
Smith's cover of Roy Buchanan's "Hey Joe" and B-side "Piss Factory" are to be reissued in the original picture sleeve for the first time since its release in the '70s.
"Little Red Corvette/1999"— Prince
Quantity: 5,000
Do we really need to spell out why you need this picture disc in your life?
Ra Ra Riot— Ra Ra Riot
Quantity: 1,200
10 years after the album's original release, it will be available on vinyl for the first time ever as an RSD exclusive.
76-'79 Singles Box— Ramones
Quantity: 3,500
All the necessary iconic singles authentically reproduced and tucked neatly into a cigarette-style box. 
Under Feet Like Ours— Sara and Tegan
Quantity: 5,000
Before they were Tegan and Sara, they were Sara and Tegan (shocker, we know). Their first self-released album will be available on vinyl for the first time ever as a RSD exclusive. 
Spotify Sessions— Sia
Quantity: 2,000
If you haven't cried to this album already, you're lying. This RSD, you can hear Sia's voice through the speakers of that turntable you bought to up your aesthetic during freshman year of college (we're so not judging, but please put it to good use with this one). 
Coral Fang— The Distillers
Quantity: 2,500
After begging for this re-release for years, fans finally have the chance to get their hands on Brody Dalle's debut on a major label with The Distillers' third studio album. A definite grrrl punk must have. 
Song Seeds— The Lumineers
Quantity: 1,500 
Travel through the song development of two tracks from Cleopatra, from seed to fruition. Fans will get the most personal take through demo, album, and live cuts of "Angela" and "Long Way From Home." 
Born Again— The Notorious B.I.G.
Quantity: 5,000
Commemorate the 20th anniversary of Biggie's death with this double gold vinyl reissue. 
The Boy With the Thorn in His Side— The Smiths
Quantity: 5,000
Channel your broodiest inner hipster with two previously unreleased versions of "The Boy With the Thorn in His Side" and "Rubber Ring."
"Nankhatai/Stuck Inside"— Homeshake/Alex Calder
Quantity: 200
The second charity collab between Homeshake and Alex Calder will have a limited run for RSD, so hurry out and snag your copy. All proceeds go to the International Refugee Assistance Project.
Star Wars: A New Hope— John Williams
Quantity: 4,000
Celebrate the 40th birthday of the classic film. For this RSD exclusive, The London Symphony Orchestra plays two tracks from the iconic score: "Main Title" and "The Throne Room and End Title." 
Space Jam: Music From and Inspired by the Motion Picture— Various Artists
Quantity: 3,500
Aside from being a critical movie, the soundtrack features classic hits from R. Kelly, Salt-N-Pepa, D'Angelo, and so many more.
Rarities 1981-1983— Stevie Nicks
Quantity: 5,000
Early demos, cuts, and live tracks are all brought together for the perfect 10". 
"Back in Your Head"— Tegan and Sara/The Regrettes
Quantity: 2,700
Not the side-by-side we thought we needed, but totally the side-by-side we deserve. Hear The Regrettes take on Tegan and Sara's "Back in Your Head" 10 years later, right along the original.
Got Love If You Want— The Kinks
Quantity: 2,500
Along with All Day and All of the Night, these French EPs will be released for the first time in the States for RSD, and for the first time globally since the mid-'60s. 
The Offspring— The Offspring
Throw it back to the band's debut with this transparent blue vinyl reissue. 
Africa— Toto
Quantity: 2,500
Just look at this picture disc and tell me you don't need it in your life. On the B-side you'll find "Rosanna" along with an image of the song's muse Rosanna Arquette.
Like a Drunk in a Midnight Choir...— Various Artists
Quantity: 2,500
Remember the late Leonard Cohen with this collaborative record. Hearing Cherry Glazerr take on "I'm Your Man" with Mike Watt is reason enough to grab this. All proceeds benefit the Pablove Foundation.
Blade Runner— Vangelis
Quantity: 3,500
The cult classic film celebrates it's 35th anniversary with a picture disc reissue.
Thinking of a Place— The War on Drugs
Quantity: 5,500
The first new music from The War on Drugs is a RSD exclusive. Hear "Thinking of a Place" and "Thinking of a Place (Part 2)" on 45rpm-mastered vinyl, if you can get your hands on it.