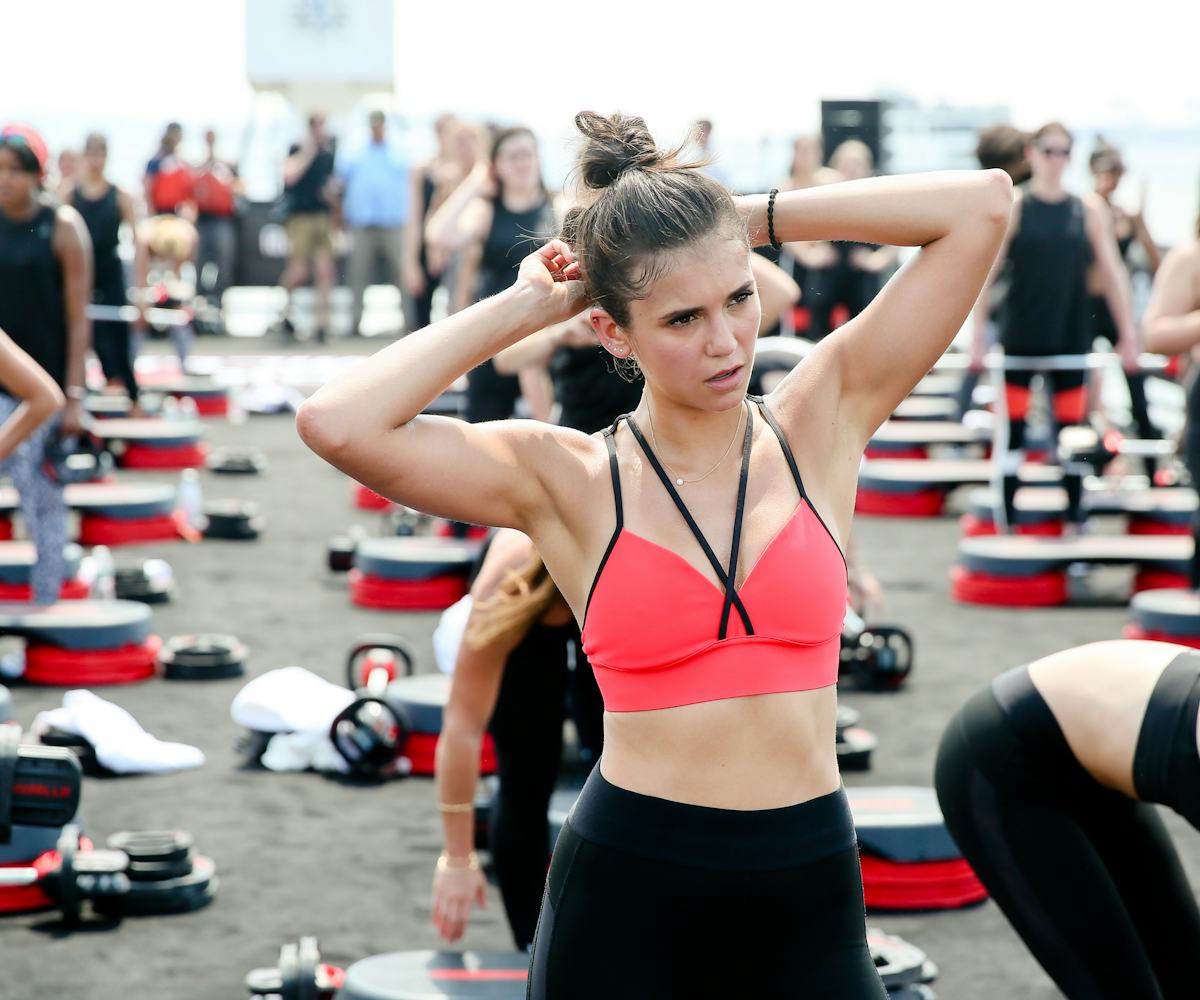 Photograph courtesy of Reebok.
We Got To Spend A Day As Part Of Nina Dobrev's Squad
Reebok has a brand new partnership to empower women
Reebok is committed to empowering women. After hosting one of the most memorable events in recent memory late last year to celebrate its Gigi Hadid-fronted Perfect Never campaign—complete with a powerful panel that included Ruby Rose, Lena Dunham, Zoe Kravitz, Aly Raisman, and Hadid—the multifaceted sportswear brand tapped cult workout house Les Mills and its latest ambassador, actress Nina Dobrev, for a brand-new partnership that's intended to "inspire, engage, and empower people to be fit for life through the power of group fitness." (Plus, deck them out in, like, really cute clothes.)
Given the intent of the collaboration, the two partners are the perfect fit for Reebok; New Zealand's Les Mills has always been at the forefront of group fitness classes, and Dobrev is known to document her workouts with girlfriends, which include BFF Julianne Hough, in sight. 
"Me and my friends do classes all the time together. We have this group thread called We Work Out, and whoever wakes up first will put in the workout for the day, and we'll all either say yay or nay [depending on our schedules that day]," The Vampire Diaries star said late last week after we personally got to experience what it means to be part of Dobrev's squad when we attended a 24-hour staycation that involved a rooftop BODYFLOW session and brunch (with Sakara Life's famous chocolate granola) at New York's William Vale hotel, followed by Dobrev's favorite GRIT class on a moving barge on the Hudson River. (There was a heat advisory that day, but we still worked out. I'm sweating at the thought of it.)
"You can't beat working out as a group—you push each other to go further, and there's a real sense of empowerment that makes you feel part of a community," Dobrev said of the high-intensity workout. "Misery loves company. When you're sweating and cursing and barely getting through, it's nice to have your best friend by your side. I am also very competitive, and a lot of my friends are too, so if I am almost ready to quit, as I came up for air, if they are still doing it, I have to do it too."
Dobrev credits her love for an active lifestyle to her older brother who was an athlete. "I don't think of working out as, 'Oh, I gotta do this because I want to look a certain way.' It doesn't feel like a job," she said, before breaking into a laugh. "I mean, sometimes it does. Like today, when we were sweating, but it comes in waves." (Yeah, heat waves... tell me about it.) Plus, she considers her daily workout part of her self-care routine. "It feels like you're doing something for yourself and it's 'you time,' and it's so necessary and so important," she said. "I didn't have my phone today, I didn't have it all day. You don't have that luxury all the time. We are constantly connected to all these devices. So your workout is the time when you're not reachable by phone and you can't talk to nobody else."
What makes this partnership truly organic is the fact that Dobrev had already fallen in love with Les Mills classes prior to this collaboration kicking off. "It was a perfect fit for me, personally. I am one of those people who gets bored so easily and quickly. I like yoga, I like to do high-intensity workouts, and I like to do all these other crazy things, and that's exactly what Les Mills is. It's everything," she said. "That's what really kicks you into gear and makes you get into killer shape." Speaking of killer, following the intense workout, the attendees recovered at a pampering session hosted by Reebok and Dobrev which included manicures from Vanity Projects, piercings from Maria Tash (Dobrev got two), and a chance to chat with the actress about things like her ideal day with her girlfriends.
"After the workouts, we'll go about our days and then meet up in the evening and we can open up a recipe book that I have in my kitchen. Depending on what page we land on, we have to accept a challenge—it's almost like Mission Impossible," said Dobrev, sitting on the couch of the hotel's outdoor patio still in a muscle tank, black leggings with mesh panels, a red strappy sports bras, and black sneakers from the collection—the same ones she'd worn to the workout hours prior. (She did jokingly warn us at that she frequently goes about her day in the same clothes from her workout: "Nobody else does it but me, because I smell bad.") "We'll then go to the grocery store and buy all the ingredients and destroy my kitchen in an attempt to make said recipe. Depending on how well it went, we'll sometimes order food after that [laughs], and then watch a movie or drink wine, and go to the hot tub and catch up on each others' days."
While, fortunately for us, cooking was passed over in favor of having drinks on William's Vale's scenic rooftop, the evening did conclude with wine, a movie, and a stay at the hotel. "We detoxed, now it's time to retox," Dobrev prompted us at dinner. "I'm a big believer in balance. If I work hard in the day, then I want to relax at night—and we worked HARD today!" And if you think the staycation was simply hosted as a way to lure editors in, it all goes back to Reebok's message of finding your inner strength, hopefully with your girlfriends in tow.
"I feel my strongest and most empowered when I am with my squad, with the girls. And it can be jumping out of an airplane—which we did last year for New Year's—and doing something crazy, or it can be as simple as having brownies with coconut butter on them," Dobrev said. "Just being yourself and not defining who you are based on how much makeup you have on or what you're wearing, being the most stripped-down version of myself, and being able to be that person in front of people I love and know that they love me back—that's probably when I feel the best. This is why I wanted to do this experience today."
Now that we are officially part of Nina's squad, we couldn't agree more.