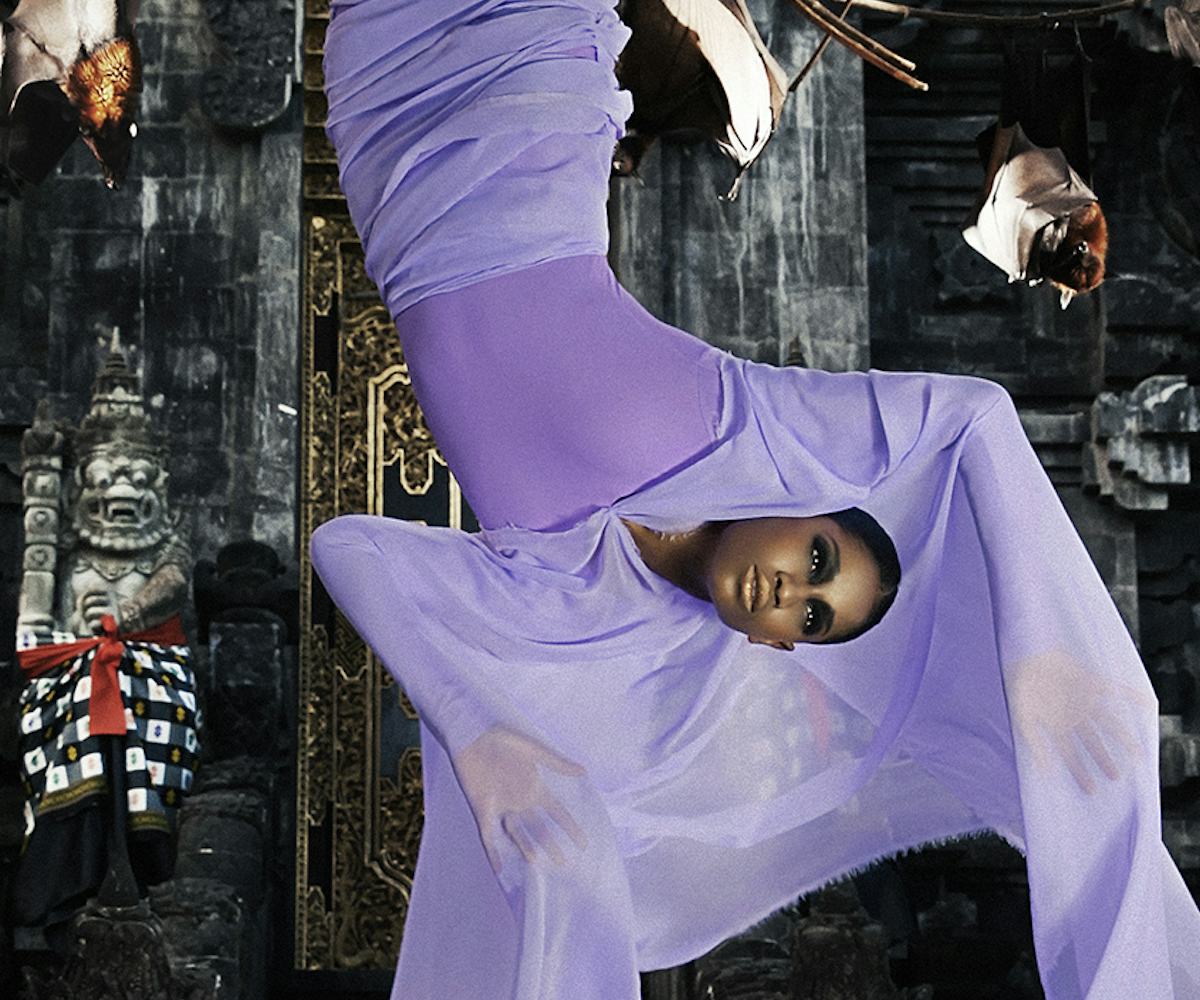 Photo by Jez Smith/Pottle Productions Inc ©2013 Pottle Productions Inc. All Rights Reserved.
antm axed: renee and chris h.
the top five become the top three.
It seems like just yesterday the top 16 contestants made their way down ANTM's lingerie-themed cycle 20 runway show, but now the competition has whittled down to just three contestants: Marvin, Jourdan, and Cory. We're cointing down the seconds until the winner is revelaed, because--hello!--he or she is going to star in a spread in our December/January issue!
Unfortunately, though, two of our favorites, Renee and Chris, got the boot from Bali this week. We have a lot of questions for the duo, namely what is going to happen to Marnee!? Read on to find out!
First up is Renee!
Why did you want to be on ANTM?
It's really funny, I never thought I would actually be on the show. A friend of mine submitted my application becuase he thought I would be really good on the show. Once I saw the guys there, I was like, "Oh my God, what did I get myself into?" [laughs] I thought they were never going to pick me. Then Tyra walked in and I was like, "Oh my gosh, this can actually happen."
OK, let's cut to the chase. What's going on between you and Marvin?
I'm a very private person when it comes to my relationships, so I didn't go on the show thinking I was going to meet someone. The closest guy to my type was Don, and he had a girlfriend. Marvin was like an annoying little boy in the house to me, and then one day we got to talk to our parents and I found out my dad was in the hospital. I hate sleeping alone--I used to live in a model apartment with my best friend, so any time something happened I could go sleep with her in her bed--so I went to the boys room because most of the girls were gone. Don has a girlfriend, Phil's kind of crazy and talks in his sleep, and Jeremy is kind of weird, so I just went for Marvin. I didn't expect something to come from that, but it was weird how we connected. I just saw him differently from that day on.
Are you and Marvin still seeing each other?
After the show there was a wrap party and I saw him a little bit after the first episode aired. We still Skype all the time. I never introduce guys to my parents, but I kind of had  to introduce them to Marvin because it's on TV. Marvin just fits in to my crazy family. He will Skype with my mom and he'll sing to my little six month old nephew. It's nice because I've never really had anything like that before. He's so different from what I'm used to. 
Are you rooting for Marvin to win?
I am. I'm in a weird position because I love Cory to death and he's one of my best friends. I just saw him yesterday. So it's between my best friend or my guy. They both deserve it so much. 
What was your favorite part of being on ANTM? 
My favorite part was definitely Bali. The second Tyra said we were going to Bali, I was like, "Yes. I could do this." I had a dream about a baby elephant before the show, and that baby elephant was the same one I saw in Bali. Her name was Dawn, I'll never forget it. That was the most amazing thing in my entire life that I have ever experienced. IT was the happiest time of my life, I can definitely say that without hesitation. 
Are you going to continue modeling?
Definitely. I'm not the one to give up on anything. It's not in my being.
What's your ultimate modeling goal?
My ultimate modeling goal is to be number one on Models.com. To be the top model in the whole world--not just America's Next Top Model, but the number one model. I want to take Joan Smalls' spot. The main reason I want to do that is because I don't get to see anyone from my country [Trinidad] get to that level of success. I've never really seen anyone who looks like me, except Joan Smalls, be that successful. 
Then we talked to Chris H. who's currently in the Washington, D.C. area. 
Hey Chris, why did you want to be on ANTM?
I wanted to be on America's Next Top Model because growing up my grandmother would always take pictures of me. She would dress me up in costumes like a police officer or a sailor and sort of trick me into getting my picture taken by giving me a piece of candy or a dollar. So I wanted to be on ANTM because I feel like taking photos is something that's just a part of me. I watched ANTM growing up with my grandmother, and once I found out it was just girls on the show I was discouraged. When they announced that there would be a guys season, I fit all the criteria so I thought I should apply. I gave it a try, not expecting anything, and they gave me a call back. I was very excited. I called my grandmother right away and I told her, and she was like, "Isn't that for girls?" [laughs] She knew that giving me all that candy would pay off one day. 
What was the best part of being on ANTM?
The best part for me was meeting Tyra Banks face-to-face and getting the golden ticket from Tyra to make it to Los Angeles. I come from a place where I'm never good enough, so Tyra saying to me that I had potential and could make it was the best part of the show. 
What's the number one thing you learned about modeling from being on the show?
The number one thing I learned about  modeling is not to be in your head. It's just like a job. You go to work, you put a smile on your face, you don't take any bad negativity with you. 
It seemed like there was a lot of tension between you and the other models. Do you think that played a part in you getting into your head?
I would definitely say that played a part in me getting in my head a lot. I care a lot about people and I wanted to be friends with people on the show, but I felt like from day one, they pegged me as a certain type of person  and they never really gave me a chance. Nothing I could do was good in their eyes. That was hard for me, but I regained focus and remembered what I was there for and what I don't have at home, which is I don't have a home to go back to, I don't have stability, I don't have a family that's going to embrace me. It's me, by myself, independent. 
What have you been up to since leaving ANTM?
I've been working on my portfolio and meeting agencies. Next offered me a contract as well as a couple other agencies. I'm just going over my offers and reading through all the contracts and trying to make the best decision for the rest of my life. I can see myself modeling for the rest of my life. 
What advice would you give to someone who wants to be on ANTM?
Always be yourself. Even if you feel like you have to change for somebody else, you have to be yourself. There's nobody who can be better at being you than you. 
Who do you think will win?
Jourdan. Jourdan, in my opinion, is the other model on the show. 
Don't forget to follow Renee and Chris on Twitter and watch America's Next Top Model this Friday at 9PM EST. Top three people!