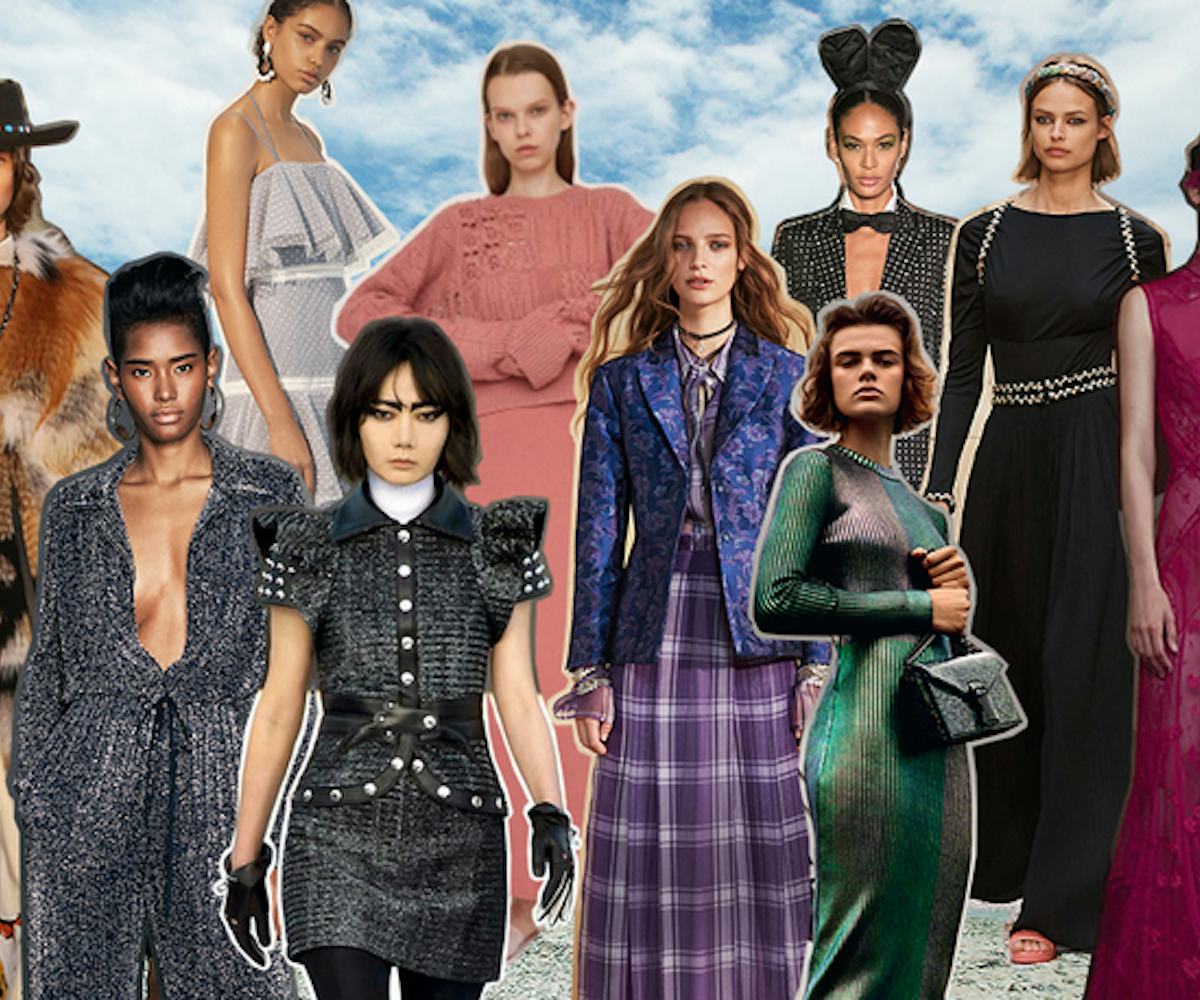 10 Cruise Collection-Inspired Cities To Travel To Right Now
Resorts inspired by this summer's Resort
"Do Resort collections matter anymore?"
It's a question that comes up in some form every summer when fashion's best pick up their new collections and jet off to some far-flung location to present the Resort (or Cruise or High Summer) lines. One side of the fashion camp fervently argues that it's irrelevant to have collections whose origins came from the needs of affluent shoppers who, back in the day, wanted to get their summer travel shopping done in preparation for actual cruises and beachside vacations. Given that travel has become more prevalent and we no longer vacation just during the summer, they argue, it seems unnecessary to have elaborate shows dedicated to fashion surrounding a season of leisured travel.
The other side argues that Resort not only serves as a precursor for what's to come from September's spring/summer showings and, as such, important in gauging future trends, but also sees designers put out their most wearable collections of the year, have fun with cheeky summer-friendly designs, present new takes on consumer favorites (like a beloved bag silhouette in new fabric or design), and debut out-there designs that are more suited for smaller group testing as opposed to a giant Fashion Month crowd. 
Our favorite part of the Resort collections, though, is the fact that the biggest shows often take place in the most unexpected of venues in far-away international locations, making for one (or several) of the most spectacular events of the fashion calendar. You don't have to think further back than Chanel's last Cruise show when the American press landed in Cuba two hours before the first U.S. cruise ship docked in Havana in nearly 40 years.
And, while the fashion may still be outside your realm of shopping possibility, the locations that hosted the shows can inspire your next getaway. Ahead, 10 Resort collection-inspired cities that you should consider traveling to right now, with suggestions on where to stay and what to do in each.
Where: Santorini, Greece
Inspired by: Chanel
While the iconic French house's Cruise collection was inspired by the theme of "Greek Antiquity," with the venue, the opulent Galerie Courbe at the Grand Palais in Paris, transformed into Athens' impressive Parthenon and Sounio's Temple of Poseidon, the intricately draped fabrics, gold-embellished breezy silhouettes, and sky high columned heels, would feel more at home on the scenic island of Santorini than on Greece's mainland. It's only fitting that with a wardrobe fit for a Greek goddess, one would stay at the extraordinarily beautiful Perivolas, whose cave-carved suites include an infinity pool that merges with the sea a thousand feet below.
With a landscape and seascape this stunning, you can spend your days just exploring this Aegean island. We suggest grabbing a scooter and checking out the many wineries (our pick would have to be Domaine Sigalas vineyard and its Assyrtiko-Athiri blend variety) that birth delectably dry whites high in minerality thanks to the seaside location, the famous red- and black-sand beaches, and the archeological site of Akrotiri, a Minoan Bronze Age settlement. For those who want to capture that Santorini sunset, make your way up to the cliffside village of Oia. Or, better yet, claim a table at Red Bicycle, an exceptional restaurant housed in a 19th-century mansion, that offers excellent views of the volcanic rocks, as well as killer lamb. To dance the dinner off, head next to Hasapiko, a former butcher shop-turned-lively bar, that hosts a DJ on most nights.
Where: Santa Fe, New Mexico
Inspired by: Ryan Roche
Inspired by a trip to New Mexico, Ryan Roche put out a monochromatic collection of breezy dresses and separates, with the perfectly muted shades of pastels inspired by the state's "lavender evening skies" and "high desert piñon pine trees." With surroundings this idyllic, it's easy to find yourself in a city like Santa Fe to spiritually reconnect with oneself. Recharge at The Inn of the Five Graces, named after the five senses and decorated with graphic hand-tiled mosaic walls (some of which are made from stone inlays of onyx, marble, lapis, and jade) and antiques from the owners' travels. The adobe-walled rooms, which are all different from one another, feature wood-burning kiva fireplaces and brightly patterned textiles, while the Ayurvedic spa offers treatments that blend ancient Eastern and Native American rituals and products with contemporary amenities. Or head next door to the Spa at Loretto, one of the most popular wellness establishments in the country, for treatments like sacred stone massage and milk and honey wraps, in addition to services astrology, reiki, and chakra balancing.
Explore the historic downtown area of this city that once served as the most northernmost part of the Spanish empire in America. Observe the pueblo-style architecture as you walk down Canyon Road, a half-mile walk of galleries that showcase a range of local art works and hold hidden courtyards and gardens. If you're a Game of Thrones fan, you'll get a kick of the George R.R. Martin-owned Jean Cocteau Cinema, an indie theater that shows a selection of old films, cult classics, and unique series, and Meow Wolf, a 20,000-plus-square-foot interactive art installation created by more than a 100 artists, that visitors can get lost in exploring. Santa Fe is known for its healthy, Southwestern, and unfussy approach to food. Our pick would have to be Eloisa, a love letter to the fusion of Southwestern and Mexican cuisines, where chef John Rivera Sedlar dream ups new takes on the classic in the form of pulled duck carnitas tacos and ranchero lamb. Don't miss out on the Georgia O'Keeffe five-course tasting menu that pays tribute to the iconic artist and the food that she put out at her Abiquiú, New Mexico, home, where Sedlar's grandmother, Eloise, served as O'Keeffe's personal chef for more than a decade.
Where: Kyoto, Japan
Inspired by: Louis Vuitton
The complete polar opposite of Tokyo's frenetic pace and skyscraper skyline, Kyoto is dotted with lush traditional gardens and peaceful temples and shrines. Held at the picturesque Miho Museum, an architecturally impressive haven located in the middle of a forested hillside preserve, Louis Vuitton's Resort collection was equally awe-inspiring, with Kansaï Yamamoto-illustrated sequined dresses, samurai-worthy outwear, and obi-like drapery. To truly immerse yourself in the culture, stay at the idyllic Hoshinoya Kyoto, a private resort that can be only accessed by a boat. Once a getaway for the Imperial aristocrats, this luxury property combines Japanese traditions and decor with top-notch amenities and beautiful rooms overlooking the Ooi River.
Begin your days by exploring the best of Kyoto's nature at Arashiyama Bamboo Grove, a mile-high bamboo forest, or one of the traditional Zen rock gardens. Next, visit one of the hundreds of temples, like the humbling Kinkaku-ji, or the head shrine of Inari, the magnificent Fushimi Inari-taisha with its 10,000-plus striking orange torii gates. Before the sun sets, make your way to Gion, Kyoto's bustling district known for its geisha sightings, machiya wood townhouses, ochaya teahouses (and yes, matcha), and local entertainment. Stop by Pass the Baton, a designer thrift store-meets-teahouse, if you're looking for a less traditional tea experience and the Michelin star-awarded Kappa Sakamoto for an authentic kappo, meaning counter-style, dinner experience. If sake knowledge is what you're after, head to the Israeli-helmed Yoramu, where the English-speaking and knowledgeable owner can take you through the many flights on the menu.
Where: Edinburgh, Scotland
Inspired by: Christopher Kane
Designer Christopher Kane went back to his native Scotland for a collection that borrowed from the Glasgow Four, an artists' movement that included husband and wife duo Charles Rennie Mackintosh and Margaret Macdonald, and included a tartan kilt and a Scottish lion flag sweater. While the exceptionally elegant collection, that featured lots of royal lace and feathers, was showcased at Helensburgh's Hill House, a spot Mackintosh lovingly designed, you don't need to go further than the easily accessible Scottish capital to see the ethereal surroundings that inspired Kane. For a similarly enchanting vibe, stay at The Witchery by the Castle, a boutique gothic hotel housed in a 16th-century building that boasts original oak-paneled wood and baroque decor that means rooms are decked out in velvets, silk, and dramatic furnishings, and feature oversized four-poster beds and chapel bathrooms with bateau baths.
Get to know Edinburgh's landscape by hiking up Arthur's Seat, the highest point of the volcano-formed green hills of Holyrood Park. While the ascent is not for the weak, it offers one of the best views of the city. Look out for the Edinburgh Castle, an iconic historic fortress and former royal residence that has made several film cameos, which is where you should go next. To get a more contemporary city vibe, walk down the lively Princes and George streets, lined with shops, historic monuments, and restaurants, and explore the thriving food scene. Put your reservations aside and taste the national dish of Scotland, haggis, a savory pudding made from a sheep's heart, liver, and lungs. If you aren't ready for the full deal, Whiski Rooms is a great place to start, as it serves the spring rolls version of the dish for the less brave and offers more than 300 whiskeys should you need to counteract the taste. Speaking of whiskey, while many will suggest that you travel outside of Edinburgh to visit a distillery, we suggest you take a tour of the nearby Pickering's Gin, that, while not whiskey or scotch, is known for its delightful hand-crafted concoction that just oozes with fragrant botanicals.
Where: Miami, Florida
Inspired by: Naeem Khan
While Indian-American designer Naeem Khan was primarily influenced by New York's Botanical Garden, with colorful floral prints and embroidered blooms adorning unabashedly feminine dresses, he also drew inspiration from his "second home," Miami, particularly its water and beaches. The plunging sparkly bodysuit would have been right at home in the club days of '90s Miami, while sparkly sheer white dresses emulated shell- and pearl-like patterns. To appreciate the ocean, there is no shortage of amazing beach hotels to stay at in Miami. Soho Beach House has our favorite beach club and rooftop taqueria with a plunge pool overlooking the Atlantic Ocean; The Standard has the pool scene with the best amenities that include underwater sound system, waterside yoga, and access to the divine spa that boasts a hammam-like setup and cedar sauna; Eden Roc Resorts' oceanfront suites have direct access to the white sand beach, luxe poolside cabanas, and access to its adjoining hotel's famed Nobu eatery.
Get to know an artsy side of Miami—it is, after all, home to Art Basel—by heading to Wynwood. Walk by the highly Instagrammable Wynwood Walls, a collection of industrial buildings graffitied by street artists like Shepard Fairey and Ron English, browse the Rubell Family Collection, one of the oldest galleries (that's moving next year to Allapattah as part of a big expansion) that houses works from the likes of Jeff Koons, Keith Haring, Yayoi Kusama, and Cindy Sherman, and duck into O Cinema Wynwood, a warehouse-turned-independent movie theatre that screens some of our favorite indie flicks. Following such a full day, refuel at 27 Restaurant, located inside the lively Freehand Hotel. Local ingredients, including produce grown on the on-site garden, are a highlight, with cuisine roots stretching from South America and the Carribean to the Middle East and Asia with tongue-tingling items like yogurt-tahini kale, kimchi fried rice, and arepa platters. To wash it all down, get a cocktail at the adjoining and award-winning cocktail bar, The Broken Shaker, which serves innovative takes on cocktails, like the Sunflower Old Fashioned and Deep South Shandy, in a greenery-filled backyard.
Where: Mumbai, India
Inspired by: Alberta Ferretti
Inspired by A Passage to India, Alberta Ferretti's latest collection drew from the colors of the military uniforms of colonial India and the Indian landscape, with a line full of prints, rich colors, and intricate embroideries and breezy tunic-like silhouettes. Mumbai is the closest you'll get to the "metropolitan jungle" theme Ferretti was going for, an ever-expanding business center set against the largest urban tropical forest. Get rid of your jet lag at the luxurious Oberoi, Mumbai which has unparalleled views of the ocean and the Queen's Necklace, a lit-up drive that resembles a string of pearls at night from a bird's-eye view, a 24-hour spa, and a very good contemporary Indian restaurant. (Though we recommend participating in a chef-led cooking class for a truly special culinary experience.)
While Mumbai is known as a fashion- and entertainment-forward city, we recommend getting to know the Mumbai of the past. Take a pre-dawn guided tour of the city's best flower, fish, and spice markets, or browse the markets on your own in search of treasures (Chor Bazaar and Colaba Causeway would be our picks for jewelry, antiques, incense, brass and bronze knickknacks). For a tour of the city, hop on one of the auto rickshaws and hop off at the Wankhede Stadium, the main cricketing venue in the city, to watch India's most popular sport in action. Worked up an appetite following the action-packed experience? Stop by the very popular Trishna, a unadorned seafood joint that serves the much-spoken-about masala crab and Hyderabadi-style barbecued fish topped with freshly ground pepper, before catching the sunrise at the Four Seasons Hotel Mumbai's swanky 34th-floor rooftop lounge, Aer, which overlooks the iconic Bandra–Worli Sea Link bridge and the panoramic city skyline. 
Where: Las Vegas, Nevada
Inspired by: Moschino
For Jeremy Scott's Moschino show, it was less about the destination, which was Las Vegas, and more about the journey, Route 66 from City of Angels to Sin City. While the memorable show began with cheeky winks at an Americana theme with pinup girls embroidery on delicately sheer dress and retro patchwork, which brought to mind peculiar relics of the past like one-off diners and abandoned Crackle Barrel-types of stores that you encounter driving down empty dust roads, it ended with showgirls, lots of show-stopping glitz, and literal fire, in the form of flame-emblazoned suits. If you have the opportunity, take the long route to Vegas through the Mojave Desert and catch the sun setting, a beyond-words beautiful scene that sees lone Joshua trees set against a cloud of yellow, fuschia, and blue paint-like explosion. Back on the road, feed into the nostalgia by grabbing a greasy roadside burger and Coke; a random, no-name diner is best for this, but we understand if you're not on the West Coast often and would rather swing by In-N-Out Burger. To remember a truly odd time, stop by Zzyzx to learn about the history of one of the "weirdest towns in America." (Hint: It involves a health spa scam.)
To see the old neon signs that inspired Scott and Vegas the old way, make a pit stop by Buffalo Bill's to hit the 1,500-plus slots or take a ride on the very old Desperado roller coaster that frames the skyline of the casino resort that you used to frequently find on postcards back when we sent them. (Though for the ultimate look at the history of neon signs, Vegas has an actual Neon Museum with a boneyard-like collection of them.) End your road trip at The Cosmopolitan Las Vegas, the luxe property known as much for its party scene and pool parties as it is for its superb thermal baths and spa services, should you need to stretch your bones out after the long ride. Dine at the brand-new Blue Ribbon Brasserie that, because it's Vegas, offers a multi-tiered seafood and caviar extravaganza served with either a bottle of Champagne or vodka in addition to its original restaurant favorites. If the club scene is not your thing, check out the music and comedy shows going on at The Chelsea (Die Antwoord performed there last night!) or catch an outdoor movie shown by the pool on Monday nights (Father of the Bride is next week's pick).
Where: Rome, Italy
Inspired by: Givenchy
This was the first collection from Clare Waight Keller for Givenchy, following Riccardo Tisci's departure. With the opening of the brand's new flagship a few weeks prior to the showing, it was a natural choice to stage the striking monochromatic looks against the Italian capital's landmarks, including the Museum of the Roman Civilization and Palestra del Duce. Celebrate's Eternal City's many other impressive flagships by staying at the Fendi Private Suites, the luxe and impeccably designed apartment-style hotel that sits on top of Palazzo Fendi, or Portrait Roma, Ferragamo family's first hotel whose biggest draw—aside from the sleek, modern rooms, which are quite stunning—is the rooftop with wraparound views of the city.
For first-timers, there is a myriad of historic landmarks that one must visit, including the, yes, obvious ones like Vatican City, the Colosseum, the Basilica of Saint Clement, and the Pantheon. To take in as much Ancient Roman history as possible, rent a Vespa and zoom through the tiny cobblestone streets full of jewels like mom-and-pop cheese and wine stores, pastry scent-seducing pasticcerias, markets filled with the fresh of delicacies (Mercato Trionfale is our pick for the prosciutto and crusty bread), and numerous alfresco patios where the people-watching is just as good as the combination of an Aperol spritz and homemade tiramisu, which tastes entirely different, but equally delicious, at every single restaurant. After being in Rome several times, I can confidently say that it's hard to find a bad authentic Italian (read: simple, traditional) restaurant to eat at as long as you stay away from the tourist-infested areas—side streets and dark restaurants with only Italian menus are your friends. With that said, go on a DIY tour of Rome's street food, highlights of which include suppli, rice balls in tomato-mozzarella sauce; pizza al taglio, meaning by the slice; trapazzini, triangular Roman sandwiches; porchetta paninis; and, of course, gelato. Eat all the gelato, everywhere.
For those who like structure, refer to NYLON's Guide to Rome.
Where: Marrakech, Morocco
Inspired by: Prabal Gurung
It's impossible to go to Morocco and not be creatively inspired. Prabal Gurung just proved that once again with his newest collection that took root from the works of Moroccan artist Hassan Hajjaj and the impact of multiculturalism and globalization in today's world. The beauty of Morocco's sunsets, desert landscape, and old-world architecture could be traced in the vibrant colors, the sweetest of swiss dots textures, and the structured silhouettes contrasted with cutouts, billowy sleeve, and sheer chiffons. You would feel right at home in one of these ultra-feminine looks at the El Fenn, an equally hard-to-miss hotel that's a sensory explosion of color, textures, and patterns. The impossibly beautiful structure, that boasts picture-perfect tree-filled courtyards, a scenic rooftop terrace, and a resident turtle family, has 28 uniquely styled rooms and, more importantly, a spa with a hammam, where you must indulge in the traditional bathing and cleansing ritual. For an even more authentic experience, head to one of the many public hammam houses, like the Hammam Dar el-Bacha.
Shopping is also a must when you're in Marrakech, with its never-ending maze of cramped alleyways full of vendor stalls and souks on top of souks, that sell everything from spices and fresh fruit to leather goods, babouches (hand-crafted slippers so enticing, they made Carrie leave her passport at the stall in Sex and the City 2), and jewelry. End your shopping at Djemaa el-Fnaa square, the heart of the medina, where you'll inevitably feel overwhelmed by the performing snake charmers, acrobats, and musician. To understand why designers love this city, visit the Majorelle Jardin, the perfectly manicured gardens that surround a vibrant cobalt blue property that once belonged to the great Yves Saint Laurent, whose designs were heavily influenced by the city. In fact, this fall, a museum dedicated to the prolific designer is set to open on a nearby street.
Most Moroccans will scoff when you ask them for restaurant recommendations. That's because they believe that the best food can only be prepared at home. For the less discerning (and those without access to homemade Moroccan food), head to La Maison Arabe for a tender lamb tagine, whose flavors of caramelized oranges, saffron, and ginger will hit your nose as soon as the earthenware pot's lid is lifted. For lighter fare and rooftop views, head to the popular Nomad, overlooking Spice Square, and get a taste of the modern cuisine with a range of salads, savory Moroccan pastries, seasonal couscous, and lamb burger with harissa mayo.
Where: Calabasas, California
Inspired by: Dior
This season, Dior surprised everyone by staging their celeb-fronted show at the Upper Las Virgenes Canyon Open Space Preserve in Calabasas, a city more known for spawning the Kardashian-Jenner-Wests than a scenic landscape that handily set the mood for a stunning Western-inspired collection that looked plucked from a Georgia O'Keeffe painting. If you're looking to live that luxe, (faux) fur-clad life, take the day trip from Malibu, Santa Monica, or L.A. to see how reality TV's most famous family lives.
Do like the Kardashians do and start your day with a green juice from SunLife Organics and a buzzy workout class, like the local SoulCycle, both of which have been known to be frequented by the sisters. Following the spin class, drive (yes, it might be a five-minute walk, but everyone drives everywhere) to The Commons at Calabasas, an open-air mall where Kendall and Kylie have been known to venture to and hang out with BFFs like Sofia Richie. Check out the brand-new Kingdom, a luxury boutique meant to evoke a rich millennial's apartment—complete with pink velvet couches, marble detailing, and quirky wallpaper—and stocked with all the high-end labels. Of course, you can't end your shopping excursion without getting sushi from the most hyped up restaurant of the Kardashian arsenal, Sugarfish. Or don't do like the Kardashians and stop by Calabasas' farmers' market in Old Town brimming with the freshest produce and they-can't-be-real wildflowers and explore the boutiques outside of The Commons, like M.Fredric that stocks our favorite Cali-esque brands like For Love & Lemons, Lovers + Friends, and Olivaceous. Next, leave town altogether (there's really not much to do there anyway) and explore the surrounding beaches in Malibu, known for some of the best longboard surfing, or Santa Monica, where you can bike or walk the old-school pier that holds an amusement park with a trapeze school, aquarium, and a Ferris wheel. Before you leave the area, stop by The Getty Villa, a museum of ancient art that's modeled after a first-century Roman country house and that holds beautifully landscaped gardens.
Or, alternatively, ignore everything mentioned above and spend the entire day hiking, horseback riding through the mountains, and vineyard hopping. This area was meant for this.