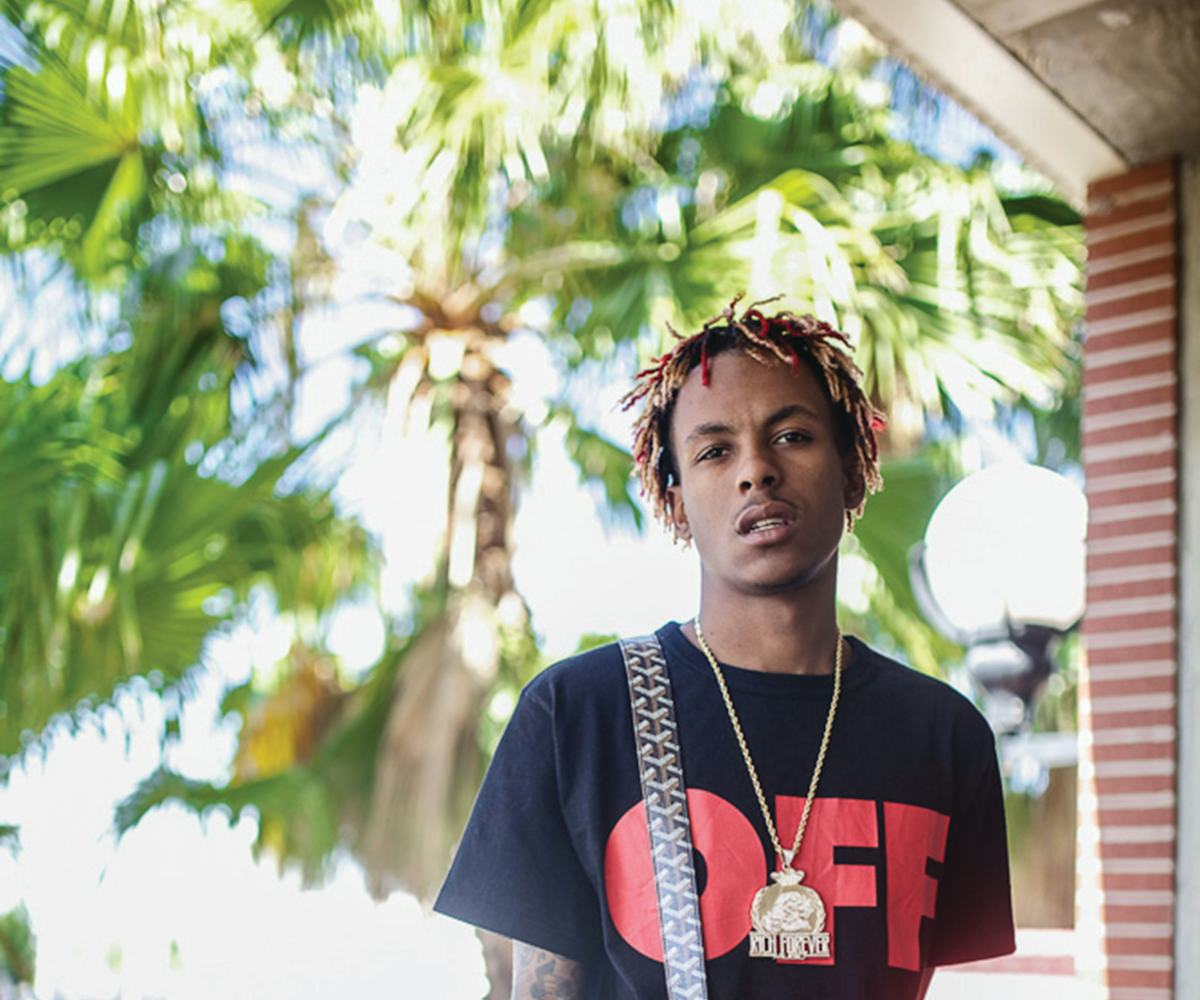 Photographed by Doncam Z.
How Rich The Kid May Very Well Take Over The Rap, Fashion, And Skate Worlds
… and he hasn't even released an album yet
Rich the Kid might just be one of the hardest working people in rap music. The number of mixtapes that he's released and produced is in the double digits, he's collaborated with everyone from his friends Migos and Jaden Smith to Diplo and Justin Bieber, and he somehow even found Frank Ocean. Apart from that, the 23-year-old New York-born, Atlanta-raised rapper made waves during this past Men's New York Fashion Week, catching the attention of a bevy of fashion publications that, if not already aware of his penchant for his lyrics that are dripping with mentions of his luxurious lifestyle, were impressed by the flashiness and rarity of his wardrobe, bolstering his ambitions to eventually release his own clothing line. In fact, he's already in the initial stages of actualizing that goal with a limited-edition collection with Off-White c/o Virgil Abloh on the way.
It's only a matter of time before this artist-on-the-rise breaks through to the mainstream, so we caught up with him over the phone to discuss Rich Forever II and the other tapes he's working on, what it was like to meet his bestie Smith's parents, and how he may be one of the best skateboarding rappers out there.
What city are you in now?
Right now I'm in Los Angeles.
What are you working on out there?
I'm recording my EP that I'm dropping soon and some other projects that I'm working on, like my EP with DJ Mustard.
I feel like you're promoting mixtapes almost every month: You have Rich Forever II out now, and then Streets on Lock 5 dropping soon with Migos, right? When do you have that release planned?
Yeah, I was recording with them yesterday. Probably the end of this month, the beginning of next month.
And when can we expect the EP that you're currently working on?
It's probably gonna be dropping the end of the month, right after Streets on Lock 5.
Do you think you'll release a full-length album anytime soon?
I've been recording a lot and I've been keeping records in the cut for albums, so I do have songs ready for it. But as far as a time for an album coming out, I don't know exactly when.
You already mentioned you were just in the studio with Migos, but who else have you been working with?
I did two records with DJ Mustard. They were stupid, like, crazy hits so we just kept on working and we did a whole project together, so we got that coming. Jaden Smith is a good friend of mine, we've got that song that just dropped on the Rich Forever II tape, and we got a couple other songs that we have in the cut. Justin Bieber and Diplo, I have a record with them. I got Young Thug to put a verse on that, so it's me, Diplo, Justin Bieber, and Thug. I know when that video drops, and it hits radio, it's gonna be all over.
Yeah, I saw the teaser for that a while ago so I know it's going to get a lot of attention. You've worked with so many diverse artists—what do you think it is that attracts so many musicians from different genres to your sound?
Probably that I'm working. You know, hard work always pays off and it shows. I think people recognize how hard I work and they understand that, so it's real natural.
How did the Jaden Smith feature come about?
I was with Jaden and we recorded at his parents' house one time.
Did you see his parents while you were there?
Yeah, I met his parents. I was recording in the booth and when I came out of the booth, his mom, Jada Pinkett Smith, she was like in the studio listening to my raps and stuff. After that, we went to the kitchen where his dad, Will Smith, was. They said they liked my hair, it was cool. We were just recording songs—we did like two or three songs that day. I actually engineered him—we like engineered each other, so for that song that I did with him, I actually recorded that song myself; I engineered it.
So when it comes to the features that you have on your work, do you typically have somebody in mind already?
No, not really. I usually just have a circle of people that I associate myself with. I'm not really cool with a lot of people. It might seem like I'm cool with them but I'm really not. I'm really particular about who I work with now because [there are] people [who] are not really cool or who they make themselves out to be—they're weird or stuck-up, you know what I'm saying? So I don't really chill with a lot of people or be around a lot of artists anymore, but I do have a select one or two that I do work with and I'm real tight with right now.
Who are some of those people?
Migos, of course. 21 Savage. Of course, Jaden Smith. Famous Dex, my artist that's signed to my label Rich Forever Music. Ty Dolla $ign.
Considering that you were spent part of your childhood living in New York, how do you think that classic New York sound comes through in your music?
I listened to a lot of Jay Z and Nas, stuff like that, so I was always New York-influenced. I think I have that New York flow.
Obviously living in Atlanta has influenced your music, but how would you say that you've branched out from that typical Atlanta trap sound?
The thing is, I'm influenced by [more than] the trap genre. I'm on Party Favor's single, the EDM group. I've got GTA's single, "My Mamacita," another EDM song. I have songs with Diplo that he just has in the cut—I haven't even heard them since I recorded them. We have so much stuff, from even before we recorded the song with Justin Bieber. We got crazy records, but he'll probably just pop them out whenever he feels like it. I got a lot of stuff [that's still] unreleased.
I want to talk to you about fashion because even Vogue.com has done a piece about you. Were you always into fashion, even growing up?
Yeah. When I was in school, I'd try to wear preppy stuff, like American Eagle and Polo. Kids used to hate on me. But when I was doing [Men's New York Fashion Week] stuff, I was just going to the fashion shows. I had a schedule full of fashion shows for the whole week. At first, they didn't even know me, but then I'd hop out [of the car] and they'd snap pictures because I was so fresh. I was wearing Off-White, Balmain—I had literally 20 chains on me, a brand new Rolex, so they were taking pictures when I hopped out, regardless of who I am, because of my whole outfit and what I got going on. So now I'm on Vogue, W magazine,all kinds of stuff. And not even for just one day, like three days in a row. A lot of rappers didn't even do that. But I want to do the fashion stuff. That's another thing I want to get into. It's not only about rap for me. Some people just want to stay in the trap genre—no, I'm different. I moved myself from Atlanta to L.A. I was supposed to have a movie part in Barbershop 3. You know Tyga's character? That was my part, but there was a little incident last year when I got arrested with Migos, so I lost the part. Now I'm like, "Damn, I could've been in movies already." But everything happens for a reason, and now I'm doing the fashion stuff. I got this collaboration I'm doing with Virgil [Abloh]—Virgil's a good friend of mine—and it's fire. And I got my merchandise because I'm on tour right now.
What goals do you have outside of music? Clearly, you're getting involved in fashion, and you have always referred to yourself as a businessman first.
Well, I got my label, Rich Forever, got that going on with 300 [Entertainment]. But as far as fashion, my goals are for the stuff I do to be very rare, and very limited, so that will be my first piece with Off-White. I want to be in the actual GQ magazine, I want to do cover stories. I really mastermind a lot of stuff by myself.
Growing up, were you pretty much always doing music, or was there a specific time when you started seriously?
By 12, I was really into it. But I was skateboarding a little bit. I got some sponsorships but I just wanted to get away from that so I just started doing music.
You had skateboarding sponsorships?
Yeah—
Publicist: He's being real humble. He's an amazing skater. Better than any rapper. I'll put money on it.
Better than Lil' Wayne?
I skated with Lil' Wayne before. He invited me to his skate park. Actually, you know what? I'll keep it honest with you, Lil' Wayne actually inspired me to skateboard again. We were there talking about skateboarding stuff and I showed him my old footage. He was like, "Yo, you're kidding! You gotta get back out there and go kill it!" Then I was with Nyjah Huston, he's a professional skateboarder—I remember when he was a little kid with long dreads when I was coming up. He's the best skater, period. That's where I recorded that video of me skating.
Why did you eventually decide to do music then?
My uncle was trying to be a rapper, so he had CDs and stuff in his crib, like 50 Cent and Jay Z. When I got to Atlanta, it was T.I., OutKast, and he had his CD. I knew all the words on that CD. When he moved, I moved too—we were staying with my uncle, me and my mom and my sister. That's how I got the experience. Now, he's the one asking me for help. I can help him with his music.
Even though you're starting to get attention from publications like Vogue, and doing all of these features, do you still feel like you're a bit underrated?
That's what all my fans say on Twitter and everything. But, you know, it's fine because a radio single is the only thing that I'm missing, as far as all the pieces—just one song playing on the radio non-stop. I have a song that's going crazy right now, it's called "Ran It Up" with Young Thug. It got over 5 million [plays] in one month, and the last I checked it was almost 7 million, and it's been about six months. On my tour, people have been going crazy to it. So a song on the radio, that's just the one thing I'm missing. But every artist that's come out at that level, they're saying, "You have to have a song on the radio so you can be mainstream. You can't be at that underground level forever." That's why I'm waiting on that Justin Bieber track, man.