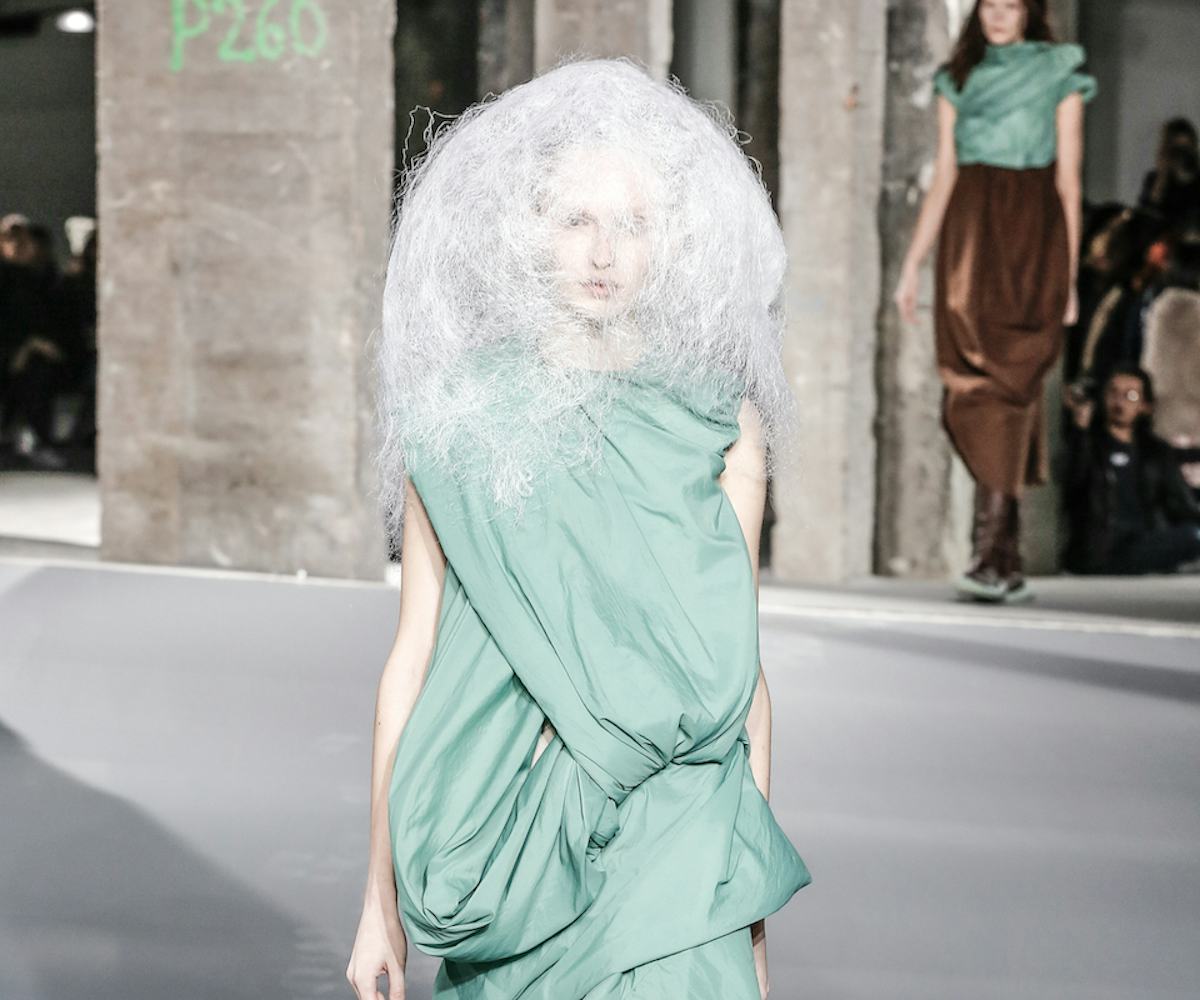 Photo by Valerio Mezzanotti/OWENSCORP
Hairballs For Fall At Rick Owens' Runway Show
Beautiful, Beautiful Hairballs
This morning I awoke to a pile of dog vomit next to my pillow. Atop the dog vomit was a hairball. My dog—who weighs five pounds and takes Klonopin—can't get on and off the bed herself, and is still working on how to tell me when she needs to vom, so this happens more than I'd like to mention here. But back to the hairball puke pile: Of all the things it reminded me of, a runway beauty look was not one of them. This thought did not occur to me because I am not Rick Owens.
Owens is known for imaginative, disruptive runway spectacles—models 69ing, anyone?—meaning the hairballs are part of a larger legacy of looking fashion and beauty trends in the eye, and giving two middle fingers. Resembling something I pulled out of my shower drain just the other day, these hairstyles exist on a different abstract layer of the universe than the other looks we've seen this fashion month, and that's the point. You're not supposed to get the look. The look gets you. 
The Cut reports that hairstylist (or, uh, hairball stylist) Duffy and his team used balloons to keep the balls of hair in shape backstage, popping them just before the Fall 2016 show. The temporality of these hairy creations only adds to their strange beauty: They exist for but a moment in time before gradually deflating, making us wonder if they ever existed at all. 
Of course, they did exist, and we've got a slideshow to prove it. Click through to see.