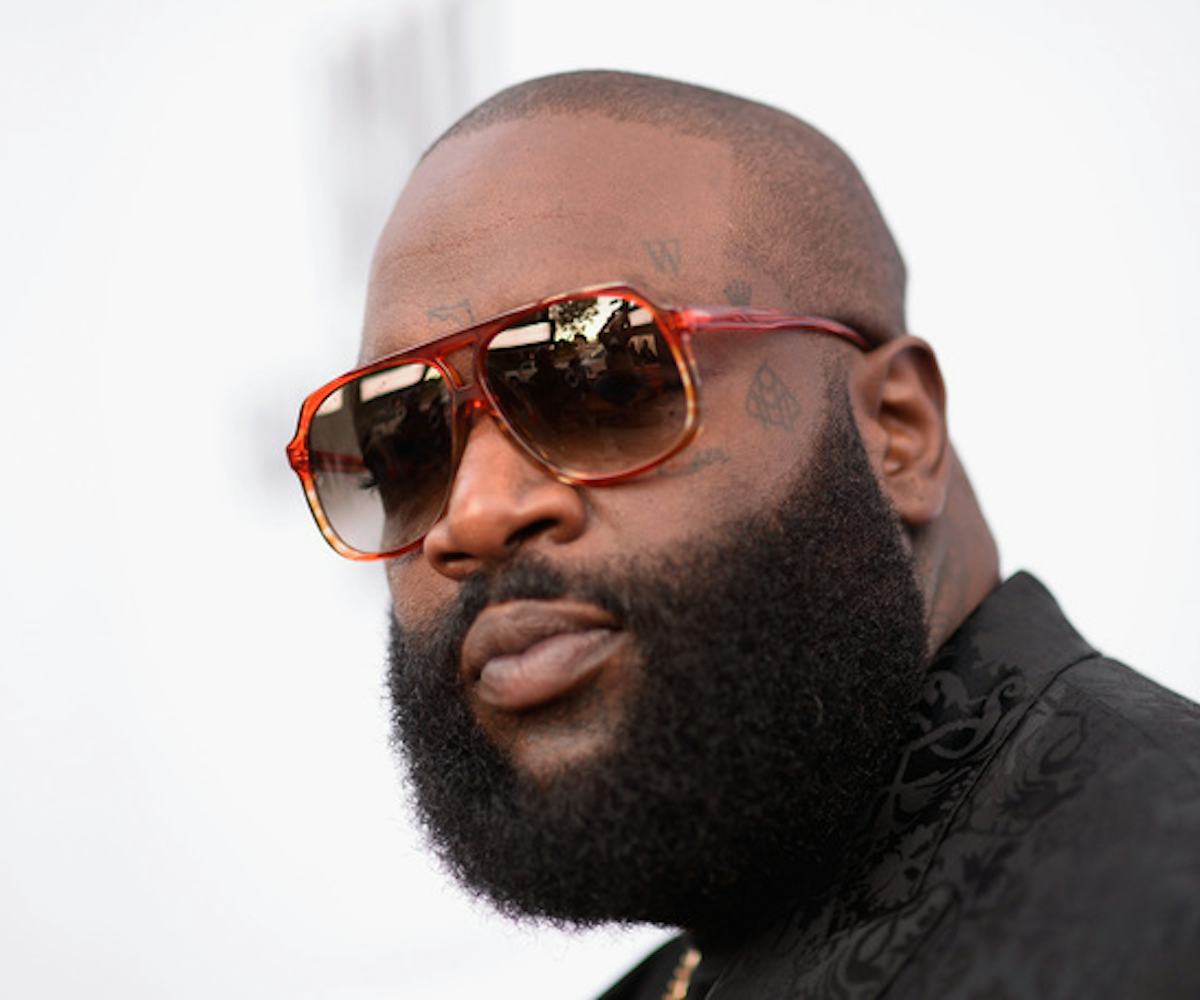 Photo by Frazer Harrison via Getty Images
Rick Ross Says He Won't Sign A Female Rapper To His Label Because He'd Be Too Attracted To Her
Rick Ross may be credited for founding a label that's put out talents like Meek Mill and Wale, but his latest comments on the possibility of signing females to his label are super sexist.
During an interview with radio show The Breakfast Club the interviewer, Angela Yee, asked the famed rapper whether he would sign a woman to his label: "What about a female rappers? I know you've dibbled and dabbled with different artists … other female rappers but … is that something you would fell like [you would do?]"
"I never did it because I always thought like I would end up f**king the female rapper," Ross answered. "F**king the business up. I'm so focused on my business … I gotta be honest with you. You know if she looking good and I'm spending so much money on her photoshoots … I gotta f**k with her a couple times." The two male hosts proceeded to laugh at this sentiment.
Yee pressed Ross to consider if he would feel that way about a younger female rapper he had trained from a young age as a protege. "If she was a youngster that I felt she was bringing something to the table that dope," he responded. "A female artist that I've watched her whole life in the same position was Brianna Perry in Miami," before clarifying, "but that's special. Her uncle is family so she's family to me."
Everything Ross said is problematic because it perpetuates this notion that women are only distractions to men, and they can't be included in a business without being viewed and preyed upon as a sexual object. Ross speaks of the potential female rappers he could sign as women he's entitled to because he's "spending money on her photoshoots." It's the same sick and twisted notion that continues the pattern of sexual assault in the entertainment industry.
The exception he presents—that it would be different for a girl who's like family or one he sees as a daughter figure—is also concerning because it's part of the same thought process that only humanizes women when they are "someone's sister/daughter/mother." It forbids women from being figures that deserve respect on their own, and rather, creates this need to associate and connect them to a man in order for them to be respected.
Despite the lighthearted tone of the conversation and the blind acceptance of Ross' comments on the part of the male hosts, we need to continue raising flags when we hear dialogue like that of Ross. To continue normalizing such talk is to perpetuate the problem.
The conversation begins at 8:41.