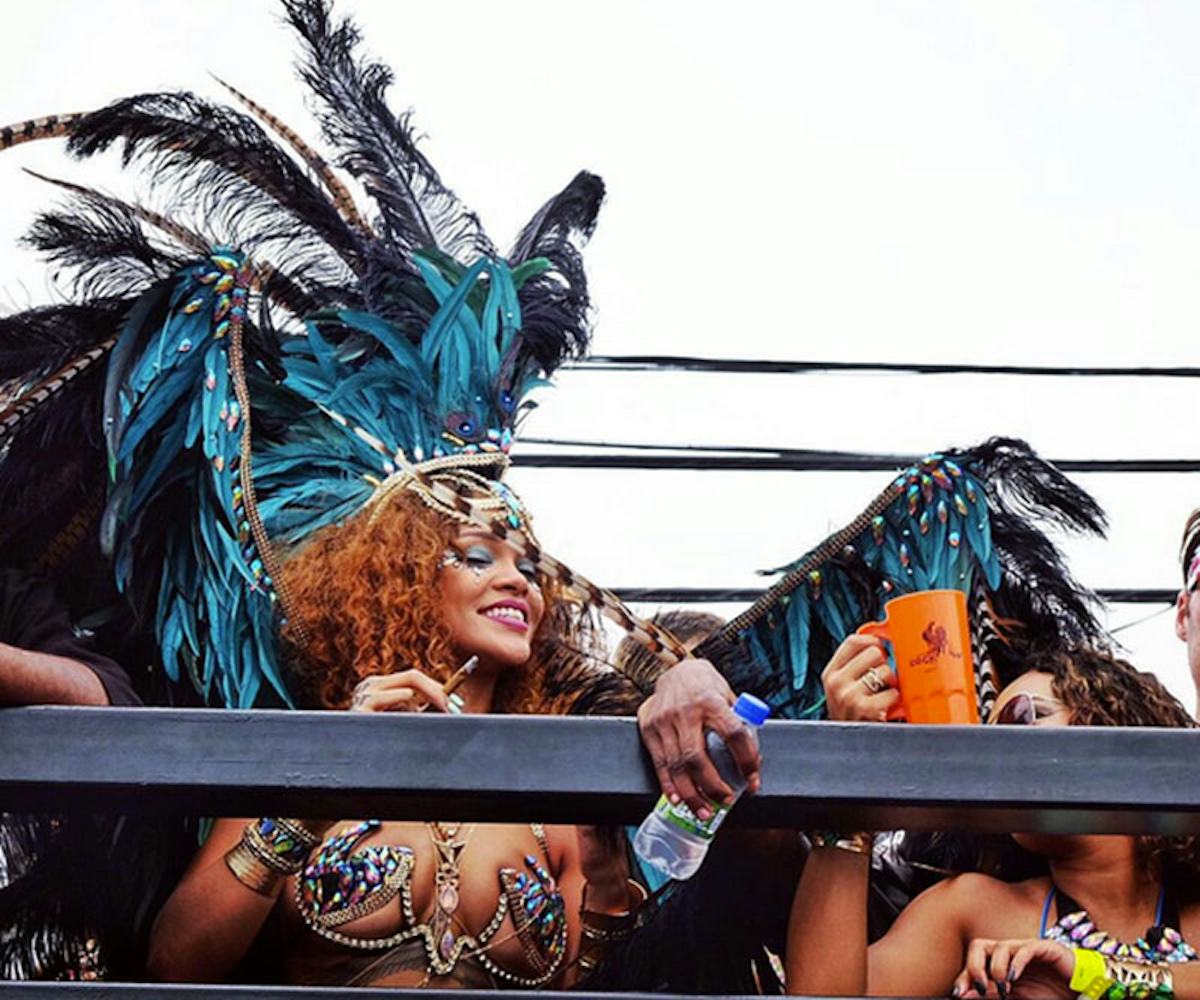 Photo: via @nylonmag
searching for rihanna in barbados
a.k.a. finding your inner bad gal
Every town has that one resident who breaks free from the confines of its (relatively) simple borders for something larger than life. They're the big fish in a small pond that everyone knows something about and—depending on how famous the big fish becomes—a story to tell. Robyn Rihanna Fenty happens to be the entire island of Barbados' big fish. To us, she's Bad Gal RiRi, the woman whose half-year long Instagram hiatus spawned the #FreeTheNipple movement. To the people of Barbados, however, she's just Robyn, the girl from Saint Michael, the "left side of [the] island."
This summer, I ventured down to the island with Visit Barbados tourism for Crop Over. Before I left, I made a comment in passing that I was going down in search of Rihanna. She is, more often than not, the first thing someone thinks of when Barbados comes up in conversation. She is, also, one of my favorite recording artists and celebrities. I guess you could say I'm a proud member of the Rihanna Navy. (No irony here; honest.) More importantly, I knew she was going to be there because over the past few years, Rih has made headlines for her presence at Barbados' Crop Over festival. This year was no different with more media outlets reporting on her outrageously gorgeous and intricate outfits and, rather disappointingly, her body. This was a chance to see where she was from, experience the culture that raised her; one that she has never failed to respect and never really left behind. So off I went.
Over the next four days I would see Rihanna twice, drive past her opulent home—one I Googled images of from her Oprah interview to confirm—say hello to her aunt, almost sip rum drinks with her at Friday night/Saturday morning's Foreday Morning party, and meet not one person who had a personal story about her. As it turns out, her star power is checked at customs.
Through small conversations with locals, it became clear that the island is grateful for the exposure she's brought, but she is not a deity. One local said that when she's on the island, she's home. It's her escape from the flashing lights of Hollywood. There might be a slight L.A.-type of hype when she's walking around near the downtown area or by Oistins Fish Fry, but that's momentary. It's almost frowned upon to make a scene. 
When Jourdan Dunn arrived at the Sea Breeze Beach Hotel where I was staying, the only people who seemed head-over-heels was our group of media journalists. Celebrity is not a thing to lust after down in Barbados. It's honorable, yes, but nothing worth running up to an individual who is essentially a stranger, one you only know from photos, and insetting yourself in their schedule. The Barbadians respect work ethic and you best believe they went nuts when Rihanna made a surprise appearance during the One Love concert with Machel Montano, doing what is essentially her job.
Rather than finding Rihanna, the body, I left Barbados with a stronger understanding Rihanna, the idea. The island's celebratory lifestyle is infectious and proper time is always paid to honor an event or individual. Crop Over itself is a celebration of the island's sugar cane season. Thousands of people flood the streets to dance, revel, and drink to another good year. It's sexual without the sleaze. Searching for Rihanna turned out to be an exercise in finding the strength within me to not give as many fucks and keep a steady eye on what it is I want to do. The same way a Rihanna track can help you walk a little taller, so too does spending time in her native country. There's not much in life to be ashamed of if you go about it honestly. The people of Barbados will remind you of that in the most humbling way. As Rihanna would say, it's a "heauxm" away from home.