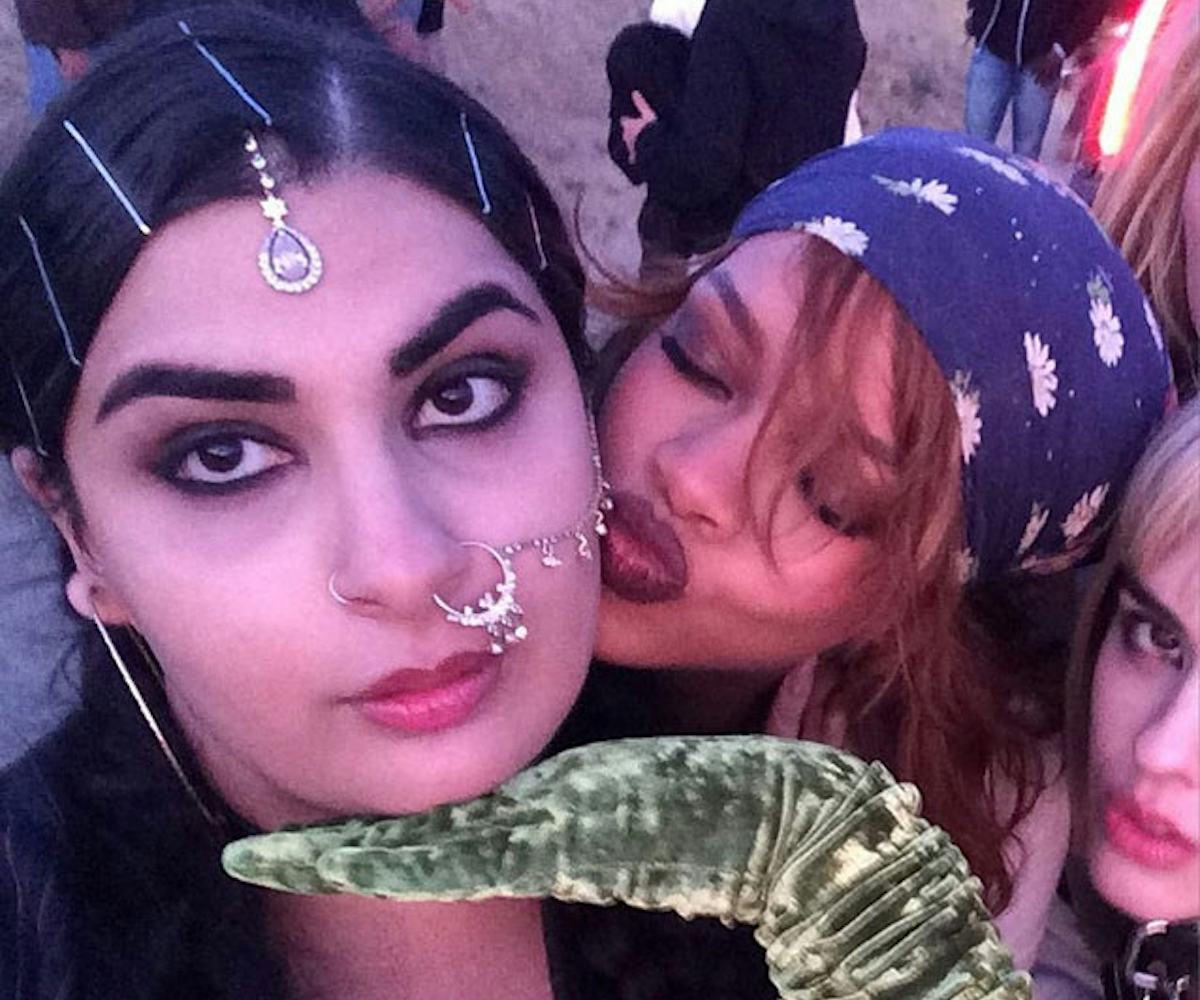 Photo via @trustmedaddy Instagram
rihanna found her "bbhmm" co-star on instagram
guess that explore page really works
Good news, Instagram: It seems as if posting all those selfies isn't all for naught. So long as your self-indulgent photos make it onto Instagram's "Explore" page, you may just wind up on Rihanna's radar and become a part of her most controversial piece of work yet—at least, if Sanam's story is any indication. 
A few months ago, after coming across a photo of the the 25-year-old Seattle resident on Instagram, Bad Gal RiRi followed—and swiftly unfollowed—Sanam (@trustmedaddy). Two weeks and a refollow later, Sanam was one Rihanna DM richer. "She was like, 'Hey, I have this idea I want to run by you. I think you're so fucking rare. Let me know if you're interested,'" Sanam recalled to Vice. "I had no idea what she was talking about. I was just freaking out, because Rihanna is messaging me on Instagram telling me that she thinks I'm cool." Then came yet another DM, this time from the production company that was producing "BBHMM." Within hours, she was cast and flown out to location the next day.
On set, the two hit it off. "When we were down there, the first day I met her, I was like, 'How did you find me?' She was like, 'I saw you on my Explore page.' She saw  of me where I was wearing my nath and my tika. She was like, 'I just thought you were so cool, and I was like, I don't know if I should message her or not. I don't know if she's going to be down.' I'm just sitting there, like, 'Are you crazy? How could you be nervous to message me?'"
Sanam, a Desi artist who currently works in a plant shop, has found online fame before. "I posted one selfie [on Tumblr] that really blew up. I've been on the Internet for a really long time. So, I really had some kind of a following, but not on this scale. I have a love-hate relationship with the Internet, like every other person my age. It can be so fucking toxic and shitty sometimes, but...I'm not complaining."
Hopefully "BBHMM" will give Sanam a larger base to inspire other Desi girls, and showcase her art. "It's hard to make art when you're a woman, but especially a woman of color, just because it's not respected in the same way as a white male artist's work. It's really hard to feel empowered sometimes. Being in the video, I feel like that's given me a little bit more of a platform to talk about that kind of stuff."
Watch Rihanna and Sanam in "BBHMM" here.
(via Vice)