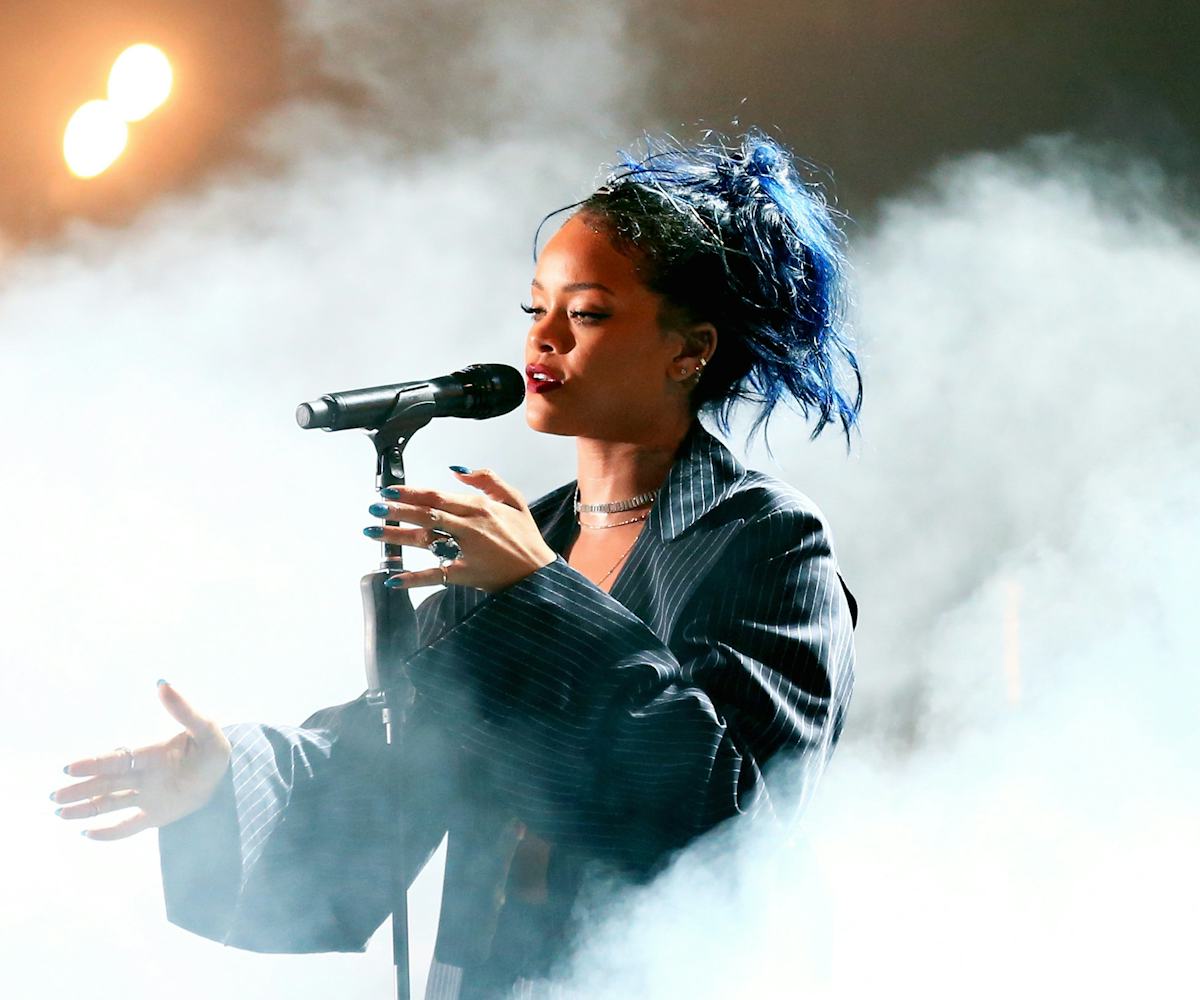 Photo Christopher Polk/Getty Images Entertainment
Rumor: Is Rihanna Coming Out With A Legal Weed Line? Well, Why Not?
if it's an unfounded rumor, it's a good unfounded rumor.
As reported at Dazed and Confused and elsewhere, there's a rumor circulating that pop-music fun monster Rihanna may—and that's a big "may"—be working on her own line of branded legal weed products. According to an as-yet unconfirmed and likely totally false report by 18karatreggae.com, the collection/strain/whatever would be called "MaRihanna," which is some solid dad humor right there.
Whether a total hoax or not, the move would be far from unprecedented. Legendary smokers Snoop Dogg and Willie Nelson have both announced their own lines of marijuana products aimed at the legal recreational weed market in Colorado, Washington State, and Oregon in the recent weeks and months. Certainly, Rihanna falls into the same category of open, proud celeb stoners, though she would be the first woman of note with her own collection of legal pot.
Now, again, there is absolutely no confirmation from Rihanna's camp, and the report can only be traced back to that single source that really sounds false, so we doubt this is real. That said, we can't think of a single reason in the whole wide world Rihanna shouldn't come out with a legal cannabis collection. As stated, celeb strains is a growing trend. As well, The Weeknd just launched his own branded vaporizer.
There's another side to this, too. Whatever you feel about the rise in legal-weed culture—and we have our own concerns—the introduction of a branded collection by such a mainstream musician could help destigmatize the movement which, in turn, could help overturn the very laws that have placed thousands of nonviolent, disproportionately low-income African-American offenders in prison. Legalized weed isn't just about getting high. It's also about reliving our overburdened justice and corrections systems and stopping the rushing flow of inner-city youth into a cycle of incarceration, probation, marginalization, and joblessness.
If this still-unfounded rumor is true, then it's the first such line by an artist with as such a large profile and wide cultural appeal and, yes, pretty funny. If it's false, well, maybe it should be true.
(via Dazed Digital)