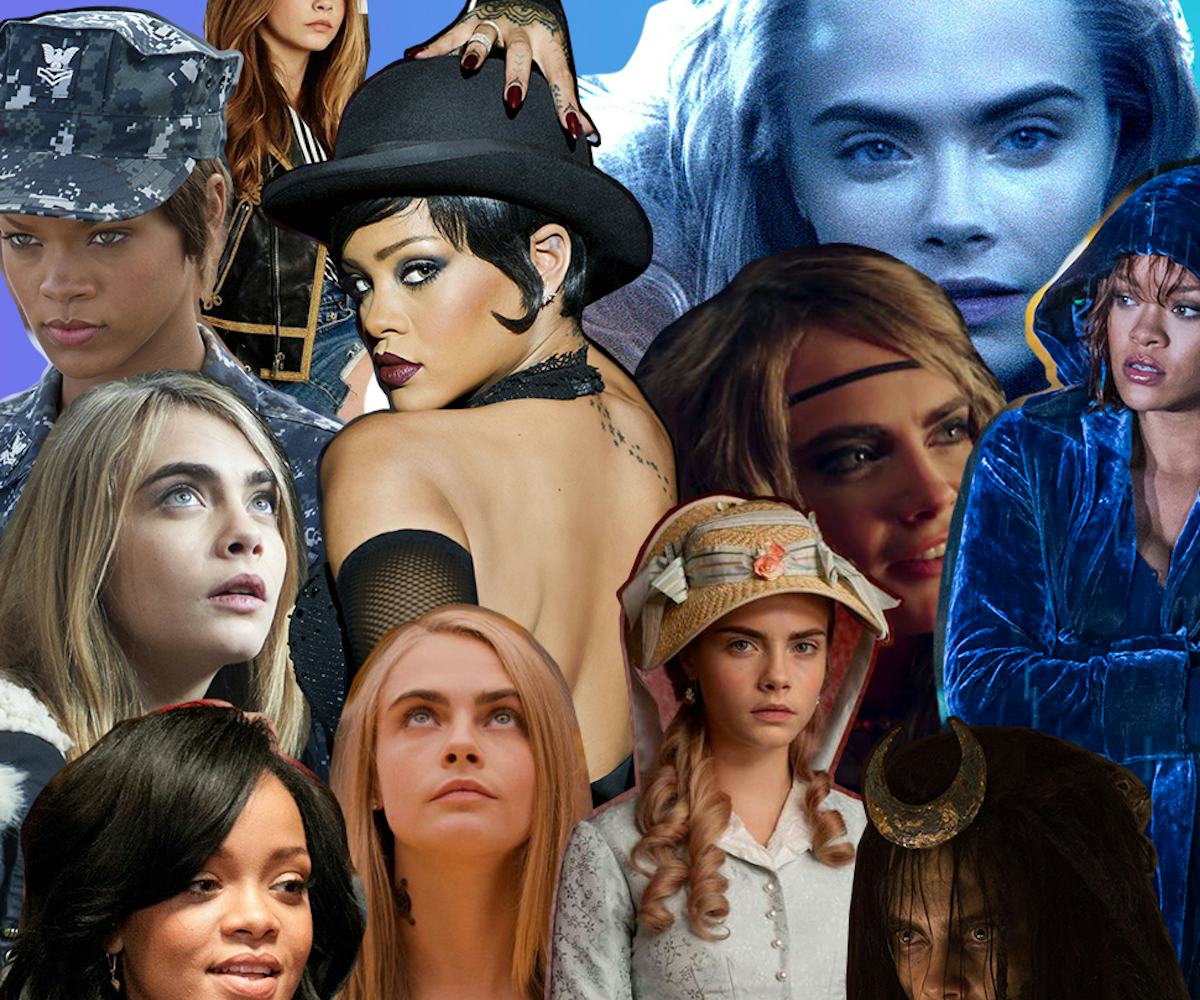 Photos courtesy of Universal Pictures; 20th Century Fox; STX Entertainment; Warner Bros. Pictures; A&E Networks; Focus Features; Columbia Pictures; Soda Pictures; Signature Entertainment
The Disconnect Between Rihanna + Cara Delevingne's Move Into Acting
For as much as we want to be multifaceted and complex individuals, we like our celebrities to be good at one thing and one thing only. Cynicism clouds our judgment from the get-go when celebs step out to explore another interest or medium. With the release of Luc Besson's Valerian and the City of a Thousand Planets, audiences are confronted with two superstars in the worlds of music and modeling who are choosing to continue their forays into acting. I'm talking, of course, about Rihanna and Cara Delevingne, two powerhouses who have already dabbled in silver screen scenes to different effect, raising the question of whether we can separate the actor on the screen from what made them famous.
The answer, as it is for any actor, is how believable they are in their roles. Rihanna has only a handful of roles under her belt—in blockbuster action movie Battleship, the animated film Home, and a guest part as Marion Crane on the television show Bates Motel, which earned her much praise. Up until this latter role, Rihanna was simply Rihanna playing Rihanna under some other name, but Bates Motels was a turning point for her. Reviews called her "immensely satisfying." And now, she's being praised for her very small, very bizarre, (very good, in my opinion) role in Valerian. 
The same can't be said for Delevingne, however, who, despite being an enjoyable foil to Dane DeHaan's Valerian, is not garnering great notices. Having already become the It Girl of the 2010s thanks to her modeling career, Delevingne made the choice to pursue acting a few years ago. She has a few more films and projects under her name than Rihanna does, mostly small budget indie flicks and blink-and-you'll-miss-it roles in a handful of big films, like Suicide Squad and Anna Karenina. It was her role in 2015's Paper Towns as Margo, a stereotypical manic pixie dream girl that was supposed to be her big break. Yet, instead of seeming like a big risk, it came off as safe, perhaps because the character didn't seem like a character—it just seemed like Delevingne was playing herself.
And yet while Delevingne gets criticizes for not stretching far in her roles, Rihanna is being lauded for, more or less, playing herself. The "stick to your day job" type of reviews are few and far between for her, while Delevingne can't seem to shake them. Why is that?
Perhaps it's because of the stigma surrounding the "model-turned-actress" title. It's akin to the "model-turned-DJ" one, where their ability to succeed in this venture is immediately hindered because they're a model and models are just supposed to look pretty. (It's always a bit surprising to hear a model talk for the first time, no?) Yet when a pop star shifts to acting, audiences appear to understand how the performance aspect of being a pop star aligns with the performance aspect of being an actor. What's peculiar is how many seem to forget that modeling is, at the end of the day, an act. Models are required to embody a character for a designer or photographer and to do so in such a way that makes audiences want to spend money. 
Delevingne is making it work, though. The reviews for Valerian aren't totally opposed to her flexing her acting muscles. (It would be great if critics stopped commenting on her eyebrows, though.) Vanity Fair called her performance "uneven, but effective when she's on." In the past, she's been called "a striking actress" that's "here to stay." There's still potential for her to succeed as an actress, so long as both critics and audiences give her that chance. There's enough room at this acting table for her to sit at. No need to box her in.