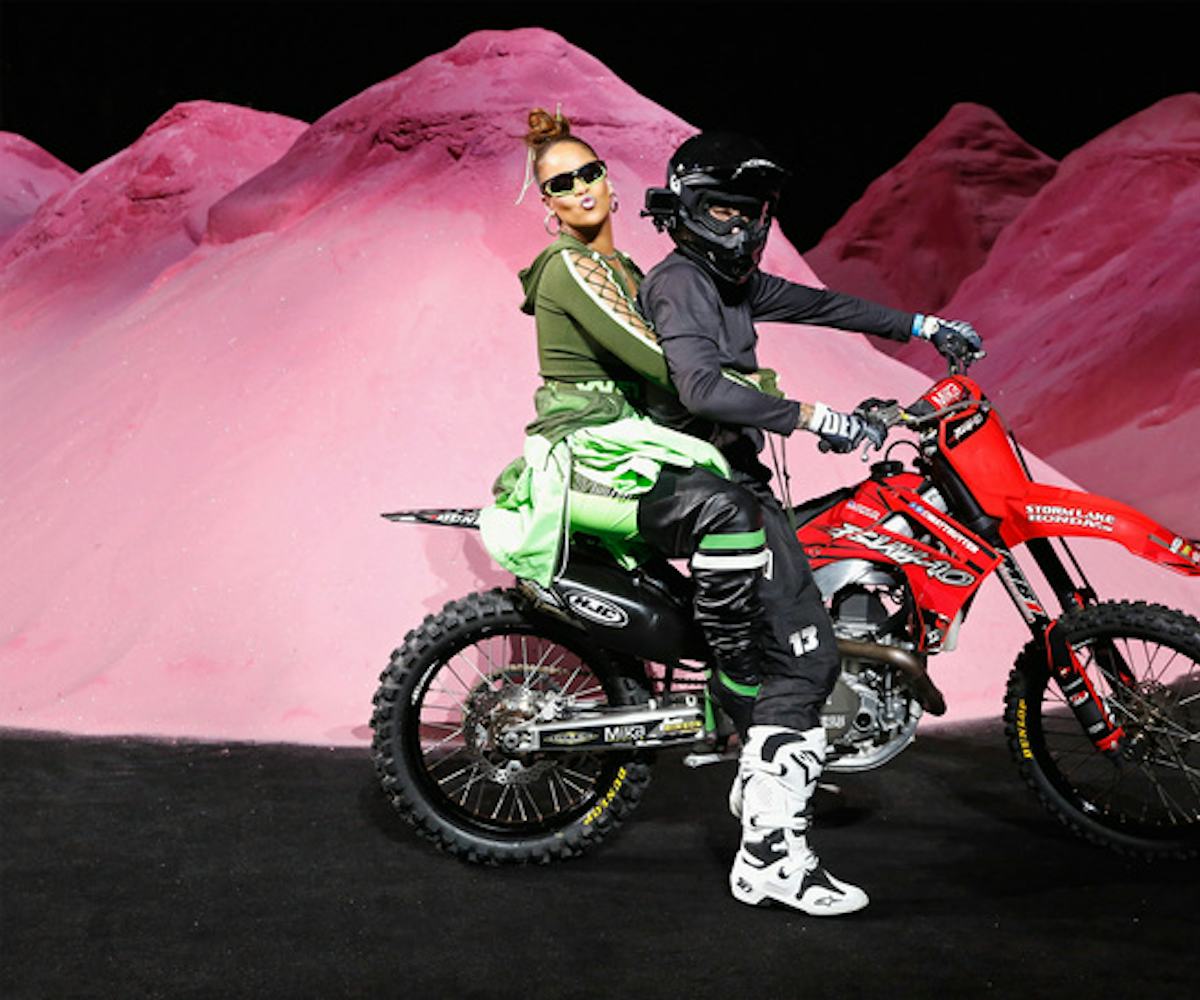 Photo by Brian Ach/Getty Images for FENTY PUMA By Rihanna.
Rihanna Had The Most Electrifying Show Of Fashion Week So Far
And definitely the most talked about
Futuristic pink sand mountains welcomed a sea of fashion editors, celebrities, and fans last night. Ahead of the main event were a trio of motorcyclists, who performed adrenaline-fueled stunts over the dunes. Model Slick Woods arrived on the back of a motocross. Whoopi Goldberg, Cardi B, Migos' Offset, Ashley Graham, Big Sean, and Jhené Aiko all sat front row. Rihanna's Fenty x Puma fashion week show was underway.
After the antics came the clothes, which were a mix of surf and biker wear. Jumpsuits came harnessed with utility belts. Bright orange biker shorts were paired with off-the-shoulder tops that tied down the arms. Wind breakers came in see-through and oil slick materials. Think: Sporty Spice, but from the future.
Alongside the statement-making clothes were the can't-miss accessories. Rihanna became the first woman to receive Footwear News' Shoe of the Year award, for her 2016 Fenty x Puma creepers, and her creative juices are still flowing in that department. Styles ranged from flip flop heels to sand-colored platform boots and Perspex mule wedges. The shoes were joined by logo fanny packs and backpacks, sporty sunglasses, and a handful of bucket hats. As you can probably guess, the models were beautified with the newly released Fenty makeup, with the main focus being the highlighter.
When the time came for Rihanna to take her final bow, she hopped on a motorbike and took a ride around the venue instead of taking a traditional walk, leaving everyone else in the dust. Didn't she tell you that she was a savage? 
See some of the looks below.
Slick Woods gearing up to take a little casual spin around some pink sand dunes.
Fanny packs are alive, well, and oversized.
These pink Puma wedges are our new must-have accessory.
You could be an Indy 500 race car driver in those clothes.
Come through bright orange creepers.
Take us to your leader!!! (Please.)