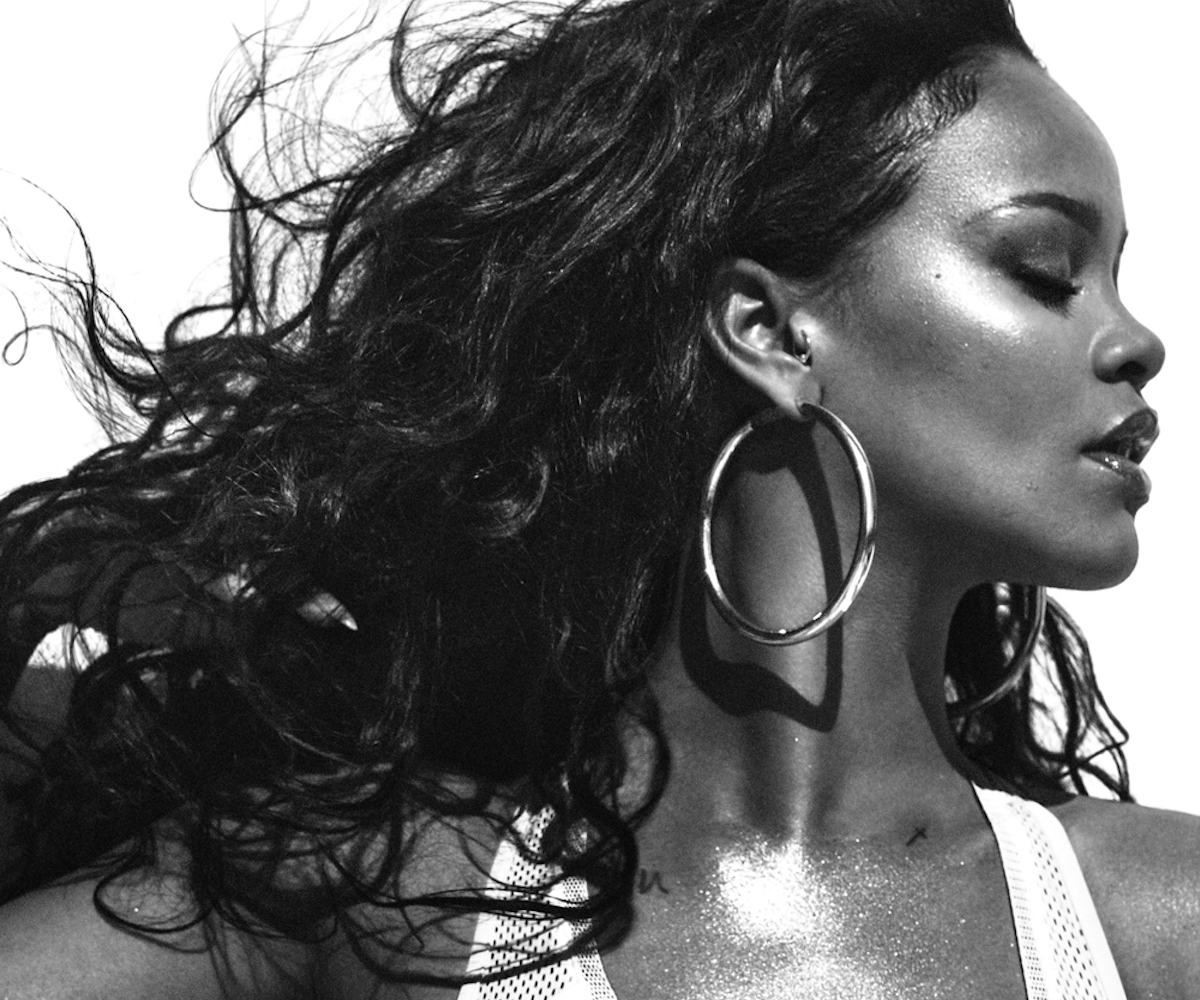 Photo by Mert Alas and Marcus Piggott/Vogue
We Have A Theory About Rihanna, Naomi Campbell & This 'Vogue' Photo
Oh na na, is this a coincidence?
The other day, Vogue blessed the world with not only a great Rihanna beauty video but a stunning Rihanna cover shoot and interview. As far as celebrity profiles go, writer Chioma Nnadi's is one of the most captivating we've ever read. No tea, no shade: She had it easy because Rihanna is always captivating. But Nnadi beautifully rendered how at ease Rihanna is in life. Mert Alas and Marcus Piggott's photos highlight that. One photo, however, made me do a double take. I swore I'd seen it before. So I spent an inordinate amount of time trying to remember where.
The photo in question is a black-and-white shot, cropped at the neck up. Rihanna's looking to her left, eyes closed, basking in the sun, wind blowing her hair so it fills the left half of the frame. She's wearing a white Stella McCartney swimsuit. Where, I asked myself, have I seen this photo? For whatever reason, I kept thinking the comparable image was of Naomi Campbell, framed in a similar fashion—hair movement and all. Was it a Herb Ritts image? I was pretty sure it was. But a Google image search for "Naomi Campbell black-and-white Herb Ritts photo," yielded, unsurprisingly, hundreds of images. There were too many for me to sort through when there are more important things to deal with. (It was Thursday night, which means Drag Race was on.) I asked a few coworkers if they knew about this mysterious Campbell photo but they did not. One did agree, though, that it must be a Ritts image.
Why was I so curious? Well, I live for drama and pettiness. If this Campbell image I thought existed was real, then Vogue did something petty, and that's the kind of drama I sign on to the internet for. 
Where's the drama? Well, in the profile, Rihanna talks with Nnadi about being in love. She plays coy about who her boyfriend is, but Nnadi more or less confirms it's Hassan Jameel, a Saudi billionaire who helps distribute Toyotas in eight countries as well as funds several major soccer teams. The tea is Jameel was dating Campbell before he started dating Rihanna. When photos of Rihanna and Jameel being all couple-y surfaced online in early 2017, the internet was quick to clock how Campbell unfollowed Rihanna on social media. Campbell also addressed the rumors on Watch What Happens Live!, saying she doesn't have any beef with Rihanna, but also adding, "I'm an actress now, Andy," which is kind of implying they do have drama.
Anyway, I finally remembered Campbell had starred in Michael Jackson's video for "In The Closet," wearing a similar white top and similarly styled hair. Oh, and Ritts directed it. Jackpot! There's no actual photo that resembles the Mert & Marcus one, but the styling and the lighting are decidedly similar. Is this Vogue's way of addressing the feud that's not really a feud? Who knows! But the Illuminati works in mysterious ways, and I don't necessarily believe in coincidences. I don't know. Stay woke, I guess!