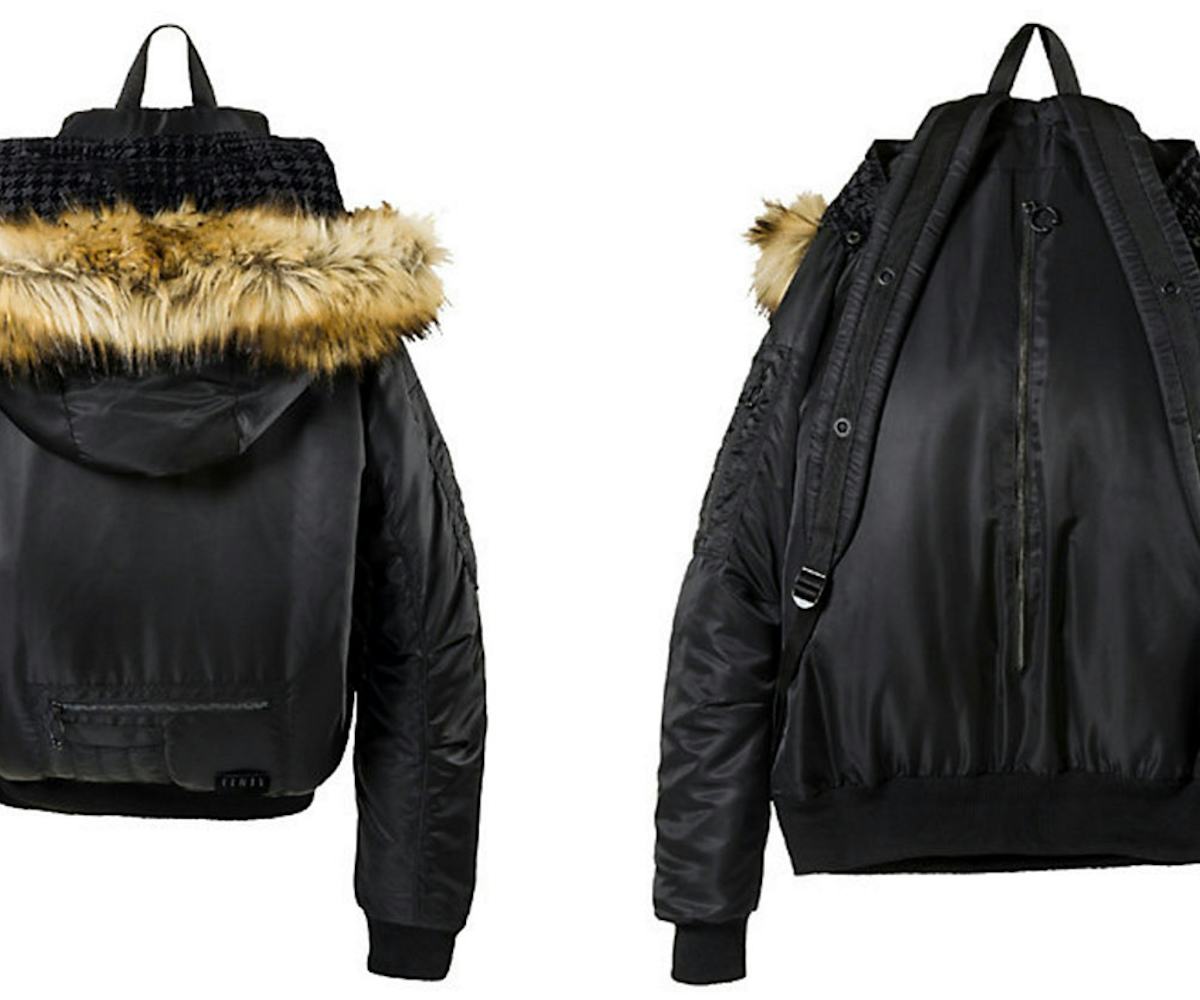 Photo via Puma
Rihanna's Latest Accessory With Puma Makes No Sense
We can now add another item to the long list of fashion trends only Rihanna can pull off—which includes giant fuzzy red hearts, crystal bikinis, and wearing jackets like a disgruntled toddler. The "Bomber-Jacket Backpack" is one of the latest additions to the Fenty Puma collection, a collaboration between Puma and the "Work" singer, and it's quite possibly the most confusing, and maybe least useful accessory/clothing item we've seen in a while. Only RiRi can wear this jacket/backpack hybrid and not get weird looks. Your average person would look like someone battling a hangover who simply could not muster the effort (or remember) how to put a jacket on correctly.
When worn on the runway, the models look like fashionable spiders, with an extra set of sleeves dangling empty behind them. Because for whatever reason, you can't actually wear the Bomber-Jacket Backpack as a jacket, it's only a backpack meant to look like a jacket. What? As you can tell below, in person it's sort of a clothing chindogu, a thing that doesn't have much IRL application or utility. It doesn't even look at the very least like wearing your jacket as a shrug. Darn that model/celebrity voodoo.
For $450, you, too, can have a spectactularly difficult time getting what you need out of your backpack, with dangling sleeves getting trapped in revolving doors while your second set of arms are getting caught on subway turnstiles. It's essentially a very expensive backpack with a hood, that Rihanna can throw on to get cozy for late-night Instagramming about how lame her exes are. The Bomber-Jacket Backpack will make you look like you don't give a f***, just like Rihanna, only you give a big f***, because you just paid almost $500 for a hooded backpack. Rihanna's $4,000 sequin-trimmed denim chaps are beginning to seem like a practical purchase.