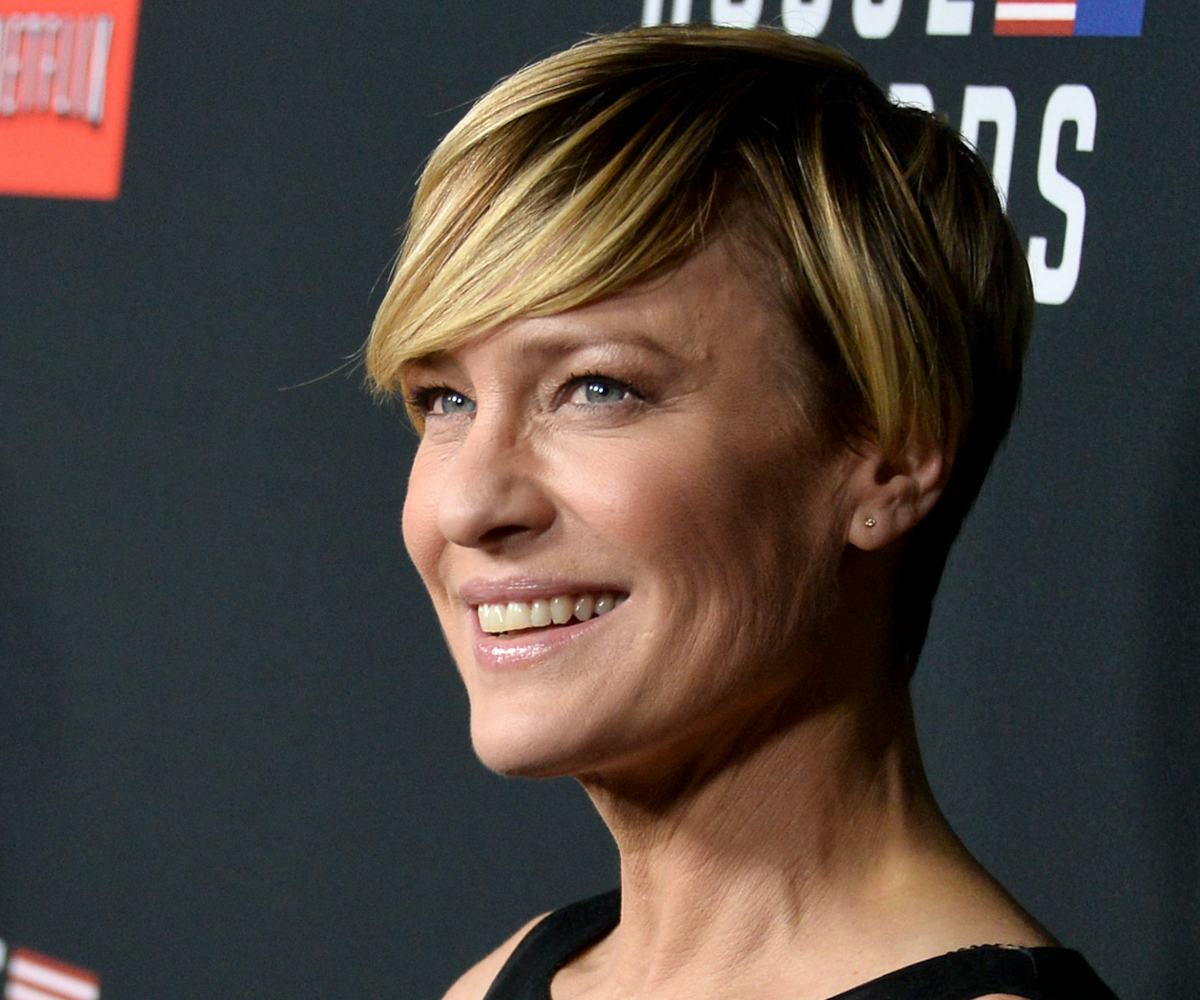 Photo by Kevin Winter/Getty Images.
For Some Reason Robin Wright Is Forced To Answer For Kevin Spacey's Actions
She was pressed about the allegations surrounding her former 'House of Cards' co-star
Robin Wright has been forced to comment on her former House of Cards co-star, Kevin Spacey.
In anticipation of the sixth and final season of House of Cards, Wright was put on the spot during an interview with Today's Savannah Guthrie. She said that, while the cast and crew of the show "were all surprised, of course, and ultimately saddened," she had no idea about the allegations, as she and Spacey were co-workers who "never socialized outside of work." Spacey, who played Wright's on-screen husband, was fired from the Netflix series last October following accusations of sexual assault. He was first accused by actor Anthony Rapp, who alleged that Spacey made a sexual advance toward him when he was 14. While Spacey apologized, he claimed that he did not remember the incident.
Wright, a victim of sexual harassment herself, continued by telling Today that they only "knew each other between action and cut and in between setups where we would giggle." 
She added that the only thing she felt like she had a "right to talk about" was the fact that their relationship was "respectful" and "professional." She concluded by saying she hasn't spoken with him since the allegations surfaced.
However, Wright's interview points toward a larger problem plaguing Hollywood in the wake of revelations of assault and misconduct: the burdening of women who are tangentially related to alleged abusers.
Similar to what happened to Alison Brie on the red carpet when her brother-in-law, James Franco, was accused of sexual misconduct, Greta Gerwig after her past work with Woody Allen, and Lily-Rose Depp after her father was accused of domestic abuse, Wright is being forced to answer for the misdeeds of a man. This all comes in contrast to the treatment of leading men in similar situations, who are able to sidestep any discussion of these issues. Just look at the lack of probing of this level when it comes to Dave Franco or Justin Timberlake.
At the end of the day, the accused are the only ones who should be asked to answer for their deeds. Yet, women who have nothing to do with the issue-at-hand continue to be saddled with the emotional burden of answering for an issue they didn't enable—with some, like Wright, not even knowing about the accusations until they were made public. So while we should definitely continue to keep abusers accountable, maybe leave the women without direct knowledge of the situation out of the discussion?