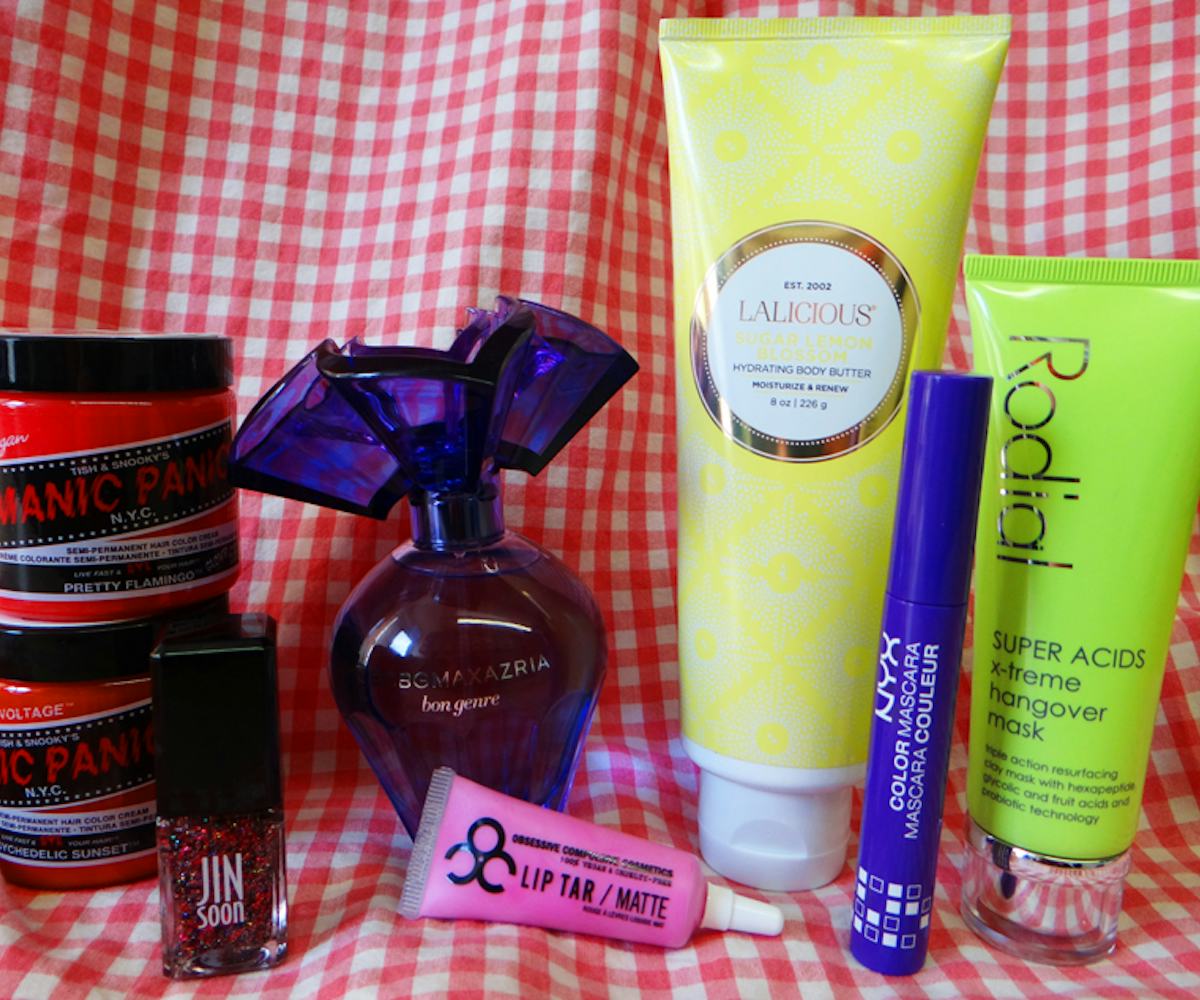 photo by jade taylor
vanity case
get pretty with our favorite products of the week!
OLFACTORY GIRL
WHAT IS I
T:
WHY I LOVE IT
: It's tempting to solely purchase a fragrance based on the packaging alone (we are all guilty of this, right?)--because let's face it, pretty perfume bottles stacked on a vanity are classy, feminine, and just downright awesome to look at. But sometimes perfumes bottles aren't as pretty on the inside. Luckily, BCBGMAXAZRIA is famous for placing abstract blooming flower caps on their fragrances, and having them--duh--smell just as gorgeous as they look. Their newest olfactory launch, Bon Genre, is no exception. Packaged in a violet bottle with top notes of lychee, red berries, spicy black pepper and bergamot, fused together with bottom notes of jasmine noir, tuberose, cardamom, tiger lily, amber, sandalwood, patchouli, and black vanilla. Inspired by the effortlessly cool "downtown" girl, I think it's safe to say they totally nailed it.
FOR THOSE:
Who embrace the darkness.
FLAMING LIPS
WHAT IS IT:
Obsessive Compulsive Cosmetics Lip Tar Matte in Mannequin
WHY I LOVE IT:
It's no secret I love everything about Obsessive Compulsive Cosmetics (OCC). So naturallym when they launched their brand new Spring 2014 "Plastic Passion" collection, featuring four new matte lip tars, I totally freaked. The four colors--Pool Boy (aquatic blue), Rollergirl (vibrant lavender), Mannequin (Malibu pink), and Kimber (neon orange)--are all equally awesome (not just because of the subtle
Nip/Tuck
references)--but I've really fallen in love with the bubblegum pink shade Mannequin. Matte pastel pink lips may be hard to pull off, but the vegan & cruelty-free formula makes channeling your inner Barbie girl easy.
FOR THOSE:
Who binge-watch
Nip/Tuck.
EYES WIDE SHUT
WHAT IS IT:
NYX Cosmetics Color Mascara in Purple
WHY I LOVE IT:
Question: Would you ever try purple mascara? If your immediate reaction is a strong "no way," please excuse me while I try and persuade you to reconsider. Obviously unconventional mascara colors like brown and blue have been explored with in the past, but purple is one of those colors that you wouldn't necessarily think of first--but also isn't as aggressive as pink, green, or glittery mascara options out there either. The NYX Cosmetics Color Mascara in Purple is a perfect example of this: It's the perfect shade of purple (not too lavender, not too plum), but still makes a pigmented impact on the lashes. The best part? You can apply it normally, or switch it up by brushing on the top of your lashes, or your bottom lashes for extra oomph.
FOR THOSE:
Who aren't afraid of trying something new.
CLAWS OUT
WHAT IS IT:
WHY I LOVE IT:
One of the most difficult nail art projects out there are galaxy nails. And it's not hard to understand why: It's really hard to fit like, billions of stars and nebulas and shit onto ten tiny nails. So put down your dotting tools, toothpicks, and what ever else those nail tutorials out there tell you to use, because I found the galaxy nail shortcut in one single bottle: Jin Soon Nail Polish in Fete. Exploding with multi-dimensional holographic, pink, white, black, and silver glitters, simply layer over your favorite nail color and experience the big bang theory on your digits.
FOR THOSE:
Who love Galaxie 500.
BODY ELECTRIC
WHAT IS IT:
Lalicious Hydrating Sugar Lemon Blossom Body Butter
WHY I LOVE IT:
After a total packaging redesign (which, by the way, is gorgeous) indie beauty brand Lalicious has rolled out some new and old products on their website that you should seriously go check out like, right now. My favorite? The Hydrating Sugar Lemon Blossom Body Butter, infused with yummy ingredients like shea butter, aloe vera, vitamin e, and safflower oil for intense hydration--while smelling totally decadent as notes of floral and lemon zest burst onto your skin. 
FOR THOSE:
Who want to smell like an angel.
FACE TIME
Rodial Super Acids X-Treme Hangover Mask
WHY I LOVE IT:
We've all been there: hungover. And the same way our bodies feel sick, tired, and dehydrated, the sad truth is our skin feels the same way. Enter Rodial Super Acids X-Treme Hangover Mask, a triple-action resurfacing clay mask that deeply cleanses, exfoliates, and restores for a healthy-looking (and feeling) complexion. Apply once a week (or you know, the morning after you go out partying with your besties), leave to dry for at least 5 minutes, and rinse off for maximum results--your dignity and iPhone may fly out the window, but it shouldn't mean your skin's health has to as well.
FOR THOSE:
Who take way too many shots of Fireball.
HAIR METAL
WHAT IS IT:
Manic Panic Classic Cream Semi-Permanent Hair Color in Psychedelic Sunset and Pretty Flamingo
WHY I LOVE IT
: Surprise, surprise my hair is a different color. And before you yawn and scroll away, hear me out: It's ORANGE. And not just any orange, it's the exact hair color that Clementine (played by Kate Winslet) has in Eternal Sunshine of a Spotless Mind--because naturally, that was the inspiration for my sudden hair change. As someone who always has different colored hair, I'm used to people asking me how I achieved the color, but I've never--not an exaggeration--had so many people comment on my hair color before. And I think it's because orange isn't a color you (purposely) see people's hair color that often--am I right? So, because I love you guys, I'm spilling my secret to achieving tangerine dream locks: First, I applied Psychedelic Sunset from the top of my hair to about the length of where my ears are--then mixed in some Pretty Flamingo (for an ombre effect), and dragged that color towards the ends. That's it, and viola: Magical mango colored strands. Now if I only I was cuddled up to Jim Carey with a cup of coffee…
FOR THOSE: Who want to be Clementine in Eternal Sunshine of a Spotless Mind.