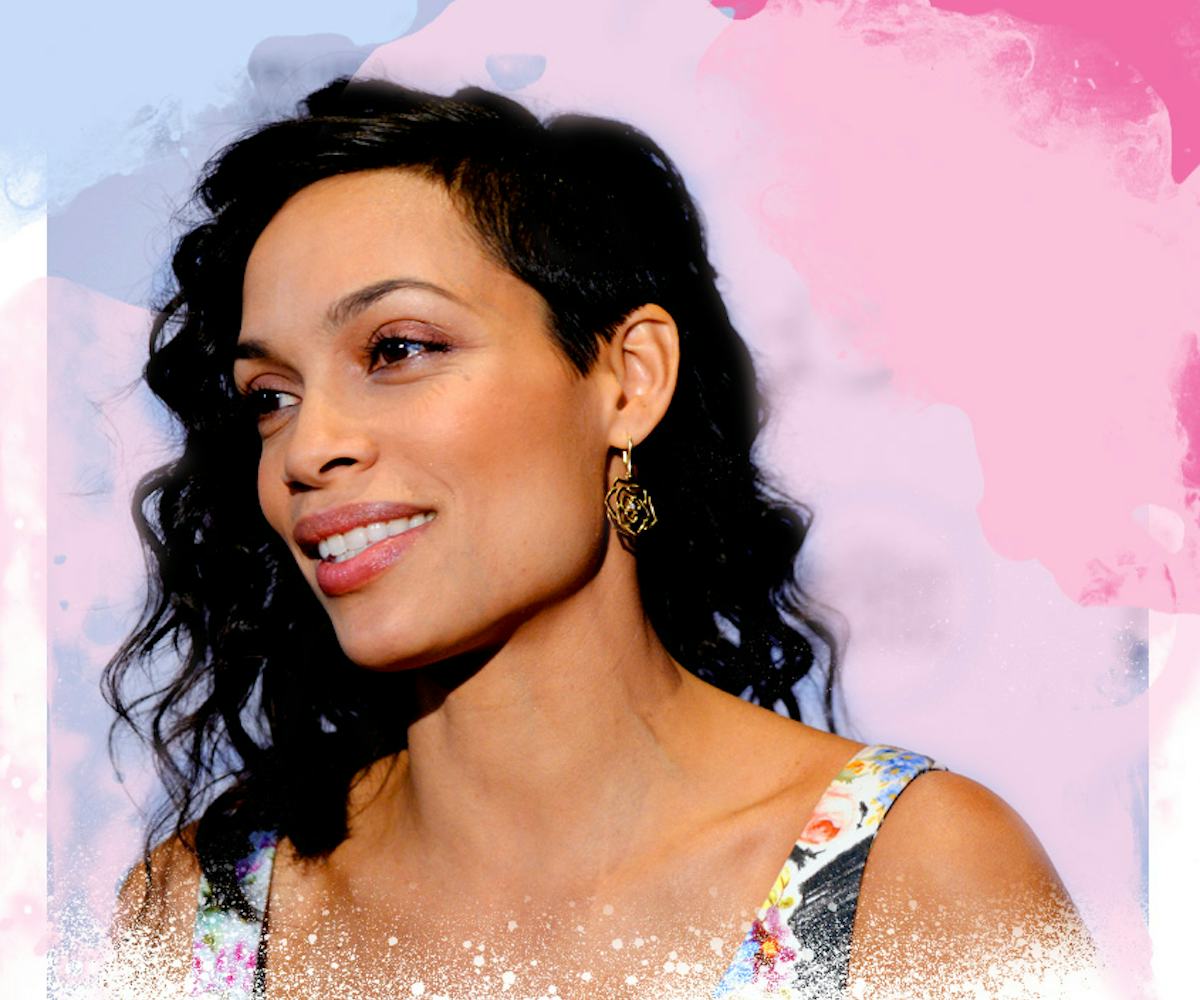 photo via getty images
rosario dawson is quite actually changing the world
she will *always* be our top five
At no point in the new Chris Rock film do you forget you're watching something set in 2014.
The title, Top Five, refers to one's picks for the greatest rappers of all time, and almost every major character in the movie rattles off theirs as if there'd never been a time before hip-hop, and the words "top five" couldn't possibly mean anything else.
More tellingly, the opening scene features Rock—who wrote, directed, and stars as Andre Allen, a big-screen comedian staging a comeback—talking with Rosario Dawson about discrimination in post-Obama America. Dawson, who plays Chelsea Brown, a New York Times reporter profiling Rock's character, is convinced a female president is just around the corner, and that she'll probably be Latina. 
"Things are changing," she says. "You need to wake up and smell the progress."
In real life, Dawson may be inclined to agree. In fact, she'd make a hell of a candidate. At 35, she's legally old enough, and in addition to being a talented actress whose credits span edgy indies (her 1995 debut Kids) to stuff you've seen at the multiplex (Clerks II and the two Sin City flicks), the New York City native has worked on behalf of numerous charities and political-action groups.
In 2004, she co-founded Voto Latino, and the more than 220,000 young Latino voters the organization has helped register in the last decade aren't the only ones who'd likely cast ballots for this thoughtful, intelligent, lovely lady of Puerto Rican and Afro-Cuban descent. 
"Yeah, that could be fun," Dawson says with a laugh, responding to NYLON's question about whether a presidential run could be in the cards. Speaking from her suite in the Ritz Carlton, where she's midway through a Top Five press day, Dawson is the portrait of poise—a fast thinker who speaks "um"-free paragraphs in the time it takes most people to mumble a sentence or two. She's polished enough to run, but the timing might not be quite right.
"For me, it's very different messaging, telling people to vote for themselves and to vote for me," Dawson says. "That's just not an aspiration I have. I could see maybe running for a local office down the line, when I get a little bit older, and I have even that much more experience behind me."
For starters, she'd like to attend college, though the way she describes her present occupation, she learns plenty simply by playing different types of characters. She takes them very seriously, these people she gets to embody for a few weeks or months at a time, and when she first read Rock's Top Five screenplay, she couldn't quite get a read on Chelsea. In a press conference earlier in the day, Rock joked that it took nine meetings to convince Dawson to do the film, and if he was exaggerating, it probably wasn't by much.
"Sometimes, a character can feel like a device a little bit," says Dawson. "There was something that was a little ambiguous about her. I couldn't put my finger on what her bottom line was. What was her foundation? That took time to develop, to make sure she wasn't just a device for his character, or for the story, or for that punch line that needs to be delivered three acts in. She needed to be her own person." 
Luckily, Dawson found Rock to be far from precious about his script. As a director, the acclaimed standup and sometime filmmaker was merely a "protector" of the story, she says, echoing praise handed down by costars Gabrielle Union, JB Smoove, Sherri Shepherd, and Ben Vereen.
"Chris was incredibly collaborative about it all along, going, 'I get it—I wrote her for you, and this is my idea and perception of what she needs to be, and what I'd like her to be, but take it. Own it,'" Dawson says.
"What does it need to be for you to take the part?" she remembers him asking. "What does it need to be for it to work?"
Together, Dawson and Rock turned the sketch of Chelsea into a complex character who's more than merely a love interest or nagging journalist moving the plot along. Like Rock's Andre, she's a recovering alcoholic, and she's also a single mother who lives at home and juggles the demands of her family and career with the pressures of a dating an insensitive pretty boy (Anders Holm) with some peculiar lovemaking tastes.
It's turns out he's hiding something, Brad the boyfriend, and the same is true of Chelsea. She spends the movie pressing Andre for details about his return to the screen and impending marriage to a reality TV star (Union) while withholding a major detail about her own life that's not revealed until the final act. Perhaps because they've known each other for years, she and Rock have terrific chemistry, and their cat-and-mouse, tit-for-tat relationship has a natural flow.
Going in, Dawson had been a little worried about the role's comedic aspects, as she rarely does flat-out funny, but the experience of working closely with Rock put her at ease. She found it "uplifting," even if it was challenging. 
"It made me grow," Dawson says. "But it also allowed me to pull out some of the tools and tricks I'd learned along the way I don't always get to flex, because the role doesn't demand it, or the people I'm working with don't ask for it or allow me to."
One of the things Rock's character struggles with in Top Five is balancing broad comedies with artsier material. Chelsea's Times piece is meant to preview Andre's new filmUprise, a laughable piece of Oscar bait about a slave revolt in Haiti, and yet the famous comic can't escape the furry specter of "Hammy the Bear," the ursine cop he played in a series of box-office smashes.
Throughout her career, Dawson has proved you don't have to choose between popcorn flicks and art-house fare. Within 10 years of Kids—that controversial sign-of-the-times drama about AIDS and drugs written by Harmony Korine and directed by Larry Clark—Dawson had appeared in Spike Lee's He Got Game, the teen romance Down to You, the surprisingly smart showbiz satire Josie and the Pussycats, and the sci-fi blockbuster Men In Black II, among others. 
"For me, to not do independent film would seem weird," Dawson says. "To not continue to take chances on who could be the next Larry Clark or Harmony Korine would be stupid. At the same time, it's really amazing to be on a set with Marvel, where they have money, and you can do actually do things. You're not having to steal shots on buses because you don't have the funds, and you don't have time, and you're rushing through 10 pages a day. You can actually take your time on half a page and really work on it. There are benefits and interesting things about both."
Dawson wasn't speaking hypothetically about Marvel. Next year, she'll portray Night Nurse in the Netflix original series Daredevil, adding a genuine superheroine to her resume. She'll also voice Wonder Woman in the direct-to-video animated feature Justice League: Throne of Atlantis.
These won't be her first do-gooders—last year, she played famed labor leader and civil rights activist Dolores Huerta in Cesar Chavez—and they probably won't prevent her from playing villains down the road. By her own admission, her career choices have been "schizophrenic," and that's a result of her curiosity and non-calculated approach to the business.
"Each of these characters I get to play allows me to step one more inch backwards and broaden my perspective that much more," Dawson says. "And every time I take that inch back, that perspective I had before that I was so sure of gets challenged again, and I have to look at it again and again through different eyes."
"I love the Rocky Horror Picture Show rose-tinted-glasses way of looking at the world," she adds. "But it's important to take them off and realize that's not actually what the world looks like." 
Pragmatic yet slightly romantic and optimistic, she speaks the preceding lines like the coolest presidential candidate you've never seen. The day at the Ritz ended without her announcing a run for office, but life is long, and she's only midway through her 30s. Like Jay-Z, one of Rock's Top Five and real-life picks for history's best MC, she's so ambitious, and even if she never makes a stump speech or trounces some hapless opponent in a debate, you get the sense she'll keep on changing lives while enriching her own.
"It's something I don't have completely as a no in my life, but it's not a yes at the moment," Dawson says of politics. "I really love what I get to do. I get to be an advocate for things I really care about and an activist for things other people need. As long as I can continue to do that and be a performer and an entertainer and all of these things, I feel like that's a really well rounded life. I can't really complain."