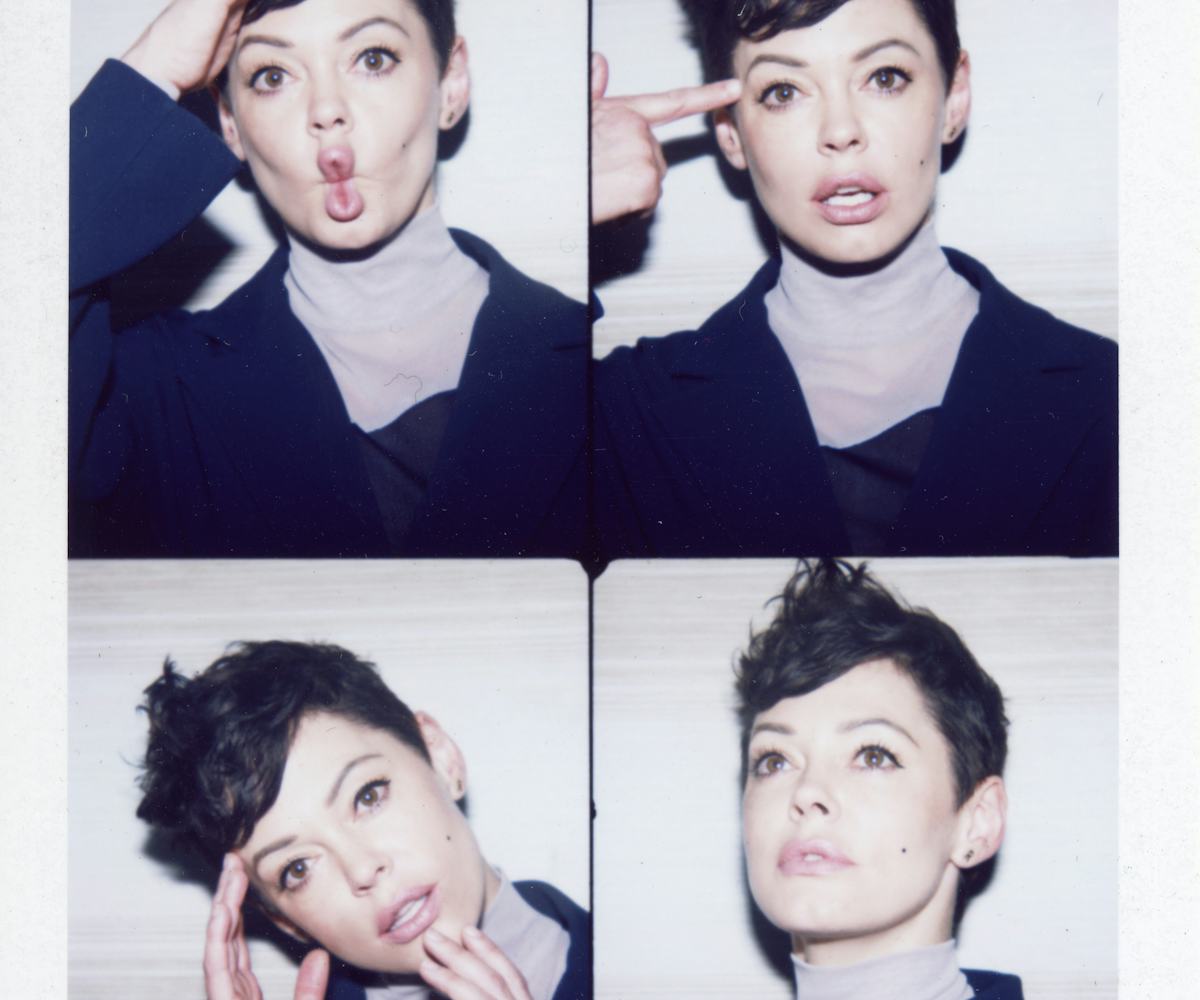 Photographed by Janell Shirtcliff. Styled by Dani Michelle. Dress by Calvin Klein Collection, turtleneck by Hanley Mellon, McGowan's own earring.
Rose McGowan Is Giving Us Life (Advice)
she's had it up to here with hollywood's double standards
Within five minutes of meeting Rose McGowan, I'm sitting shotgun in her Porsche as we speed down Hollywood Boulevard to a convenience store. As a massive fan of The Doom Generation, the 1995 film starring a 19-year-old McGowan, this scene feels eerily familiar. But the 42-year-old woman next to me, sporting a choppy pixie cut, leopard-print dress, sneaker wedges, and the most flawless skin I've ever seen on a human, is not, in fact, seductive drifter/murder accomplice Amy Blue. And I'm okay with this. McGowan points at a sign outside the store instructing customers to FOLLOW US ON INSTAGRAM, to which she rolls her eyes and huffs, "Are you fucking kidding me?" in a tone not unlike that of Courtney Shayne (McGowan's character in Jawbreaker). I'm also okay with this.
For the better part of her career, McGowan has either been A.) loved for the iconic characters she's portrayed in now-cult-classic films, or B.) hated and slut-shamed. Lovers' and haters' imaginations aside, the truth is that we don't actually know much about her at all.
The proud Virgo no longer calls herself an actress, but a director, singer, and, most importantly, an artist. After making her directorial debut with Dawn, a short film about a girl coming of age in 1961 America, she's gearing up to direct a feature this spring about a girl with synesthesia. As we chat in her Hollywood Hills backyard over glasses of rosé, post-convenience store errand, she doesn't break eye contact, speaks loudly and directly, and has me hanging on to every word of deity-like wisdom that exits her mouth. No topic is off the table. She gives unfiltered answers, littered with the occasional "fuck," "fuck them," or "fuck off." But there's nothing scary or off-putting about her demeanor, despite how often the press has painted her as such. Her cadence is sweet, almost delicate, though there's a stinging punch behind each anecdote—of integrity, of a distinct voice. And it's time we all started listening.
Click through the gallery for more with Rose McGowan.