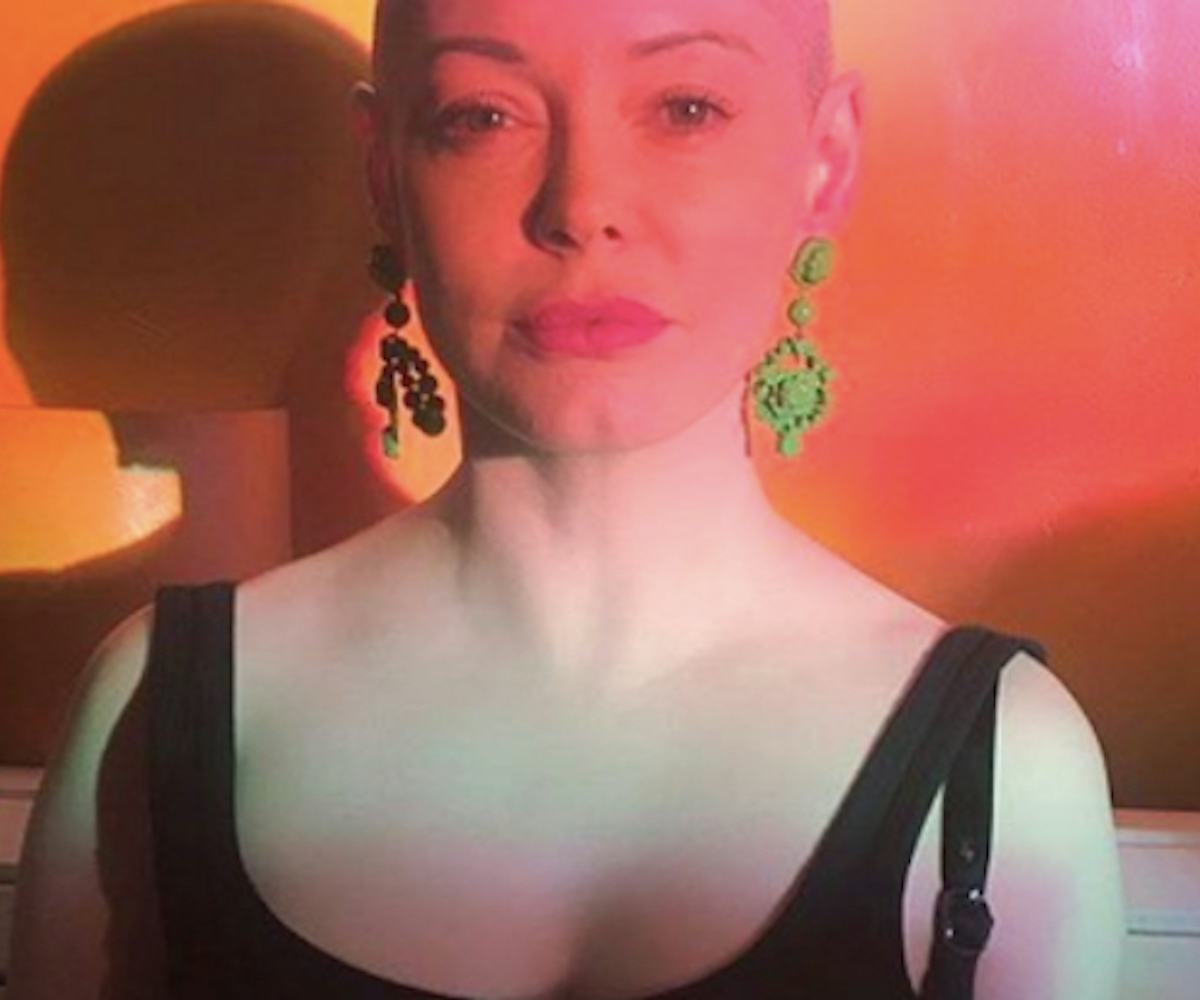 Image via Rose McGowen/Instagram
Rose McGowan Shaved Her Head And It's Like Woah
Okay, real talk: We don't know what's going on with Rose McGowen right now. One moment, the icon to so many cool girls (and women) is inspiring the public with her stand on the inequities of Hollywood and giving us some truly solid wisdom. She even hung out in our offices and was game to shoot out some of her most famous lines. Also there's that whole music video. Thumbs up all around.
Flash-forward just a few weeks, though, and she's saying some very problematic things about trans people, eliciting a completely different kind of response from us. She's a puzzler, though one about whom we care deeply.
So, it's hard to make out what's going on and how to feel about these Instagram photos showing McGowen having her head shaved and then rocking the shiny, bald look around town.
Check out the shave...
...the mid-process shot...
..and the dramatic final result.
On the one hand, it's beautiful and powerful—a move that makes her feel liberated and looks arresting and stylish. Even though she already had stunning short hair, McGowen's new look is great and challenges conventions of what a female actor should look like. It's hard not to dig this, as unusual as it may be for a woman in Hollywood (without it being part of a role). She says she feels "liberated" and liberated is a very good thing.
On the other hand, if you put this in the context of her current trajectory, it raises questions. Is it a reaction to the latest round of Internet criticism that she just experienced? Is it, by making herself less conventionally marketable, a middle finger to the Hollywood system? Moreover, what's driving her current round of alternately behavior, which has been alternately exciting, inspiring, and careless? Maybe we're reading too much into a damned haircut. 
So, how do you feel about the look? Report back.
(via ONTD)