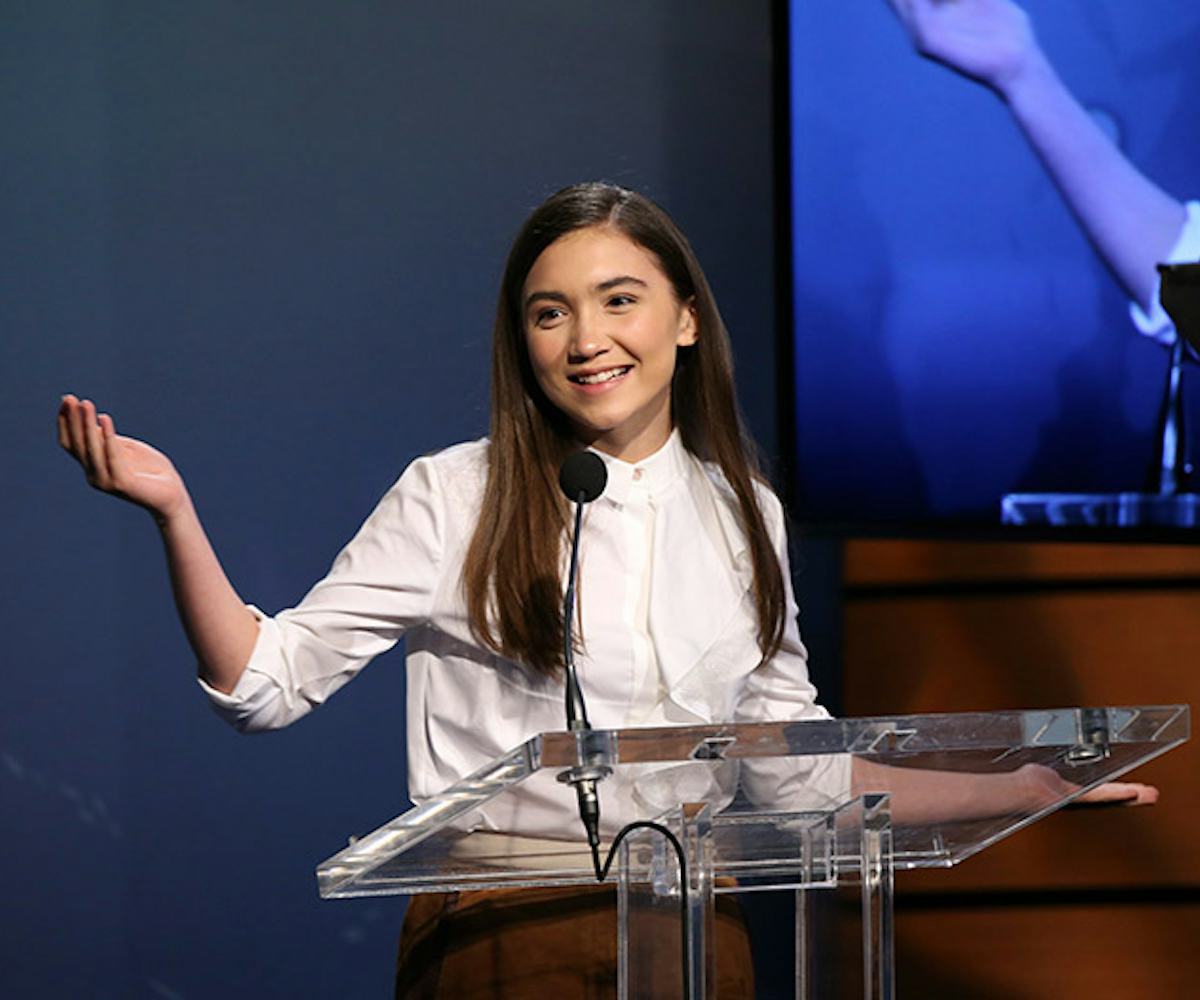 Photo by Paul Morigi/Getty Images for Glamour
The Undeniable Wokeness Of Rowan Blanchard
May we all grow to be as wise as you
One of the good things that's come out of the rise of social media is how accessible information is, allowing all of us to formulate opinions and ideas based on experiences other than our own. This has helped a generation of young people to become more socially and politically aware than prior generations could be at their age. Among them are Tavi Gevinson, Amandla Stenberg, Malala Yousafzai, and just turned 15-year-old Rowand Blanchard. Blanchard is the youngest of the crew, but one of the most vocal about her passions and beliefs. She's opened up about identifying as queer, sounded off on the Black Lives Matter movement, social media sexism, Brexit, feminism, mental illness, and more. Blanchard is woke. Or, as the kids would say, woke AF. (Just kidding. They stopped saying that months ago.)
Here are five of the many, many examples out there of the wokeness of Blanchard.
On Why She Speaks Out:
After an uncomfortable encounter outside of a movie theater, where she felt ashamed for the attention she received by a male stranger, Rowan told Interview Magazine she started being an activist on social media because "I realize that I have a following, and most of the people who watch our show, I would say, are girls. And I didn't want them ever going through that. I just started doing it because I couldn't bear it anymore."
On Feminism:
Rowan told New York Mag that the word "feminism" used to scare her, but now she embraces it. Here's her definition, which is very wise: "Undoing patriarchal structures against marginalized people—structures that fight against people of color, that fight against women, that fight against disabled people, that fight against LGBTQ."
On Her Queerness:
Blanchard announced she identified as queer via Twitter. Her explanation for it was, perhaps, the most succinct explanation, ever: "[I am] open to liking any gender in [the] future is why I identify as queer." That's all. Brilliant.
On the Effects of Social Media:
Speaking to the New York Times, Blanchard says about social media: "It's almost scary how you can create a persona on Instagram or Twitter. Even if you're not deliberately creating a persona, you are still doing it." 
On Pop Culture:
Blanchard has cited how Kanye West has influenced her, telling Ctrl Alt Delete's Emma Gannon, "[Kanye's] just so confident in himself, and I think we can all take from that and aspire to be like that." What can we say? She gets it.