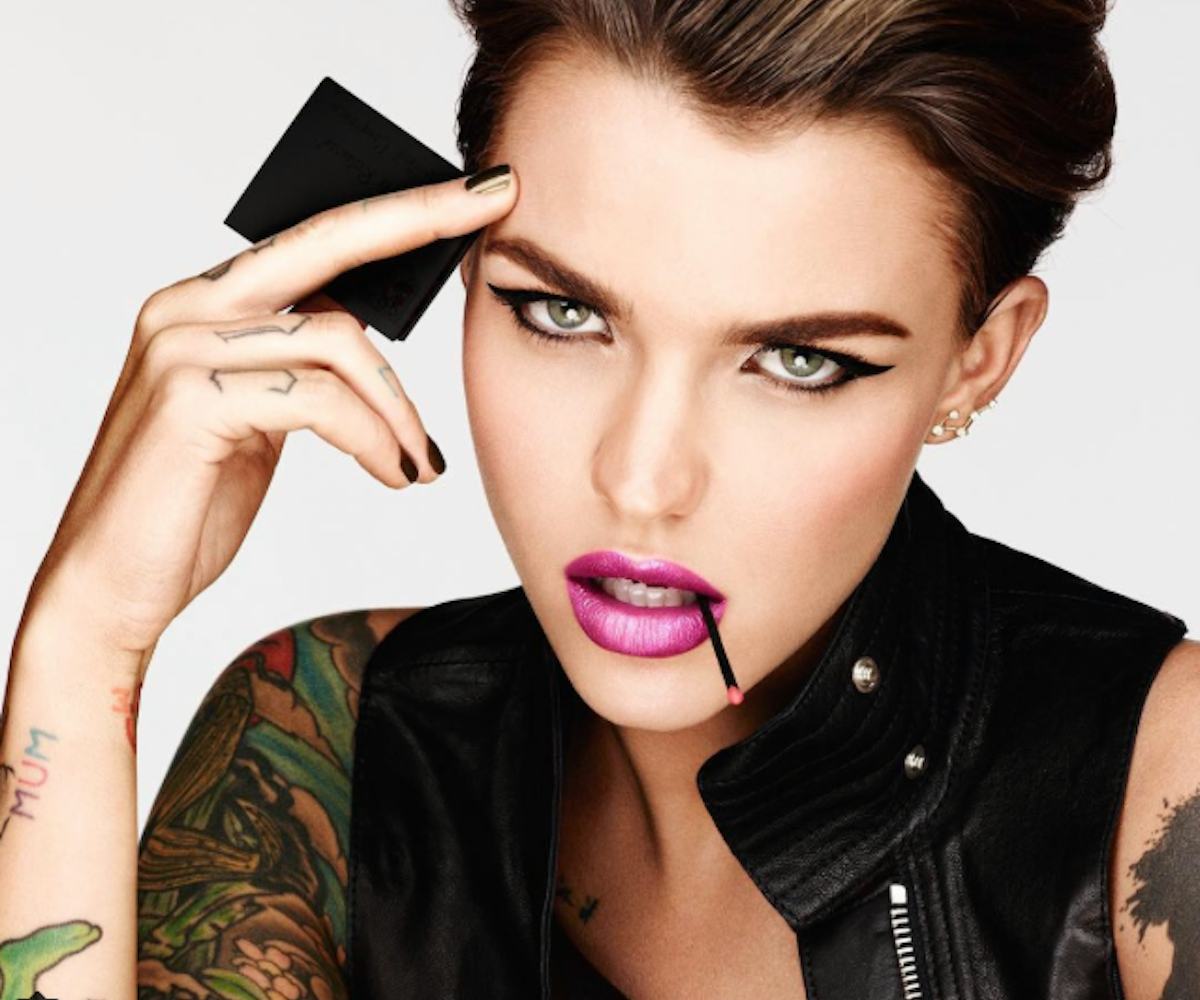 Photo via @urbandecaycosmetics/Instagram
Why Ruby Rose Could Only Be The Face Of Urban Decay Now
A few years ago, while I was working as a beauty editor at a different publication, I was getting a blowout at a salon in the West Village when my hairstylist said, "I was thinking about how lonely it must be to be you."
I raised my eyebrows, wondering what element of my life he imagined to be lonely. 
"Well, it's not like there are a lot of other lesbians in beauty," he clarified. "I bet the other gay girls you run into at work are like, what, photographers? Graphic designers?"
I would have been offended if it hadn't rung so true. I had gone from working as an editor at an online magazine specifically for queer women to working at a huge lifestyle brand supposedly for "all" women, but suddenly found myself writing about an industry that largely pretended lesbians didn't exist. Think about it: Before feminism entered the mainstream, beauty was framed as something women did for men. When it was reclaimed, beauty turned into something you do for yourself. Nowhere in there was room for a woman who puts mascara before she goes on a date with another woman—whether she's doing it for herself or to impress her OkCupid match. 
And, implicit in that was the fact that people choosing to work in beauty, for the most part, were straight. Every now and then I'd run into someone who would make it a point to tell me she was bi but mostly I suddenly found myself on the receiving end of an onslaught of pitches from PR people about what lipstick men prefer; at industry events the other beauty editors would talk about their boyfriends and bring me into conversations with a well-intentioned yet totally alienating, "Men, right?" People commented on my short, asymmetrical hair as though it was a trend statement, not a queer signifier. It just didn't occur to them. 
I didn't see myself represented in any of the content being put out by other publications. The products were not marketed to me or the women I loved. I was constantly outing myself to people I met on editorial shoots, forever writing articles about my alternative body hair choices, just trying to be visible for what I was: super gay, and a very enthusiastic beauty editor. There was always something about myself to explain or justify to someone because it's not like my gay friends necessarily cared about the beauty industry, or wanted to participate in it and all its problematic layers. So yeah, it was really fucking lonely. 
Fast-forward to last night and I'm in Brooklyn, New York, for the launch of Ruby Rose's lipstick line for Urban Decay. Ruby Rose, famous lesbian: short hair, still masculine of center in a full face of makeup, known to most for her role on Orange Is the New Black. She's gliding through the party flanked by a handful of enormous security guards, and a hundred pairs of thirsty eyeballs watch her. Earlier in the day she and I had exchanged a series of tweets about forming a secret society for lesbians who work in beauty. When she walks by me, I'm 95 percent sure she gives me a head nod. Small talk with other editors centers around how hot she is. "I want to jump her," a friend who is very much a straight woman married to a man, says to me. 
All this, at a beauty event! No one has even made a "lipstick lesbian" joke, except me, to myself. 
I wonder, Am I tripping? 
Ruby Rose as the face of Urban Decay is, actually, groundbreaking—for a number of reasons. The only other openly gay brand face for a beauty line is Ellen DeGeneres for CoverGirl, but where Ellen is relatable to a certain older, tamer demo of women, Ruby Rose is all edge. She's also not normatively feminine, and typically beauty campaigns feature only the most feminine women. There's something about the way aspirational prettiness has been codified by the beauty industry to equal super-feminine which leaves out masculine of center women, but Ruby Rose's face staring defiantly from the UD press release in bright red lipstick and a leather jacket is here to challenge that, and everyone seems ready to agree. 
Watching the swarm of iPhones in the air that follows her around, I remember the time I was told to pull an image of a short-haired woman from a slideshow story about summer haircuts because she looked "too mannish." How quickly the world has changed, and how thrilling to watch it happen. I almost feel territorial about this win—Ruby Rose was a gay icon before a beauty icon. Having her as the face of a beauty brand I love (representing my favorite kind of products, no less!) feels like a personal victory. I understand that in reality it has nothing to do with me, but after years of fighting to get lesbian representation in beauty content, I can't separate myself from it. And I don't think she'd want me to—I don't think she'd want any of the other queer women who love beauty to separate themselves from it, either. 
Oh, and as for the lipsticks? One hundred shades in different long-lasting textures, in really sleek packaging. Highly recommend.