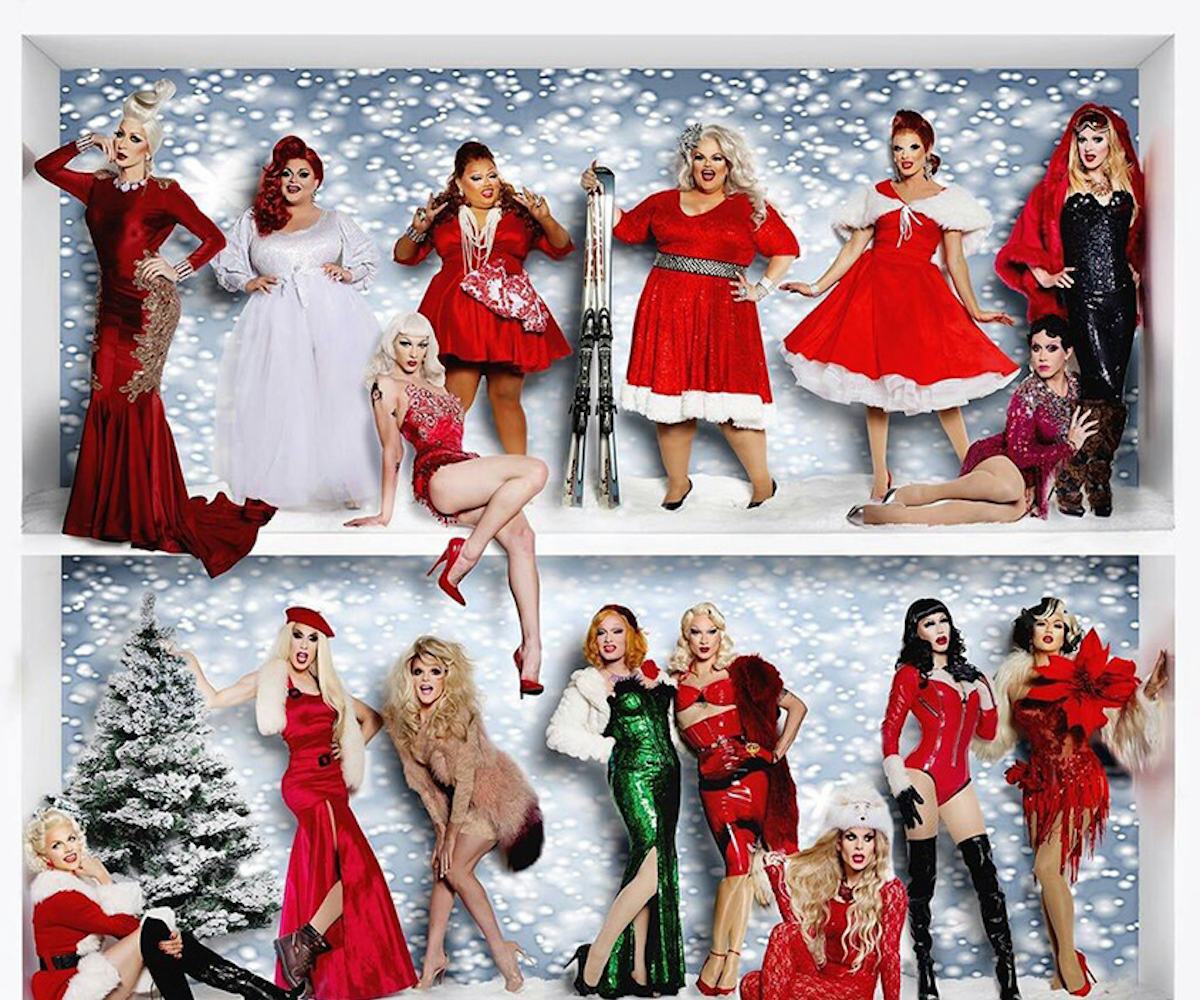 Photo by Magnus Hastings
The Queens of RuPaul's Drag Race Made A Holiday Slaylist
There ain't nothing like putting on the ol' Sounds of the Season station when the clock strikes midnight on November 1st. The voices of Judy Garland, Bing Crosby, and more are dripping in nostalgia for the picturesque, Hallmark holiday season we so often dream of having, but, in reality, never really do. Time to try something a bit different and tune your ears to the sounds of holiday pop. 
This year, the queens from RuPaul's Drag Race made an album appropriately called Christmas Queens that's filled with enough old and new hits to lip sync your heart out to. According to Alaska Thunderfuck, "It has tons of original holiday hits (like 'Slay Bells' by Manila Luzon and 'Ratchet Christmas' by Jiggly Caliente), plus old classics reimagined—all performed by cross dressing men!" Fabulous! We reached out to some of the queens to know more about their favorite holiday turn ups. (Thunderfuck's include 'Christmas (Baby Please Come Home)' by Cher and a heavily auto tuned Rosie O'Donnell.) The answers (and playlist!) are pretty amazing and guaranteed to make your holiday party, as Thunderfuck told us, "fleek'd for filth."
Manila Luzon1. 'Last Christmas' by Hilary Duff. There's just something about this cover that makes me happy, maybe it's because she was so young when she recorded this song.
2. 'Everybody's Waitin For the Man With The Bag REMIX' by Kay Starr from Merry Mixmas album. This song is great at the club when you're looking to party extra hard ;).
3. 'Santa Baby' by Madonna is always the best version of this song!
4. 'Mary's Boy Child' by Boney M. just in case you are celebrating Christmas in a tropical climate!
5. 'Where Are You Christmas' by Faith Hill because it's such a sweet song.
6. 'Chipmunk Christmas' by Alvin and the Chipmunks, because I just imagine a bunch of middle aged men singing it really slow in a studio before it was sped up.
7. 'Jingle Bells' by Barbra Streisand, because I just love the idea of a Christmas album sung by a Jewish woman!
8. 'My Only Wish This Year' by Britney Spears is one of my favorites and not just because it's from the same song writers that helped me write my song 'Hot Couture.'
9. 'All I Want For Christmas' by Mariah Carey, because duh!
10. 'Slay Bells' by Manila Luzon from Christmas Queens. I can't make a list without a shameless plug of my own music.