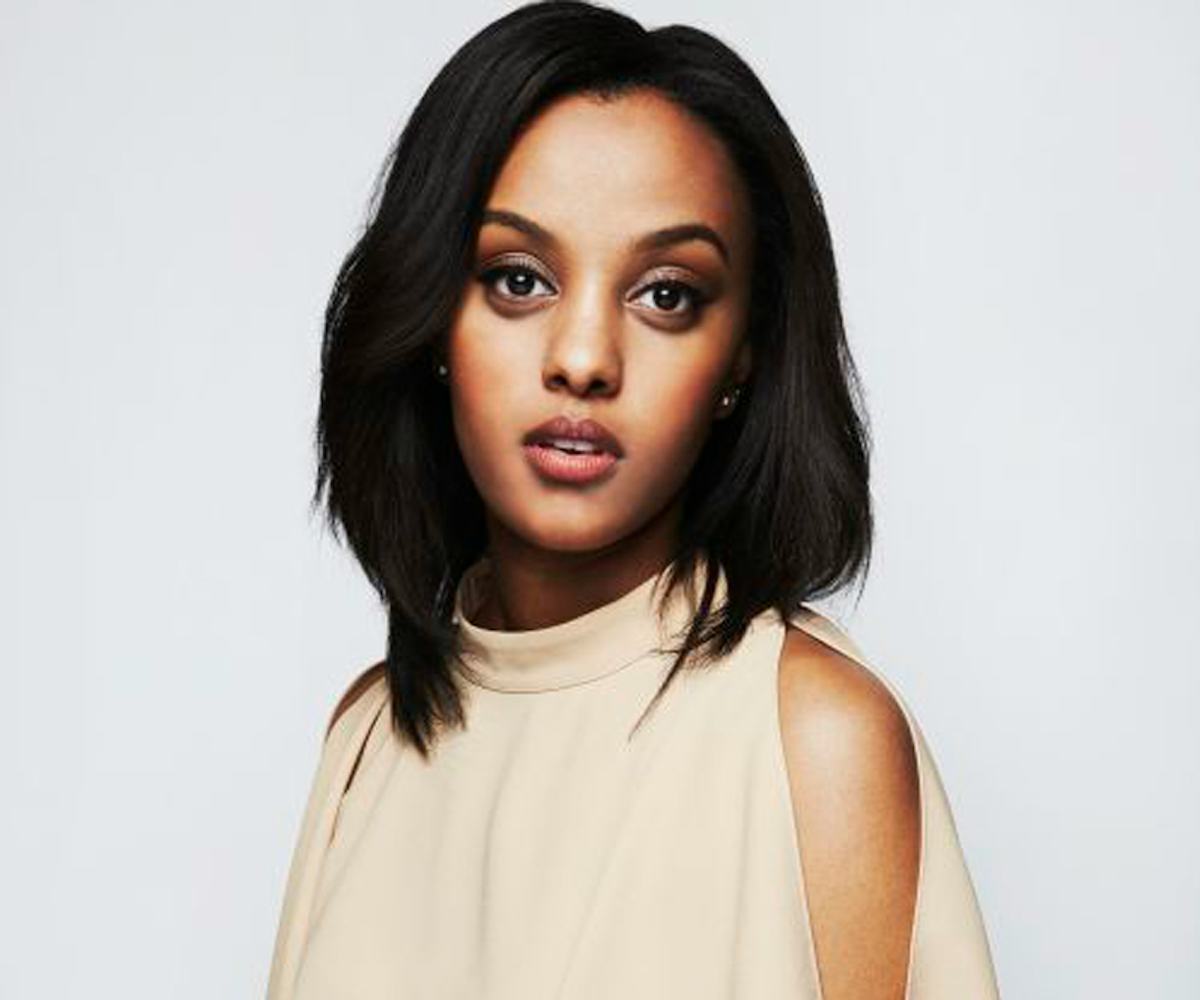 Photographed by Jiro Schneider.
Ruth B Turned Vine Into A Platform For Success
Meet Columbia Records' next big thing
Back in 2013, a close friend of mine showed me some clips of Ruth Berhe singing on Vine. I was immediately impressed by her vocal range, and couldn't believe that she was only 17 years old at the time. I loosely kept tabs on Berhe, randomly coming back to her page whenever a new cover was uploaded. 
Fast-forward to last month and her name came up again when my mom kept insisting that I listen to someone named Ruth B. The second I pressed play on "Lost Boy," the memories of that first listening came flooding back—I felt like I was discovering her all over again.
Since July of 2015, the 20-year-old has been signed to Columbia Records. She is currently working on material toward her first full-length album to follow last year's The Intro EP. Looking back, it's pretty incredible that the Edmonton, Alberta, Canada, native has managed to take her time so she can make a proper debut so early on in her career. Not only has she maintained complete control over her creative vision while being signed to a major label, but she has also been developing her work at her own pace. She's "made it" in every sense of the phrase, but she's just getting started. While there is no official release date for the album yet, you can bet that it will come out at the right time when Berhe is ready. 
I recently had the opportunity to chat with Berhe about her humble beginnings in the industry. Being a product of the digital age, I wanted to know more about how she cultivated a massive following online which ultimately led to her getting scouted by record labels and eventually signing a deal. Read our entire conversation, below.
To start off, how did you get involved with music between writing, singing, and
playing the piano?
Well, I've always really been into music. Growing up as a kid, I can't remember a time where I wasn't playing melodies and doing different things with my voice. I learned the piano when I was about eight, and I did that for a couple of years. Then I started playing by ear. I've always been singing around the house and playing piano and then I started writing songs about a year ago.
Can you recall your earliest memory of music?
Wow! I don't know, my parents used to listen to—well, we still do—a lot of Ethiopian music growing up. We'd always have cassettes around the house. I remember I'd always put those in and listen to them, and try to learn the words and the melodies.
When you wanted to pursue music as a career, were your parents really supportive of that choice?
Yeah, my parents were always super supportive. It was always my passion, and everyone who knew me well knew that about me. So my parents were always encouraging me to continue doing it. I remember the best part was they always told me to do it no matter the level. It didn't matter if I was just singing in my basement or if I'm singing in New York for local people. They were always telling me to do what I love.
What was your experience like when you first started uploading your music to Vine?
I didn't think too in depth about it, especially because in the beginning, I had like 100 followers and they were all people I knew. It just started really organically. I would just post and I'd get 20 likes, and then it turned into 50, and then thousands, and then more. I grew with it so it was never like, "Let me post so a thousand people could see it." It was just for fun, and if people like it, they like it.
Given that you started your following online, what role does social media play for you not only in your career but your personal life?
I think social media is just so cool. The fact that you can write a song in Edmonton and have people all over the world know about it, it's crazy. A month ago, when I was in Amsterdam, I did a little show and I played my song, and people were singing the words! And I just remember being like, "I've never been here before, but my song was here before I ever was!" I think it's just a beautiful thing. It can connect strangers, and it's been so helpful for me. I talk to people who love music, just getting more feedback and hearing what they think, and I think it's super important.
You recently dropped the official music video for "Lost Boy." How did the final version come about?
That was really a lot of fun to do. It was directed by Emil Nava, and I was super, super excited to work with him. He's done a lot of my favorite videos out there. Making a music video for the song was hard because people had so many interpretations of this song and so I didn't want to do what you'd expect. So many people have different meanings of the song, and so I wanted to keep it as simple as possible and just let the lyrics do the talking and paint the picture.
So yeah, it's kind of just this really simple video of me performing the song. When I watch it now, it's kind of funny because I wrote the song in my basement back home. When I was writing the song, I remember the feeling of something almost magical happening. I remember feeling like, "This is different!" When I watch the video now, it kind of takes me back to the moment where I first wrote the song.
Are you going to be doing any shows this summer?
It's in the works. Nothing is really set in stone yet but definitely, live shows are on my mind. I'm super excited to do that.
Being signed to Columbia, you're also on the same label as so many amazing artists. Are there any that you're dying to work with?
Um… there are so many great artists on the label. One of my all-time favorite artists ever is Lauryn Hill. So if I could even just watch, you know, see how she writes, that would be a dream. I love her album.
Where do you hope to see yourself a year from now?
A year from now, I hope that I have an album out, and I hope that I'm super, super proud of it and that it's exactly what I want it to be. And I hope I'm still doing work, still being super happy going down to my keyboard every day and playing music. I hope it's still my number one source of joy.