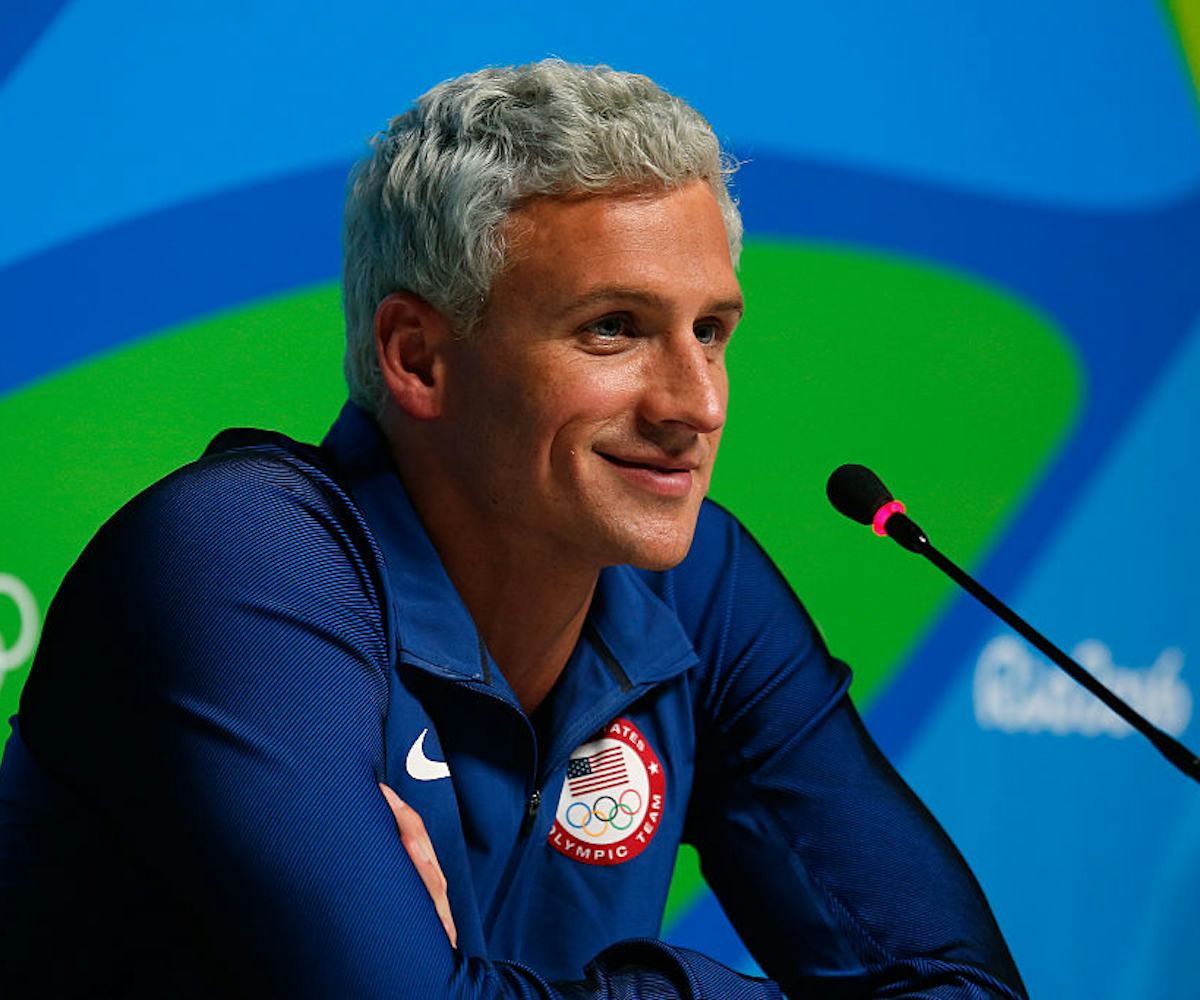 Photo by Matt Hazlett/Getty Images
Ryan Lochte Shows The World What White Male Privilege Looks Like
When news first broke last Sunday that U.S. gold medal-winning swimmer Ryan Lochte and three of his teammates (Gunnar Bentz, Jimmy Feigen, and Jack Conger) had been robbed at gunpoint in Rio, media outlets reported on the incident in earnest, referencing other troubling allegedly crime-related events, like the shattered windows of a press bus and the stray bullets found in the equestrian venue. Considering the fact that Rio's high crime rate was one of the most buzzed about stories pre-Olympics, with much media attention given to the fact that "Rio [deployed] about 85,000 soldiers and police to secure the games, twice as many as London did four years ago," it was not hard to believe that, in fact, Lochte and his teammates had been senselessly robbed. Lochte's mother even spoke to the press, relaying the news that "they just took their wallets and basically that was it. I think they're all shaken up."
But things started to seem off with the story almost immediately: First, the International Olympic Committee (IOC) denied that the robbery had taken place, although they changed their position after the U.S. Olympic Committee spoke out in favor of Lochte and his fellow athletes. But then, it was revealed that Lochte's account of what happened—which included him saying "whatever" to a man who had a cocked gun at his forehead—differed dramatically not only from those of his teammates but also from himself; the swimmer could just not seem to keep his story straight. By the time it was revealed that Lochte had unexpectedly and quietly decided to fly back to America before the Olympics were over, and that Brazilian police were seeking Lochte and his teammates for questioning, it became pretty clear that something was definitely fishy.
And as of this morning, Bentz, Feigen, and Conger have all been detained by the Brazilian police for questioning, and it has been revealed that there is a videotape of one of the swimmers "breaking down the door to the bathroom at [a] gas station and fighting with a security guard" on the night of the almost definitely fabricated robbery. The video also seems to demonstrate that the swimmers paid for the damage, though potentially not before urinating all over the bathroom floor.  
While the ultimate legal—or even diplomatic—outcome of this situation is unclear at this time, social media has definitely spoken on #LochteGate, and the verdict is clear: "Whatever." Well, not "whatever," exactly; more like, to use another, older Lochte catchphrase: "Jeah!"
Twitter, at least, has embraced this opportunity to make many a Lochte meme, including admittedly hilarious ones referencing Zoolander, a movie which Lochte undoubtedly thinks is a documentary.
Beyond that, Lochte is being hailed as something of a bro hero. He's bumbling and hapless, sure; he's also a maybe pathological liar. But isn't he handsome? He sure is.
And perhaps this wouldn't be anything more than a fun time to make memes and coin hashtags (#LochMess is a good one) if it weren't for the fact that, over the course of this Olympics, we've witnessed Gabby Douglas being viciously dragged through the court of public opinion for doing nothing more than standing to attention during the U.S. national anthem with her hands at her sides rather than over her heart. We also happen to live in a society wherein women are mercilessly grilled about the minutiae of any accusations they level at men, where women are warned again and again that they could be ruining men's lives, where women are tacitly implored to keep silent rather than speak out, lest their stories of having their lives permanently altered, disrupt a man's life.
Yet here is Ryan Lochte, who traded in on the not slightly xenophobic fears of crime in Rio, to paint himself as a victim of an armed robbery rather than admit the truth: He and his jock friends (who have since told police that Lochte made the whole robbery story up) got drunk, destructive, and caught, and had to pay up. And here we are, making jokes and laughing at his actions, rather than seriously thinking about what it means that a privileged white male American can literally piss wherever he wants, lie about it, and fly away from his problems, when other people, who aren't white and aren't men, can be shamed, ostracized, and harshly censured for not smiling enough while "The Star Spangled Banner" plays.
This is white male privilege at its worst, and no matter how winning a smile it possesses, it's one of the ugliest things we've seen during these Olympic games, and beyond.
Update: Police in Rio have now officially said that the swimmers were not victims of any crime, but were instead vandals of a gas station.