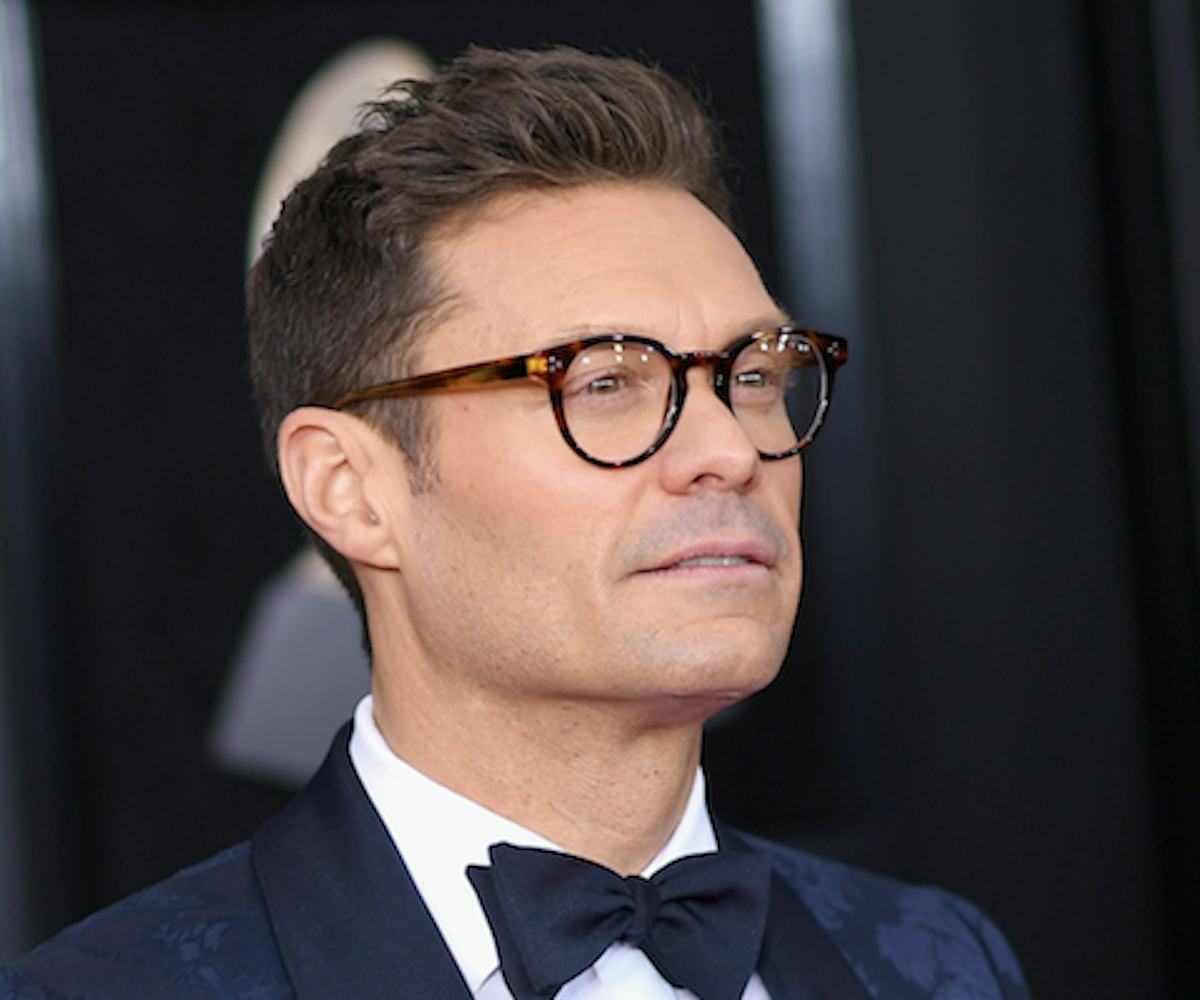 photo by Dimitrios Kambouris/getty images
Ryan Seacrest's Former Stylist Comes Forward With Details Of Abuse
Suzie Hardy says Seacrest subjected her to years of "unwanted sexual aggression"
Update: 2/27/2018 5:40pm EST: Ryan Seacrest has issued a statement denying the claims. You can read it in full on The Hollywood Reporter. 
Last November, a former stylist for E! accused Ryan Seacrest of acting improperly toward her a decade ago during his time on E! News. Until yesterday, the details of the accusation weren't public. Suzie Hardy opened up about the abuse she endured at the hands of Seacrest, stating that the entertainer subjected her to "years of unwanted sexual aggression," because, according to her, he had a crush on her.
Hardy told Variety that she got the gig as Seacrest's personal stylist in 2007. She revealed that the job became an ordeal when Seacrest began to act inappropriately towards her, alleging that he would "grind his erect penis against her while clad only in his underwear, groped her vagina, and at one point slapped her buttock so hard that it left a large welt still visible hours later." She also claimed that Seacrest would often force unwanted "bear hugs" on her while in his underwear, gave her excessive gifts, and once invited her to "take a nap together" during the 2007-08 New Year's Rockin' Eve special. In addition to these claims, Hardy's coworker confirmed to the outlet that he saw Seacrest on multiple occasions purposely trip her and push her head into his crotch when she tied his shoes. 
Hardy says that she didn't speak about the abuse in fear of losing her job and not being able to provide for her daughter. In 2013, Hardy did file a report with human resources about Seacrest's behavior, which left her without a job. She noted that the downfall of Harvey Weinstein, the uprising of the #MeToo movement, and Seacrest's guest column for The Hollywood Reporter prompted her to come forward.
E! launched a two-month investigation after the initial accusation was made public, which concluded earlier this month with the network claiming that it found "insufficient evidence to substantiate allegations against Seacrest." But Hardy claims that the investigation wasn't thorough. "I felt like by the third interview, it was obvious the investigator was whitewashing it for Seacrest's side," she said, claiming that the investigator never contacted the four witnesses she had referred him to who could corroborate elements of her story.
Seacrest's attorney, Andrew Baum, told Variety that Hardy "threatened to make those false claims against him unless he paid her $15 million." The report notes that Hardy's attorney told Variety that neither he nor Hardy has asked Seacrest, E!, or NBC (the cable channel's parent company) for any money and that Seacrest's representatives provided no evidence that a monetary request was made.
"I came from a freelance life, and it was scary," Hardy said. "It was hard to raise a child and not know where your next check was going to come from, and if that gig was going to take me out of town for two weeks. It was a better deal all the way around, even if I was being abused. It's sick to say, but it was true."
Despite these new details, Seacrest is still expected to host this Sunday's Oscars pre-show. You can read Hardy's account in full, here.