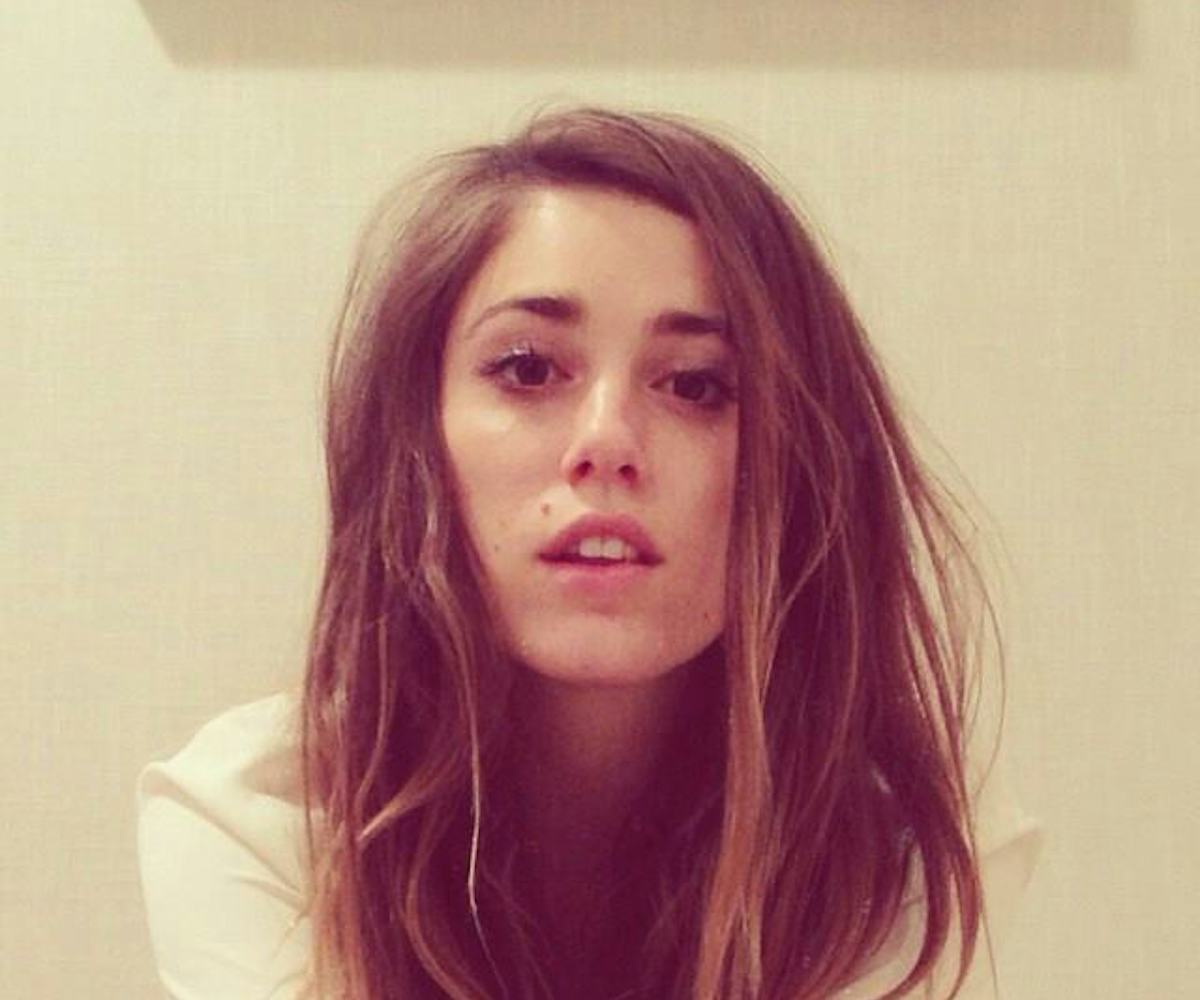 the insider: ryn weaver
our exclusive interview with music's new mystery girl.
A month ago and seemingly out of nowhere, Ryn Weaver burst upon the internet like a flash of lightning. Her breakout single "OctaHate" exploded in that sort of stop-everything-and-tell-all-your-friends kind of a way.... mostly because it's so damn addictive. But here's the thing: not only did the track score immediate stamps of approval from the likes of Charli XCX, Jessie Ware, and Ellie Goulding (which undoubtedly helped the viral factor), it's also really good. Over a million Soundcloud plays later, the song is still just as irresistable. 
Peppered with themes of heartbreak and betrayal ("Oh, you let me down, And I can't take it," she croons) the breakup jam is a surprising juxtoposition. Think clear, chirpy vocals, sunshine-infused pop melodies, and production so slick you can practically see the shine from your speakers. The dreamy production comes courtesy of Benny Blanco and Cashmere Cat, who along with Passion Pit's Michael Angelakos, worked on the single. But how did Weaver's self-described genre of "#fairypop" actually happen? According to the singer, it's a winning recipe of talent, hard work, and a couple of awesome happenstance encounters along the way. But whatever do you, don't call her an overnight sensation. 
Just before her debut EP Promises dropped last week, we chatted with the 22-year-old— her second interview ever!— to find out everything you need to know about music's new mystery girl.
Hey Ryn! So tell me: How many interviews have you done today? 
[Laughing] Actually, you're my second interview, like ever! I'm in LA, and yesterday was my first interview on the phone! I was so nervous…I think today I'm doing a little bit better.
So we need to talk about "OctaHate," because that song is blowing up the internet right now. In your mind, did you have any clue it was going to take off like that? Be honest!
I swear, I did not. The weird thing is, the whole project started a year ago; it wasn't like a development deal where I got signed to a label and they decide to build you from the ground up. It was more like, "We like what you and we want to do an EP with you." It took me a while to get used to the idea. In that year, three-quarters of the time was spent me trying to write and feeling totally terrified. 
It sounds like some major pressure.
It was defintiely a crazy life change that sort of fell into my lap and it's everything I wanted. It's a manifestation which I've been doing for a while, and when it comes it's like, "Oh my god, it's go time."
How did the song's name come about?
The reason we originally called the song "OctaHate" is because they used an octatrack. In fact, it was actually first called "Octaloser," as sort of a self-deprecating joke thing. Then we eventually changed it. The idea of "octa" means so many things numerically—it was also about hate, and at the time of writing it I was sort of hating someone. Pain and love are pretty close together. 
Did you play music growing up?
I actually started out just singing. I wasn't much of an instrumentalist, and I was really able to play anything until I learned how to produce. I would lay down the vocals and then sing melodies that stood for all the different instruments. I've been making songs and writing them since high school. The first one was about this boy…obviously.
Of course! What's the story?
Well, he liked me for a very long time, and then when I realized that I actually liked him back, by then he had moved on to my friend! So it went back and forth for a while and was just this big love triangle. 
I first found out about "OctaHate" from Jessie Ware, who tweeted about the song. Did you know all of the people who were tweeting about it, like Charli XCX, beforehand?
Yes—well, some of them. Hayley Williams tweeted it, and I don't know her, so that was huge. Jessie is releasing music that she has been working on with Benny, and she has sort of been my big sister through this. She's been helping me gain confidence through this whole thing.
Yeah, how did that feel when your song was suddenly everywhere?
I was so nervous! I mean, the day I put the track out, I threw up. Twice. I was just like, "What if people don't like it?!" I wasn't expecting complete visibility in that way, and with the people I'm working with, it's my one shot.
Are you working on a video for the track?
The video is coming soon! A lot of people are currently sending treatments and ideas, but I want to be in control and of with my instinct. 
One of my favorite songs on your new EP is "Stay Low." How did that come about?
"Stay Low" happened in the place where you have someone in your life that you love, and it's that time when you just get each other. It's about making time with the people you want to be around. Just being able to sit down and have that special time with someone. 
What's your writing process like?
Oh, god! I don't even know if I have a process yet. It's really nice if I'm in the studio with people, but a lot of times I'll just be walking around and come up with ideas. Sometimes I'll just start humming things each day and feel the need to write it down. I'm slowly gaining  more confidence in my writing ability. 
Fill in the blank: you're excited/nervous/dreading/can't wait to perform live.
Oh man! I'm excited, I can't wait to perform live. I've never had a live show for my new project yet, so I'm excited and also really nervous. 
What were you doing before the whole "OctaHate" thing happened?
I was living in LA. I had just dropped out of college, and it just wasn't working for me. I know I wanted to make music, and I wasn't able to do it there. So I crashed on people's couches, had some acting gigs here and there to make money to eat, and then making music when I could. By total happenstance, Benny [Blanco] and I ended up linking up. I met him in New York two years ago, so when I re-met him in LA, I showed him my Soundcloud. 
Do you feel like you're getting to be part of a sort of music crew? I mean, Charli and Jessie and those artists clearly love you! 
I've never been the queen of the crew— I have my friends in different pockets, so it's hard to say. I actually just wrote with Charli yesterday for another project that's coming up soon. Everyone is so great.  
What music are you into these days?
I'm one of those awful people who plays albums into the ground. I love me some Joanna Newsom, Joni [Mitchell], Fiona [Apple], Alex Winston…I guess I just like sassy ladies who have something to say!