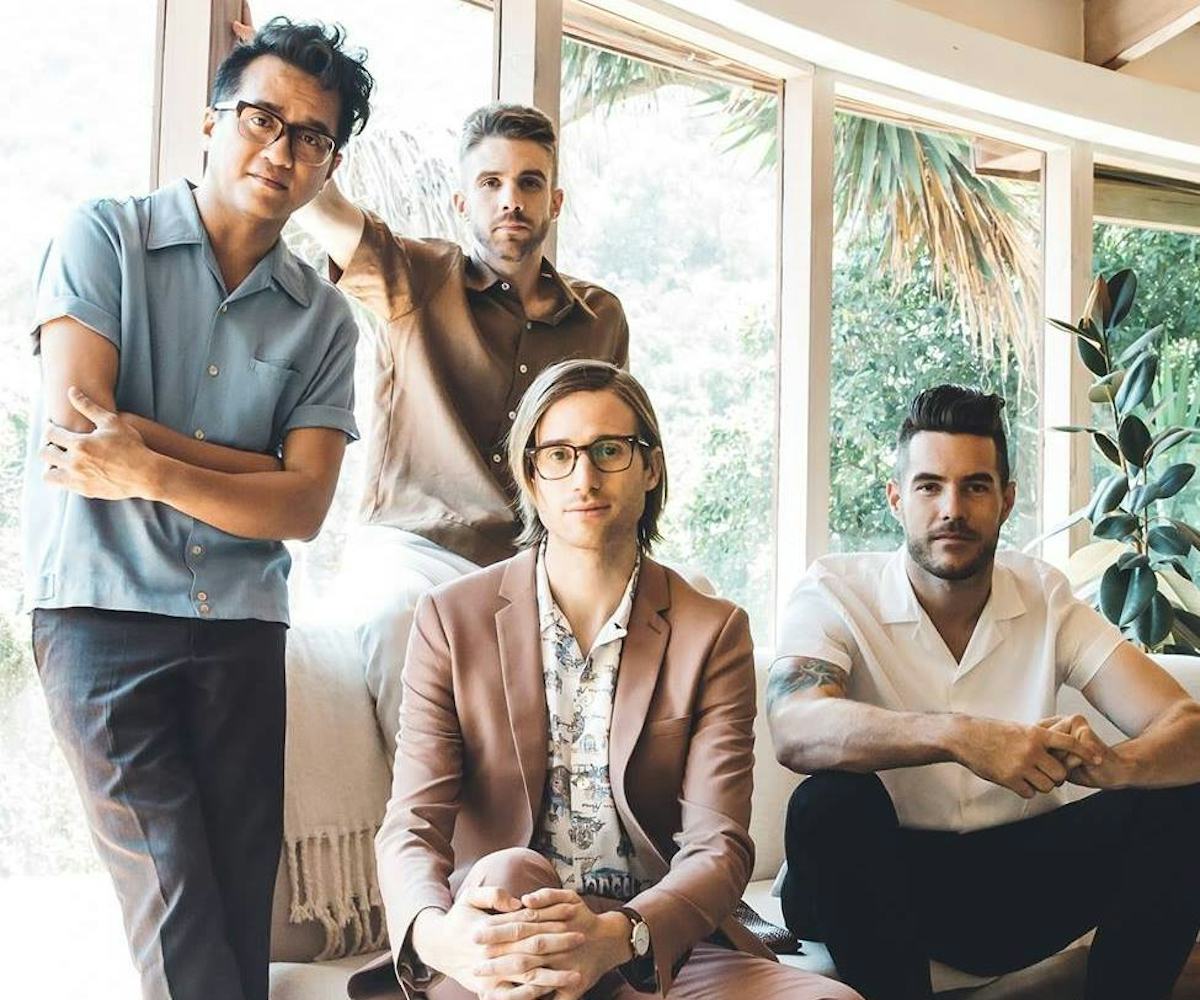 Photo via Saint Motel/Facebook
Saint Motel Takes Us On A Head Trip With "Move"
Gotta get up, I gotta get up, move!
Los Angeles indie pop band Saint Motel has always had a bright, dreamy sound that transports listeners to another time and place. Comprised of A/J Jackson (lead vocals, guitar, piano), Aaron Sharp (lead guitar), Dak Lerdamornpong (bass), and Greg Erwin (drums), the band hit the Top 40 charts with single "My Type" off of their EP of the same name: an anthemic, brass-driven party starter with a hint of West Coast tropical vibes. Since then, they've been working toward completing their sophomore album, which they view as complementary to the My Type EP. October 21 sees the release of that effort, saintmotelevision, on Elektra, and to celebrate, they just released its first single, "Move," complete with a special music video they call a "virtualizer." Playing with '70s fonts, trippy visuals, and Charlie's Angels-like silhouettes, it's a unique 360-degree experience (so make sure to explore when you watch!). We caught up with the band at Lollapalooza to talk about saintmotelevision, their obsession with the past, and why David Bowie would be the best roommate of all time.
It's Lollapalooza! Who are you excited to see?
Radiohead! We also met Foals last night at dinner, really nice guys. Frightened Rabbit as well; we met them at Sasquatch, and they're super nice. Miike Snow too… It's just nothing but good stuff. It's crazy, it's just too good.
Everything you do visually transports you to a different time period. You remind me of a pop version of The Avalanches in that way.
That video for "Frontier Psychiatrist," the director went on to shape a lot of commercials. He does the crazy Skittles commercials now. I love how they mix samples and visuals from large time spans and put it together, and it just feels right.
I feel like with our music, we don't even think about it, we just make music we enjoy. Visually, I think for each album, we try to have a different inspiration source. We went from 1959/1960 tropicalia California, an island tropical vibe, to a more 1970s New York feel for the My Type EP, like Cadillac advertisements and street scenes of New York in transition. For this next round, I think it's going to be a continuation. I feel like the EP on itself wasn't a fully realized thing, so we need to finish that before moving on. The album art for saintmotelevision is a complement to the My Type EP. It's supposed to be where that left off, even though none of the songs from the EP are on the album.
So in 10 years you guys will be caught up with the present.
I feel like people have been taking cues from what's already happened in music forever. It's natural. We derive inspiration from things that exist. There's so much amazing material out there, and you just have to keep digging. We're just as inspired by things that are new as we are by things that are old.
So what current artists now inspire you and what artists from the past inspire you?
From now: Animal Collective, M83, Major Lazer/Diplo, and Cage The Elephant. From the past: The Kinks, The Who, Velvet Underground, Talking Heads, Blondie, Kraftwerk, Burt Bacharach... There's almost too many to name. It's a wide array.
How do you think you've grown on saintmotelevision compared to where you were five years ago?
The first EP we put out was the first time it was all done in-house, and this next album is a combination of that with other producers. I think one difference is that the sounds span a longer time frame. There are songs from the My Type EP era to songs that we finished a week before we sent everything off for mixing. It runs the gamut in terms of what we're doing creatively. A lot of them were done on tour.
If someone isn't familiar with you, what one song would you tell them to listen to?
"1997." It's not the poppiest song we have, but it shows what we do musically. When you dissect it, you can hear elements that we used in other songs as well. Same with "Daydream/Wetdream/Nightmare." That song is like three songs in one, so you get a good bang for your buck.
You love getting inspiration from past decades. If you had to live in the past, what time would you choose?
[Laughs] It'd be fun to check out the 2000s, you heard of them? A lot of crazy things happened during that time. Can we go to the future? How about 2020. That's when the robots will take over. 
What famous person dead or alive would you want to have as a roommate?
Bowie. It seems like he would be really respectful of your items. He'd be there for you when you need him, and a shoulder to cry on.