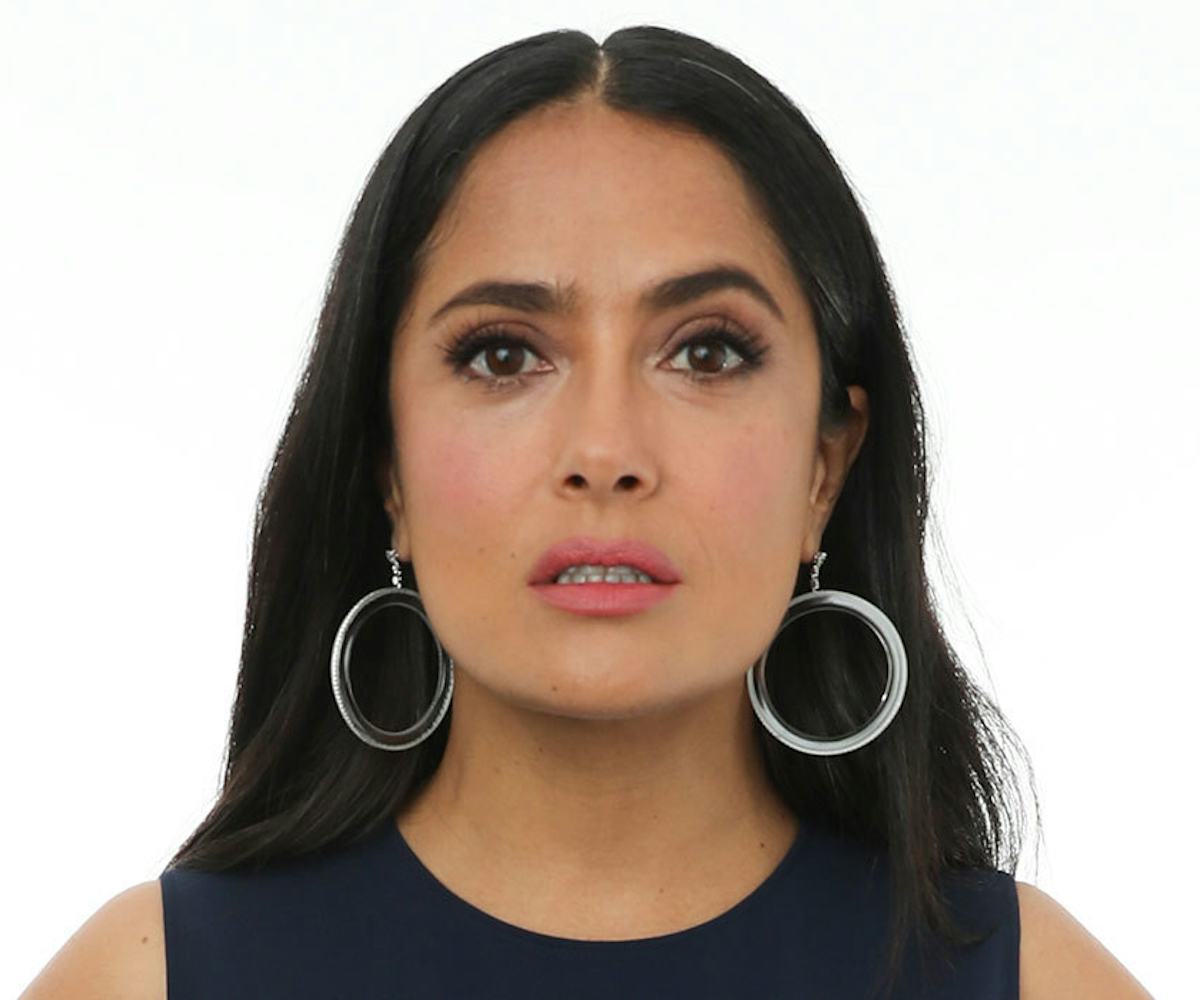 Photo by Rich Polk/Getty Images for AFI
Salma Hayek Reveals How Hard It Was To Say No To Harvey Weinstein
"With every refusal came Harvey's Machiavellian rage"
"I don't think he hated anything more than the word 'no,'" Salma Hayek says of Harvey Weinstein in a new New York Times essay detailing her experiences of emotional and sexual harassment at the hands of the producer. Her voice joins the roaring chorus of women—celebrities and everyone else—who are emboldened by the recent surge of individuals sharing their stories of harassment and abuse by men, specifically in the workforce. Like with so many others, Weinstein's power over Hayek's career and dreams silenced her from speaking out sooner.
Hayek details how, beginning with her Academy Award-winning film Frida, Weinstein wielded his power over her to harass her. Miramax, Weinstein's former production company, was the dream for any actor looking to be a decorated leading star in Hollywood, she says. "[It was] synonymous with quality, sophistication and risk-taking—a haven for artists who were complex and defiant." Who would want to miss out on working for them? Hayek says Miramax was "everything [she] aspired to be" because it aligned with her heroine and idol, Frida Kahlo—whom she had been writing and researching about for the biopic.
"In my naïveté," she writes, "I thought my dream had come true. He had validated the last 14 years of my life. He had taken a chance on me—a nobody." Weinstein said yes to Miramax producing her film. However, with that yes came a deal that tied her with Miramax for consecutive films, a baseline pay grade, lack of production credits, pressure to perform in a sex scene she didn't want in her film, and unsolicited demands to meet Weinstein, his friends, and hired prostitutes to do the things we know now was Weinstein's pattern of sexual harassment: showering together, watching him shower, naked massages, etc. "With every refusal came Harvey's Machiavellian rage," she says.
Weinstein threatened to shut Frida down and to not release it in theaters, but it became a runaway box office success, ultimately earning six Academy Award nominations, including one for Best Actress for Hayek, and winning two, Best Makeup and Best Original Score. Yet, Weinstein never gave her a leading role again. He continued to add to the deluge of powerful Hollywood men silencing women as punishment for defying their unjust, abusive demands.
"Men sexually harassed because they could," she says, applauding the bravery of the women who have spoken out before her and will continue to do so. "Women are talking today because, in this new era, we finally can."